Are You Looking For A One Shoulder Wedding Dress?
by Desiree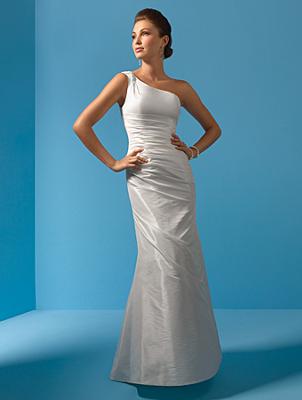 Alfred Angelo
The one shoulder wedding dress style is a trend that showed up during the 2010 wedding season. It is a look that most brides, no matter what their age, can wear. Mature brides as well as younger brides will look fabulous in the one shoulder look!

Also, the one shoulder wedding gown will look great on most body types. With this style you can choose designs that show more skin, by choosing a style with a narrow strap. Or if you want a more modest look, you will find some styles give more coverage, even including a sleeve on one arm.
Join in and write your own page! It's easy to do. How? Simply click here to return to Wedding Dress Advice.
*Click here to read our disclosure regarding affiliate and advertising sponsors.