Blue Wedding Gowns
That Show Off Your Personality
Trying to find an assortment of blue wedding gowns is a challenge. But as I surfed the net I came across a few designers who had some blue wedding dresses in their collections.
But before I show you what I found, here are a few alternative wedding dress ideas you can try if you can't find a blue bridal gown you like..
Use a bridesmaids dress. There are some bridesmaids dresses that are pretty enough to be used for a bridal gown. And bridesmaids dresses do come in blue. Some even have a train.
Use a prom dress or evening gown. Prom dresses come in all styles, some suitable to use as a wedding gown, plus you will find various shades of blue to choose from.
Use a Quiceanera dress. If you want that princess bride look, then you may find the perfect dress among these. These come in many colors also, including blue.
But I was actually able to find among the wedding dress designers collections blue wedding gowns. Check what I found below!
The above dress is an Anjolique bridal gown. Some features that brides love about this dress is the sweetheart neckline and the ribbon trim at the empire waist. The fitted bodice with delicate pleating will enhance your curves. This is made in a soft ice blue tulle fabric. Very romantic wedding dress! Also Anjolique has another style that comes in ice blue, check out style number 2220 on their website.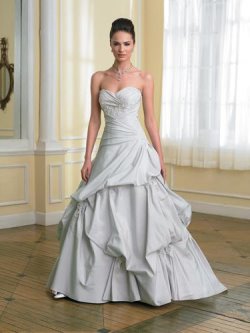 This next gown is by Sophia Tolli. It has the ruching in the fitted bodice and an a-line silhouette. The tufted pick-up skirt is a lovely additional style element. This style will flatter most body shapes.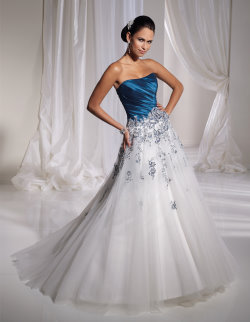 If you don't want a solid blue bridal gown then this one might be the perfect wedding dress for you. The bodice is blue with blue decorative trim on the tulle skirt. This gown is by Mon Cheri. For the large busted body type this gown will flatter your figure especially since the top section of the dress is dark. This will make the top half of the body look smaller.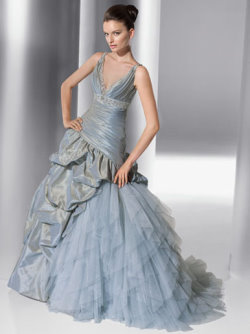 The dress above is a unique wedding dress design! I think it is a gorgeous eye catching design! Who is the designer of this gown? This is a Demetrios wedding gown. If you are tall and slender this dress could be your perfect dress.
Colored wedding dresses, such as blue wedding gowns, are always going to be attention grabbers. But as always, with any solid color wedding gown, make sure the color looks good on you. And choose a dress that compliments your figure. Get these two things right and you definitely will have your perfect wedding dress.
To find these wedding gowns you can contact your local bridal shop.
Back To Unique Wedding Dresses
Back to Colored Wedding Dresses
Back To Perfect Wedding Dress Finder Home Page
*Click here to read our disclosure regarding affiliate and advertising sponsors.