Your Bridal Tiara Headpiece
Finishes Your Look!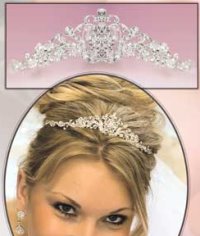 Are you planning to wear a headpiece, such as a bridal tiara, headband or bunwrap?
A tiara, also known also a crown which sit on top of your head, is a popular choice as a headpiece for brides.
Tiaras come in different sizes. They can be as tall as the pageant crowns or as low as 1/2" tall. A tiara used for weddings usually isn't any taller than 3 to 4 inches tall. The most popular heights are 1/2" to 2" range.
Some brides opt to only wear a tiara and omit wearing a veil. You don't have to wear a veil, but many feel the veil is the part that really makes a bride look like a bride.
Of course there are other choices you can make to wear as a headpiece such as, headbands, hair vines, hats and bun wraps and hair jewelry. Also you can decorate your hair with decorative hair pins, combs and hair jewelry. What should you choose?
Before you pick your bridal tiara or headpiece, you first need to determine what your bridal hair style will be. After that is done, now the fun begins. What will you put in your hair?
What you wear on your head can either work for you or work against you since it is a focal point as part of your overall look.
Determine Your Wedding Hair Style
Once you have picked your hairstyle, you can look at what is available for your hair style choice. Here are some options...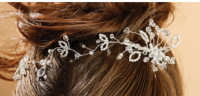 If you wear your hair down you can choose a tiara, or head band or a decorative hair comb, hair pin or clip.
If you wear your hair in an up-do... you can select a tiara, hair vine, decorative comb or decorative hair pins.
If you wear your hair in a bun... a bridal tiara, decorative comb or pins, and a bun wrap may be great choices.
But before you decide on anything make sure your bridal tiara compliment your dress and the jewelry you pick out.
Match Your Dress Details and Bridal Jewelry
Make sure the details on your gown such as pearls, crystals and rhinestones are the same jewels in your tiara or headpiece. So if your gown has rhinestones and pearls, your hair ornament can have either pearls or rhinestones or a combination of both.
Match both the color of the pearls and setting colors. For instance, if you have an ivory dress you would want to get ivory pearls. If your wedding jewelry is set in silver then you want your tiara to have a silver setting.
If your earring and necklace set has gold settings, if possible you would want a gold setting for your tiara. Sometimes this is not possible, but if you can get everything to coordinate, that would be best.
Your Bridal Tiara Should Match Your Body Proportions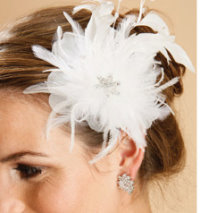 If you are going to wear a tiara you should make sure it is in proportion to your body.
When you are a petite or small featured bride... you should not choose a huge tiara. Get one that is in proportion to your size and will not overpower you.
If you are a plus size bride... you can wear a headpiece or tiara a little bigger than most. This will give you better proportion. Something too small will look out of place on you. Also, a tiara that forms a peak at the top instead of rounded will be more complimentary on you if you have a round face.
If you are a short bride... especially if your groom is substantially taller than you... you may want to get a tiara that is maybe 2" to 3" tall. You can also wear your veil more on top of your head to give more height.
If you are a tall bride... you may wish to wear a bridal tiara under 2" in height. You may prefer the low profile of a headband or to wear hair ornaments or flowers in your hair placed to the side. If you wear a veil, it should be worn low in the back of your head if you don't want to add height to your stature.
What you wear on your head becomes a focal point second to the wedding dress. If you keep the points mentioned here in mind, you will be sure to make the right choice.

Related Articles
Wedding Veil Designs
After choosing your bridal hair style you can now pick out your bridal veil. Which one will work best with you hair and wedding gown design? Here are some things you need to consider...
Bridal Hair Styles
Before you can pick your wedding veil or tiara you need to figure out how you will wear your hair. This article will help you pick the right hair style for you.
Wedding Jewelry Sets
Which necklace and earring styles work better with your wedding dress? Learn how to choose your bridal jewelry to match your dress and styles that will compliment you.
Back To Wedding Dress Accessories
Back To Perfect Wedding Dress Finder Home Page
*Click here to read our disclosure regarding affiliate and advertising sponsors.