Tips From A Clothing Alterations Specialist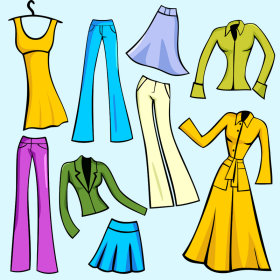 "Do I alter other types of clothing other than bridal and formal gowns?"
I do regular clothing alterations and repair, for only a select few regular customers. I rarely take on new customers, since I specialize in wedding alterations.
So what should you expect when you use an alterations specialist to do your daily wear clothing?
You should receive a custom alterations fitting. What do I mean by this?
This mean that you should try" on your garments and have them pinned for an accurate fit.
This is the preferable method as opposed to pinning your own garments and dropping them off. Many other alterations shops operate this way.
"Trying on" your articles of clothing is the only way to "assure" that you will get the best possible fit.
Below I will give you the "most common alterations and repairs needed" for basic pieces in your wardrobe. But " by no means do these" represent all the types of alterations that can be done. That depends on the tailor, dressmaker or alterations specialist you use.
Pants Alterations
Most often the length needs altering. Can be lined or unlined with or without cuffs. Most often waistbands, side seams will need adjustments. Pants legs can be tapered.
Jeans can be shortened two ways! One way is to cut the jeans off and hem using the same color thread as the original topstitching. This is the way most shops will do it.
Another technique is to shorten the hem and at the same time keep the "manufacturers original distressed edge." Not everyone knows how to do this, so ask your sewing professional, if this is important to you. It may cost more than the other method.
This method is popular with those who buy their jeans for the distressed edge at the hem.
Clothing Alteration: Skirts
Again most often the hem needs shortened or evened up. Clients' hems are marked so that it "hangs evenly on the body." This is accomplished by marking the garment "all the way around even from the floor." You can't accomplish a hem that will hang even without trying it on.
Now, when the skirt finished and is hanging on a hanger, your hem may appear uneven. But when you wear it "your hem will hang even on you." Because of "body posture" and some other "figure variations" most women need their hems marked this way.
Even hems "add to" the appearance of how you look in an outfit. Uneven hanging hems "greatly" detract.
I also take in waistbands and taper sides seams.
Repairs like replacing of zippers and buttons are done also.
Dress Alterations

The hem of your dress need to hang evenly on you. The method described above for skirts, should be used to mark your dress.

Taking in sides, shortening sleeves, tapering sleeves, add darts and take up the shoulders are the most common alterations that are done to a dress.



Clothing Alterations: Jackets, Blouses, Tops
Most often "taking in the sides" and 'shortening sleeves" are needed.
Other alterations include, tapering sleeves, adding darts, shortening hems and taking up shoulders.
The "resetting of the sleeve" will need to be done if you have narrow shoulders. Again all of these alterations are best fitted and pinned by trying the item on, for accuracy.
Restyling Modifications
Extensive clothing alterations include "restyling or modifying" of clothing.
Some small style changes to a garment can be done such as, taking out sleeves or making the existing sleeve a shorter length.
Having the hem changed from a long skirt length to a knee length updates the look. Or tapering from a wide skirt to a straight skirt makes the garment look new.
Taking off a collar or cuffs can change the look of a dress or blouse.
"There are so many ways you can modify the style of a garment to extend the life of your clothes.
If you find a qualified sewing professional who will custom fit you and do a quality job you... they will make shopping for clothing less stressful! And people will notice that your clothing always fit you well.
When it comes to clothing alterations, your Tailor or Dressmaker can be a valuable service provider!
Bridal & Wedding Dress Alterations serving the entire Hampton Roads Area in Virginia including: Hampton, Newport News, Yorktown, Profusion, Williamsburg, James City County, Norfolk, Smithfield, Suffolk, Portsmouth, Chesapeake, Virginia Beach, VA
Back to Wedding Dress Alterations Page
*Click here to read our disclosure regarding affiliate and advertising sponsors.