Best Place To Buy Discount Bridal Dresses
When it comes to finding discount bridal dresses... the challenge is figuring out the best place to purchase your gown.
The best place to buy your wedding dress is from an online discount bridal store. Why do I say this?
Designer wedding gowns prices are marked down as much as 30%.
Gowns are ordered from the same manufacturers bridal shops use.
They are "authorized dealers" and state this on their websites.
Because there are a lot of online wedding stores that are discounting wedding dresses, you have to carefully sort through these online sites. You want to buy from a website that sell "authentic" designer wedding gowns and not "cheap replica" dresses. Make sure you work with one that has a good track record.
To cut down on your search... I have a recommendations for you?
BestBridalPrices.com Guarantee They Have The Best Prices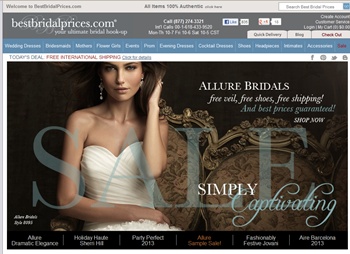 Which websites do I recommend?
Here is one online bridal discount store I'm affiliated with that sell discount bridal dresses that I recommend. Here's why...
BestBridalPrices.com
has a large selection of affordable bridal gowns. If you are on a budget... many are under $500. They also discount "high end" designer gowns.
Don't worry... Bestbridalprices.com is not a wholesale online shop that sell replica wedding dresses from China. They guarantee that you will get first quality, brand new wedding dresses straight from the designers' manufacturers.
Save time and money!
"Save time and money using discount online bridal stores to search for a gown and price shop."

They are "authorized" to sell authentic designer gowns at a price lower than the retail prices.

As with any company I say... do your homework before ordering discount bridal gowns online and make sure you read all the terms and return policies.
Here are 6 reasons you should consider Bestbridalprices.com...
Sell first quality new dresses with the designer's labels and tags attached
Although based in the U.S. they ship world wide
High Better Business Bureau Rating
You can talk to a person by phone if you have questions
Established store front and been in business over 30 years
Low price guarantee will beat competitors price
What should you look out for:
The one thing you should know about this company is that the return policy allow for 3 days to return for refund minus a 50% restocking fee. This means that you have to be very sure of your selection before you order. Make sure you order the right size because you won't be able to exchange it.
Check out BestBridalPrices.com
now to find your perfect wedding dress!
Related Articles
*Click here to read our disclosure regarding affiliate and advertising sponsors.