Wedding Gowns For Hourglass Body Shape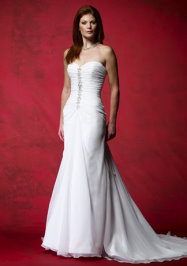 The hourglass body shape is considered the ideal figure type by many. You can wear any style you wish.
The only reason I am writing a page on the hourglass figure type is because some brides I have encountered do not embrace their curvaceous shapes. The only time this figure type can be a problem is if you are self conscious about it.
I have encountered brides through my business who were self conscious and wanted to down play their curves. They didn't want to look too sexy in their wedding dress.
Basically, the bust and hips appear to be equal in width and the waistline is very defined. If you have a a very small waist... it can make your hips look larger.
So the strategies below are split between helping you if you want to emphasize your body shape or you can follow the strategies that help you to de-emphasize your curvy figure.
Strategies: For the hourglass body shape, add width to the waist if it appears to be very tiny. But as I said before, this body type doesn't't need to be camouflaged, unless you are self conscious about your figure. Otherwise, show off your curves with form fitting wedding gowns.
A belted wedding dress can emphasize a small waist. But sometimes you can use a sash to add color to the gown. Try using a light or pastel color belt or sash tied loosely around your waist to make your it appear a little bigger.
Suggested wedding dress styles: Sheath wedding dress, mermaid style wedding gown, dropped waist style wedding dress will accentuate this body type. If you don't want to emphasize your curves... then try the A-line, princess line and empire waist dress styles.
Wedding dress tips: Choose a dress that will highlight your natural curvaceous figure. The trick for your figure type may be that you have to work on not looking too sexy.
So avoid cinching the waist to tightly. Be careful of cap sleeved styled dresses because this style can tend to throw your proportions off for the bust line.
Ruching detail—the gathered detail that is popular on wedding dresses now--- can emphasis curves. This is one detail that can also add or subtract pounds. If the ruching is minimal, flat and angled, it can be very complimentary.
If you want to de-emphasize your curves then don't chose a gown with ruching or if you choose one with it, make sure the ruching is more horizontal than angled. Horizontal pleated bodices can also make you look less curvy.

As mentioned before if you have the hourglass body shape you pretty much can wear any style wedding dress as long as you are not self concious about your figure.
Articles Of Interest
Wedding Dress Styles For The Rectangle Shape and The Pear Shaped Body
Do you need tips for dressing your rectangle or pear shape body? Read these helpful guidelines.
Back to Selection Wedding Dress For Body Shape
Back To Perfect Wedding Dress Finder Home Page
*Click here to read our disclosure regarding affiliate and advertising sponsors.