Marys Bridal Collection Review - A Must See!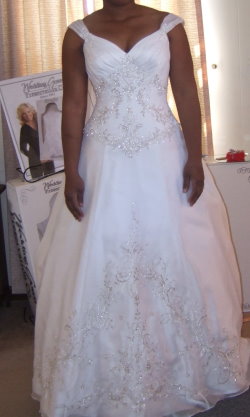 "Here is a customer in a Mary's Bridal Gown
style S075712 Liz Taylor inspired design."
I am very familiar with Marys Bridal Collection because I have altered their wedding dresses and I use to buy their gowns for brides as a discount bridal representative years ago.
I am impressed with the value of Marys Bridal wedding gowns. They are affordably priced and the quality tops a lot of wedding dress designers in their price point.
And when you take a look at their designs... they have beautiful designs that flatter all shapes and sizes, whether you are a young bride or older bride!
If you like the sparkle of beading and embellishments on your gown... then Mary's wedding dress collection has lots to offer. They also carry a lot of ball gown styles if you want the princess or Cinderella bride look.
Their informal wedding dress collection has a variety of styles suitable for reception dresses. These designs also work well for the second time bride and the mature bride who doesn't want a train.
I could go on and on about their bridal gown collection, but something else impressed me about Mary's Bridal.
When you go to their website, it is so easy to navigate and it loads pretty fast. They also picture not just the front and the back of their bridal dresses, but they show alternate views. This way you get a good idea of what the dress really looks like.
And they are all about making your wedding dress selection experience fun and easy! One thing to note is that they have Facebook Like button for each gown style pictured so that you can "like" a particular style. This feature engages you in the selection process and it is fun to see which styles are popular with other brides.
Take a look below at some additional points you should know about Mary's Bridal...
What To Expect From Mary's Bridal
Gowns retail from $370 to $1380. A large selection of them retail under $700
The size range is from size 3/4 to 29/30
Bridal gown color choices: white, ivory and white/ivory.gold and two styles in red
Informal wedding dress colors are: white, ivory, blue, pink, lilac, white/ivory
Most of their wedding gowns come with jackets
Some flower girl dress styles are styled to look like miniature bridal gowns
They have age appropriate wedding gown styles a mature bride or second time bride would feel comfortable with
The color chart and size chart is displayed on their site
Each gown has a suggested retail price and a description of the gown
They have unique wedding dress styles and details, like detachable sleeves, trains or skirts, and sometimes pockets
You can order a catalog (Nothing equals looking at a catalog when it comes to seeing details)
They sell bridesmaids dresses, flower girl dresses and Mother's Dresses
All of the above adds up to the fact that Marys Bridal wants to make your wedding dress selection and shopping process easier by providing lots of wedding dress designs to choose from and the tools on their website to help you find your perfect wedding dress! So make sure Mary's Bridal collection is on your list of wedding dress designers to consider.
On a personal note...
The pictures on this page shows a bridal alterations client in her Mary's gown from the Bridal Couture collection. This particular style has a dropped waistline which is a figure flattering look for a lot of brides. The off the shoulder cap sleeves and sweetheart neckline are flattering details that will balance a pear shaped or rectangle shape body type.
Below is a picture of the construction inside the gown above. You can see that it has boning to help shape the gown and hold the design lines. It also has an inner elastic belting to hold the gown tightly at waist. This is the key to the gown staying in place and not slipping down.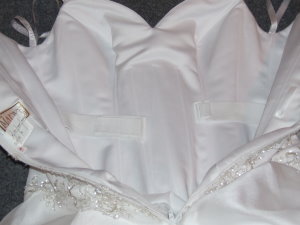 Here is the above gown bustled in an American wedding dress bustle style.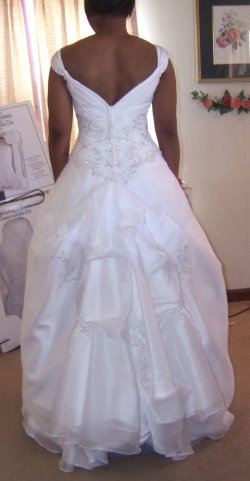 When you see this gown pictured on Mary's website, which appears to have a very full ball gown look to the skirt. This particular bride didn't want the gown too full so she wore a slimmer slip. But if you like the full ball gown princess wedding dress look you can wear a very full bridal petticoat slip under the gown.
Where Can You Find Marys Bridal Collection
Click here to check out Mary's website to look at their full bridal selection of wedding dresses, bridesmaids gowns, flower girl dresses and Mother's dresses. Having all these choices in one place can help you coordinate your whole wedding party attire.
If you see something you like and want to find out where the nearest bridal store is to you... then go to their store locator link to find a bridal shop that carry their collection.
Be wary of ordering online! A lot of websites, for offshore bridal manufacturers, show the designers wedding dress pictures but they actually make copycat versions of the gowns, which rarely equal the look and luxuriousness of the designers gowns. If you don't want to be disappointed... only order from approved authorized dealers of Mary's Bridal!


Back To Perfect Wedding Dress Finder Home Page
*Click here to read our disclosure regarding affiliate and advertising sponsors.