Save Using Seal And Send Wedding Invitations
Seal and Send wedding invitations have been around quite a few years. When they first came on the scene their weren't many designs to choose from. Some designs were very plain. Now you can find a broader selection.
The question is are seal n send wedding invitations for you? What type of wedding do these work best for? Are there weddings that you should not use these type of wedding invitations?
Send And Seal Wedding Invitations Benefits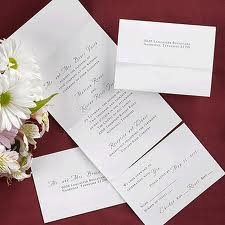 Send and Seal invitations can be said to be the "total package." Why is that? This is because you have the invitation, the reception and respond card all wrapped up into one stationary piece.
It is convenient for you because you don't have to do a lot of prep work, like stuffing the envelopes with lots of inserts. Your guests can easily fill in the respond postcard and mail it back to you. Just don't forget to provide the stamp.
Who should use this type of invitation? If you are a bride on a budget, this could be the perfect solution, especially if you are having an informal style wedding. If you are looking for something unique, this invitation is something that will peek the interest of those who receive one.
Are there weddings for which send and seal wedding invitations would not work? These invites could be used in most wedding formalities. The only wedding formality, in my opinion, it would not be appropriate would be a very formal upscale wedding. These send and seal type wedding invitations may be considered a little to casual for this type of wedding.
Where can you purchase these invitations? Carlson Craft has a large selection of these type of invitations. You can find invitation designs in many themes. You can purchase them from a local dealer or purchase your wedding invitations online.
Back To Online Wedding Invitations
Back To Perfect Wedding Dress Finder Home Page
*Click here to read our disclosure regarding affiliate and advertising sponsors.