Wedding Invitations Etiquette FAQ
Whether you buy wedding invitations online or purchase them from a dealer, when it comes to wedding invitations etiquette, knowing what's proper to do is a must. Below are 5 top frequently asked questions regarding etiquette for wedding invitations.
What Should I Know Before Picking My Invitations?
Your invitation should reflect the taste of you and your fiance. It should encompass your personality as well as your style. You can incorporate your colors and the theme of your wedding.
Just remember your invitation sets the tone of what to expect at your wedding for your guests. Decide if you want to project a whimsical image or very formal image. Some all-time popular theme favorites are the couple theme invitations and those with hearts or flowers, especially roses and calla lilies.
A wedding invitation for a wedding, is very much like a business card is for a business owner. It projects a positive image or a negative one. How is that? It helps them decide if they are excited about attending or not. A lot of the time people decide whether they want to attend your wedding or not.
Your guest will be able to tell a lot about your wedding, such as how serious you are about planning your wedding. Your invitations don't have to be expensive, but should reflect the setting and feel you want to project for your wedding.
Proper wedding invitations etiquette calls for you to choose an invitation that reflect the theme, location, venue and formality of the wedding. For instance, an invitation that would be okay for a wedding and reception held in the backyard would not suit a wedding that is held a hotel with a grand ball room.
You want your invitation to set the mood for what your guest can expect at your wedding. If you are having a grand affair, then your invitations should reflect that. You would not want to use invitations printed from your printer for this type of wedding.
Think about the invitations you have received. Which weddings were you excited about attending? Your invitation will show whether you put a lot of thought into how it looks and is presented. Or if you regard your invitations as a "throw away" item.
Should I Make My Own Wedding Invitations?
This is a wedding invitations etiquette question that come up from time to time. If you are the "do it yourself" type, creative and good with crafts, why not make your own invitations? I have seen some fantastic invitations made by some of my customers.
"One bride actually made an invitation booklet that included her courtship with the groom. It included pictures and the story, complete with response card. She had a difficult time finding a printer in the area to work with her to find the special papers need and to make the odd size cuts she wanted."
"But in the end she ended up with what she wanted, which was a beautiful, unique invitation! I had never seen anything like it, and nothing like it since!"
The down side to making wedding invitations is... it takes a lot of time and in the end can cost you more money than to order them. Plus, finding printers and the specialty papers you need can be difficult and to mail odd size pieces cost more.
You also need to research such things as, invitation wording, font styles and layouts to make sure you follow proper wedding invitation etiquette.
Most brides I have dealt with felt they probably did not save money doing it themselves. But the pay off may be more in getting what you want if you are looking for something unique or personalized.
If you are the DIY type... then here is a source for Wedding invitations you print yourself. Great ideas, supplies and instructions - get started now!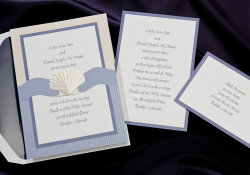 What Wedding Invitation Enclosures Do I Need To Order?

Traditional etiquette for wedding invitations call for certain pieces to be included with your invitation. The two main pieces suggested is the reception card and the response card.

The reception card has your reception location information on it. Wording for wedding reception invitations include the place and time your reception takes place. You include reception cards only in the invitations of those you want to attend your reception.

The respond card has on it a place for the guest to write their name, the respond by date,and the number to attend. Some also include lines to indicate whether the guest will or will not attend. If you have menu choices for the reception these are listed on this card.

Proper wedding invitations etiquette, you are expected to provide the stamp for respond cards so they can be mailed to whom ever you wish to receive them. You are expected to provide the mailing address that you want the guest to mail them to on the envelope. The invitation company will pre-print this for you at no additional charge.

Some other pieces that you may include with the invite are maps or the driving directions to the ceremony and reception. Pew cards can be included for those you want to sit in the reserved seating for the ceremony. You can send information about flights and hotel accommodations to those who are coming from out of town. All of this is acceptable when it comes to wedding invitations etiquette.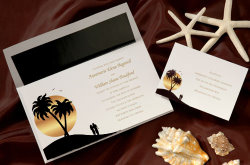 How Can You Cut Costs On The You Invitations?
Here are a few things to remember to cut costs.
Oversize and odd shape invitations cost more to mail. Make sure you weigh one invitation with the inserts for the proper postage. You don't want them returned because of not having enough postage on them.
Limit the number of inserts. The more your invitation weighs, the more the postage will cost.
Do corner copy on the wedding invitation with the reception information to eliminate the reception card. But know that this is considered a "no-no" if you are following traditional etiquette for wedding invitations. But many brides are doing this to cut down on having a reception card insert.
To cut postage costs, instead of having guest send back a respond card, some are having guest make replies by phone.
A time saver is to have the return address printed on the back flap of the outer envelope. Proper wedding invitations etiquette (even though this is a time saver), consider using address labels on your invitations as being tacky..
Use the seal n' send invitations which include the invitation and reception and respond post card in an easy to fold and send format.
Birchcraft online special for April 2011: Get free 100 printed luncheon or beverage napkins with an order of 100 or more invitations.
When To Send Wedding Invitations
Proper wedding Invitations etiquette call for you to mail your invitations out early enough for your guest to make plans. Experts say that proper etiquette for wedding invitations to be sent out is ideally 6 to 8 weeks before the wedding. At the minimum mail them out 4 weeks ahead of the wedding, when most of your guest are in town.
Your respond card should have a date of 2 to 3 weeks before the wedding day. If you have out of town guests... you need to get them out at a minimum of 8 weeks, especially if you did not send out save the date cards.
Following wedding invitations etiquette guidelines will save you time and money!
Resources
Emily Post
Emily Post is the "go to" authority on etiquette. She has a whole section on wedding etiquette including information about wedding invitations.
Back To Online Wedding Invitations
Back To Perfect Wedding Dress Finder Home Page
*Click here to read our disclosure regarding affiliate and advertising sponsors.