Princess Wedding Gowns
Wedding Dress For Your Body Type
"When you think of princess wedding gowns, a grand ball gown usually comes to mind that has the fullest skirt possible."
You think of Cinderella, Snow White and Belle which are some of Disney's fairytale princesses. Also famous people like Princess Diana come to mind.
Now you have the opportunity to be a princess bride at your wedding! Hey... a wedding is the only time most of us can live out this fantasy!
But before you get to far in your planning you need to pick a wedding gown that will be flattering to your figure. Here are some tips to help you choose the perfect wedding dress for your important day!
Princess Wedding Gowns
Choose a wedding dress that flatters your figure!
How do you do pick one that is complimentary to your figure? Let's take a look at some basic silhouettes that you can consider.
The tips below are given to help you pick a princess bridal gown that is flattering to the rectangle, hourglass, pear shaped and apple shaped body types. If you have a balanced shape you can pretty much wear any style bridal dress.
In a nutshell... here are some basic fashion tips for princess style gowns. I only describe the bodice section of this dress style since the skirts are all full and the focus of this dress is on the neckline, bust and waist areas.
For the Rectangle body shape a bodice with angled ruching with a dropped waist bodice is very flattering for your body shape.
A Pear shaped body would look best in a natural waist or slightly dropped waist bodice, because this would focus attention on your upper body.
An apple shape body this isn't the best style choice for you, but you may be able to pull it off with a dropped waist style that stops about the abdomen and has a V-shaped waistline.
Most princess style wedding dresses will not show off your hourglass shape. But if you get a elongated dropped waist ball gown style bodice this will show off your curves.
Small busted brides have a hard time keeping this type of dress up if the neckline is strapless.
This is not the best style for short brides, because it will be overwhelming and make you look shorter. On the other hand this is a great style for tall brides.
Let's take a look at some examples of princess wedding gowns below...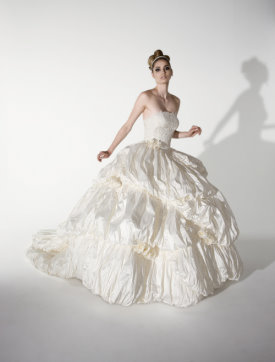 You would be the 'bell of the ball" in this grand ball gown! This gown focuses attention on the upper half of the body. It has a natural waist, which may not be as complimentary for a large busted figure type. The natural waist ball gown style with this full skirt will camouflage the pear shape body, since the skirt is so full.
If you have a pear shaped body and you want to wear a ball gown wedding dress you have to be careful with this style. Why? Because this style can emphasis that the top half of your body is disproportionately smaller than the bottom half. You want to avoid very elongated dropped waist bodice style wedding dresses.
Which body shape would wear this princess wedding gown? This one would be great for the rectangle body shape or the hour glass body type. The dropped waist style looks good on these figure types. If a person has a short-waistline, the dropped waist style gives the illusion of a longer waist. The empire ribbon band draws the eye up.
A large bust body shape would have to be cautious with this style. Why? The empire waist trim causes attention to the bustline and can emphasize it more.
Take a look at this dress!!!
When it comes to princess wedding gowns this one is a little slimmed up, but not by much. This gown starts it's flare low at the hip level and then becomes full. The best body shape to pull this one off is the curvy or hourglass body type. The rectangle body shape, because of the angle of the tucks on the bodice, can probably carry this one off also.
Now this next one is gorgeous!!!
This is actually a princess style wedding dress that will look good on most body shapes. If you are a hourglass or rectangle body shape this dress will look best on your figure. If you have a pear shaped body, you can wear this style if your hips are not more than 1 size bigger than the top half of your body.
If you are an apple shaped bride, the dropped waist and the diagonal tucking on the bodice, can give you the illusion of a smaller waist, since it is also paired with a full a-line gown. If you wear the right foundation garments under the gown you could look stunning in the dress!
When it comes to modern princess wedding dresses... take a look at this bridal gown!
As far as princess wedding gowns go... this one has a very sophisticated modern styling. There are no gathers in the skirt. Its fullness comes from the way the skirt is cut. This is a princess dress for the bride who doesn't want the overly poufy look, but like the ball gown style.
The focus on this gown is on the torso, so this style is best for hourglass, curvy figure. The rectangle figure type, with the right body shape wear can make this work. Pear shaped , apple shape and the full busted body shape may not do well with this style because it focuses to much attention on your trouble spots.
Now this bridal dress below is a classic when it comes to princess wedding gowns!
This last princess style wedding gown dress really looks the part. It has a slight dropped waist with full bell shaped, tucked at waist skirt. If you are a pear shaped bride this style will not focus attention on your hips because they are hidden by this full skirt. All other body types could also try this one too. The gloves really add to the princess look!
Use the advice given as a guideline for picking your perfect wedding dress! These are not hard fast rules. These are suggestions based on my observations of fitting brides in my business.


"Now go shop for princess wedding gowns! If one of the gowns pictured interest you... then click on the picture and it will take you to one of this sites affiliate stores that sells it. These are not replica dresses. The affiliate shops sell the actual designers dresses and are authorized dealers."
Related Articles
Fairy Tale Wedding Dresses
Take a look at these gorgeous dresses in this affiliate shop full of ball gowns and dresses that fit the fairy tale wedding gown theme.
Cinderella Wedding Gowns
Take a look at these wedding dresses for the bride who wants to look like a fairy tale princess.
Do You Need Some Wedding Dress Advice?
Would you like to receive or give other brides, wedding dress advice? Perhaps you have tried on a few wedding gowns on and would like advice as to which wedding dress looks the best on you. Then please feel free to share your questions, comments and tips here!
Back To Perfect Wedding Dress Finder Home Page
*Click here to read our disclosure regarding affiliate and advertising sponsors.