FAQ The Mature Bride Ask About Wedding Attire
What are considered the best wedding dress fabrics for the mature bride to wear?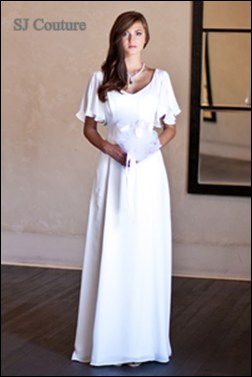 The mature bride is looking for something carefree. The best "fuss free" wedding dress fabrics are those that have a soft hand and will not wrinkle easily.
Wrinkles in a gown show up prominently in wedding pictures. I don't have to tell you how much that detracts from a bride.
Bridal fabrics such as satin, chiffon, georgette, crepes, crepe back satin, poly silk blends and any soft draping fabrics will be best. You will be wrinkle free if you choose one of these fabrics in a polyester fiber.
For the mature bride natural fibers such as silks, linens and cottons may be more comfortable to wear because they allow air to circulate.
The only thing about wearing natural fiber fabrics is that they wrinkle very easily. I have though come across silks that resist wrinkling. Higher grade silks do not wrinkle very much.
That's why you will want a "natural fiber and a blend of polyester" together to lessen the wrinkle factor. The fabric will still be somewhat breathable. And although it won't eliminate all wrinkles, it will at least lessen them.

Wedding gown fabrics that are soft tend to glide over places on the figure where you may not be as toned as you would like. The trick here is to make sure your dress is semi-fitted and not form fitted.
---
When selecting a wedding gown---which wedding dress styles will work best on a mature brides figure?
There is a lot of helpful information about body shapes and figure types on the selecting a wedding dress section of this site.
There are a few complaints made by "older brides" in their 50's and 60's about their figures that seem to be common among this group...
Don't want to draw attention to the "mid-section, waist or tummy area of their figures".

And they also want to "cover the shoulders and arms" with a drape or jacket. 
---
What's The Mature Bride's Best Style Choice?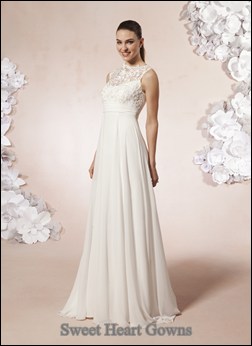 The best dress styles for the mature bride that will be complimentary are as follows:
Empire waist wedding dresses hide the mid section and tummy areas
Strapless wedding dress with a jacket covers the back and arm areas
A-line wedding gowns are flattering to all figure types the higher the a-line flare starts the more coverage your figure will get below that point. For more on this subject go to the section on this site to learn more about the figure flattering a-line wedding dress.
Princess line gown---an a-line dress with princess seaming. The vertical lines are figure flattering.
Mature brides over 50 and 60 want modest wedding dresses with higher necklines and that have sleeves.
Some older brides who want a sassy, sensual look, feel that off the shoulder wedding dresses are more age appropriate than strapless wedding dresses.
Make sure your bridal dress is slightly loose in areas you don't want to call attention to a thick waist, protruding tummy.  If you are pear shaped, then you want to lessen attention to your hips and/or thighs.
These styles have worked out well for many mature brides. Try on a few to see which one will look best on you and suit your personal style.
*Click here to read our disclosure regarding affiliate and advertising sponsors.