What Is The Right Wedding Dress For Your Body Shape?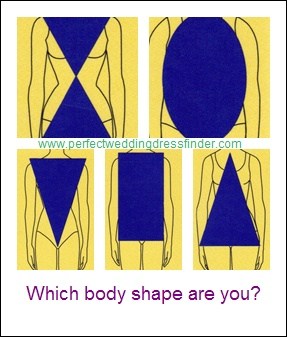 "Choosing the right wedding dress for your body shape means your gown design must compliment your figure!" How does that work? The right dress style enhances your best figure assets and minimizes your figure flaws.

Let's face it... most of us have areas we want to camouflage.

So your wedding gown design should not mirror your body shape in this case. You want to present a proportionate overall appearance by balancing the top half of the body with the bottom half. So the gown silhouette and the details in the design can work wonders to do this balancing act.

Only if you feel you have no figure challenges should you pick a gown that "exactly" define your shape.

The suggested styles in this guide will be the best style choices to enhance your particular figure type.

"My hope is that this information will save you the time and frustration of trying on wedding dress styles that will not compliment your figure."

Now you will be able to go into the bridal shop knowing which styles to start with to make it easy to find your perfect wedding dress...
Could you be the ideal body shape? Hey... You might be. So let's consider that one first.
What Is The Ideal Body Shape?
This is the body shape designers consider "ideal." This body type has no figure exaggerations. The bust, waist and hips are balanced, or in other words in proportion to each area.

Bust and hips are of similar circumference with the waist measurement being about 10" smaller. This is the figure type clothing and patterns are designed for. An example of this would be the measurements 36"- 26"- 36".
Strategies: You are fortunate if you fall in this body type. You can choose any wedding gown silhouette you wish. As long as you have the height... at least 5'5" and above and are an average weight... you basically can wear any bridal gown style of your choice.

Which Body Shape Are You?

Now let's consider other body shapes and figure challenges. Notice which wedding gown styles work for which figure type?

Take note of the suggestions and strategies used to offset problem areas by using bridal dress styles that will accentuate the positives.
What 4 Things You Should Remember When Picking A Wedding Dress For Your Body Shape?

1. Choosing the right dress for your body shape will save you some fitting problems that tend to show up later when being fitted in your wedding dress at the alterations fitting.

2. I know some brides that I have worked with could have saved money on their alterations by picking a dress that worked with in instead of working against their figure.

3, So when trying on dresses... look at yourself from every angle in the mirror to make sure that the dress looks good from all directions.

4. If you are trying on a dress at the bridal shop ask for the alterations seamstress to come out and let you know what can and cannot be altered. Ask about the cost of the alterations needed at this time.
*Click here to read our disclosure regarding affiliate and advertising sponsors.