The Best Wedding Gown Styles For The Petite and Tall Bride
Finding the best wedding gown styles for your figure can be a challenge if you are a petite bride or tall bride. The following suggested wedding dress styles will get you started finding the perfect dress for your wedding.
Petite Short Bride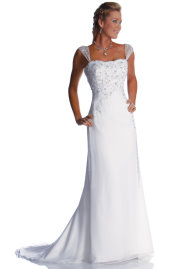 The challenge is to add height or length to your silhouette. Look for dresses that have vertical lines.
A-line wedding gowns and Princess wedding gowns are good choices if you "keep the flare moderate." The addition of princess seaming add length to the body.
The empire waist wedding dress can give length in the torso. But be careful. If you have a prominent bust or very small busted, the empire waist style wedding gown direct the focus of attention to the bust area.
Sheath style wedding dresses and mermaid wedding dress styles are choices you can consider also.
What about a ball gown? Experts say you should avoid this style. But if you must try it, get a style isn''t very poufy in the skirt. Full poufy ball gown wedding gowns have a tendency to shorten the figure.
Also, avoid very long trains because this overwhelms your figure type and can make you look shorter.
Details like appliqués, lace motifs and embroidery must be scaled down in size in proportion to your body. Large motifs and design details will be over powering for you.
For a list of wedding gown designers who make petite wedding dresses read this article.
Tips Petite Brides Should Know About Mermaid Wedding Dress Styles

Be careful though of the mermaid style. If you are a petite bride, this is not an easy style to wear. This style is better for a figure that is 5'7"" to 5'9"". Plus for most petite brides the flare might not start on your figure in the right place.
Also, when a significant amount has to be cut off of the hem of a mermaid wedding dress style, you are cutting off a lot of the fullness in the flare, which may or may not be a good thing.
So if you want to wear this popular style and you are petite what can you do? First wear the highest heeled shoe you can manage. Try on different mermaid style wedding gowns. Note where the flare starts and how much hem will need to come off.
I have seen this style work on some petite brides but the trick is to make sure the flare is minimal and start at your knee.
Wedding Gown Styles For The Tall Bride Slender Body Shape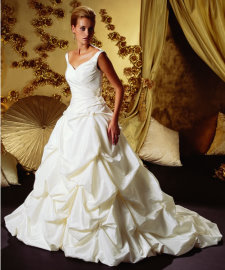 As has been mentioned before, most of the designers design their gowns to fit a bride that is 5'9"" tall. Most wedding gown styles look flattering on you.
But if you are concerned about not looking to tall or slender, there are a few guidelines I want to pass on to you.
Create width in the details on the dress. Some horizontal ruching, deep tucks, pleating and gathering, in the bodice can add width.
Very full skirts like ball gown, a line gowns and princess line gowns can shorten your appearance.Especially when the silhouette almost appears wide in proportions to your height, makes you look shorter.
Wedding gown styles with a basque waist---waist that forms a V-point at waist front--- and an off the shoulder neckline pared with a wide skirt has a shortening affect. Tiers of ruffles or layers in the skirt will shorten you.
The bottom line: These are just a few fashion guidelines to get you started when you are ready to shop for wedding gown styles that will compliment your figure.
"Sometimes though.... what normally is mentioned as a style that will not look good on a particular figure type, just might work for you. It just depends on how all of the design elements of the gown work together. So you don't have to rule out completely any style, try on different styles of gowns to see what you like."
Wedding dress tips: Pay attention to the models in the bridal magazines. Now if you notice certain wedding gown styles tend to make the model look larger, and this is not the desired result you want . . . then avoid that style. If the gown isn't complimentary to their figure, it probably may not compliment you either.
*Click here to read our disclosure regarding affiliate and advertising sponsors.