Find Petite Wedding Dresses For The Petite Bride
If you are a petite bride you no doubt have found it hard to find petite wedding dresses. Most wedding gown designers don't offer the option of petite sizes. But there are a few who do. Here are some questions you may have...
What options are available to you when it comes to buying petite wedding dresses?
If you choose a standard size wedding dress... what should you look for in terms of design for a more flattering fit and to keep down your alterations costs?
These questions and more will be answered below...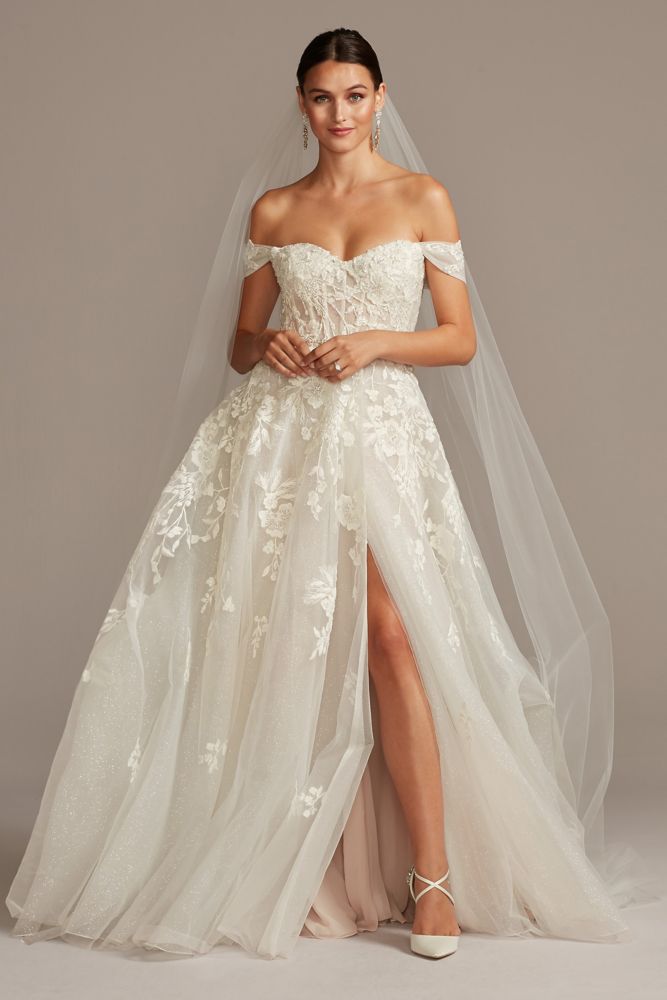 Floral Petite Wedding Dress with Removable...
An A-line wedding dress gets romantic updates to create a beautifully unique, poetic we... [More]
Sale: $1299.00
When A Petite Wedding Gown Is Not An Option...
Petite wedding dresses are not easy to find, but it is possible! Knowing which wedding dress designers cut their gowns with the petite bride in mind, can save you money and time!
Most brides who are short, usually order a standard size and then have extensive alterations done to cut the gown down to size. The biggest alteration job and the most expensive is the hem. Most designers make their gowns to fit a woman who is about 5' 8" in height in at least 2" heels.
So if you are 5' 4 in height or shorter... the average amount that has to be shortened on a bridal gown is 5-6 inches. But I have seen as much as 12 inches taken off the bottom. What does this do to the dress design?
One thing I suggest you do is to wear as high of a heel as you can possibly wear. This will keep from having to cut off too much of the hem in order to keep the gown design looking proportionate on you.
So where can you find petite wedding dresses for short women?
Wedding Dress Designers For Petite Brides
There are wedding dress designers who offer petite sizes in their bridal collections. Some will allow you to order any style gown in their collection in a petite size. Some bridal gown designers only make certain wedding gown styles in petite sizing.
When you can, you should buy a petite size wedding dress if you fall in this size range for a couple of reasons:
You can save money on alterations.


Your dress will be cut to your shorter proportions in other areas of the body other than just the length.
Since shortening the hem of a wedding gown is the most expensive alteration, you can save money if you get a petite size wedding gown. They are cut shorter than standard sizing by about 4" to 5".
Also, the torso lengths for a petite woman are shorter. Wedding gown designers know this and therefore they shorten the bodice lengths and sleeve lengths for petite bridal gowns. How does this help you?
Well when it comes to the bodice length... if you are short-waisted and try on dresses cut to standard proportions, you will see a lengthwise fold forming across the front and/or back of the gown at the waist level. Depending on the design of the dress, sometimes you can alter this out. But in most cases you can't alter for this problem.
A petite wedding dress though, will be cut shorter in the torso area.
So when you have the opportunity to get a petite bridal dress... to achieve the best look and fit... do yourself a favor and buy your gown in a petite size!
David's Bridal carry some of their styles in petite sizes. Their sizes for petites range from 0P to 16P. When you look at their online site you can see which styles are made for petite sizes. Some styles are only available online and not in the stores.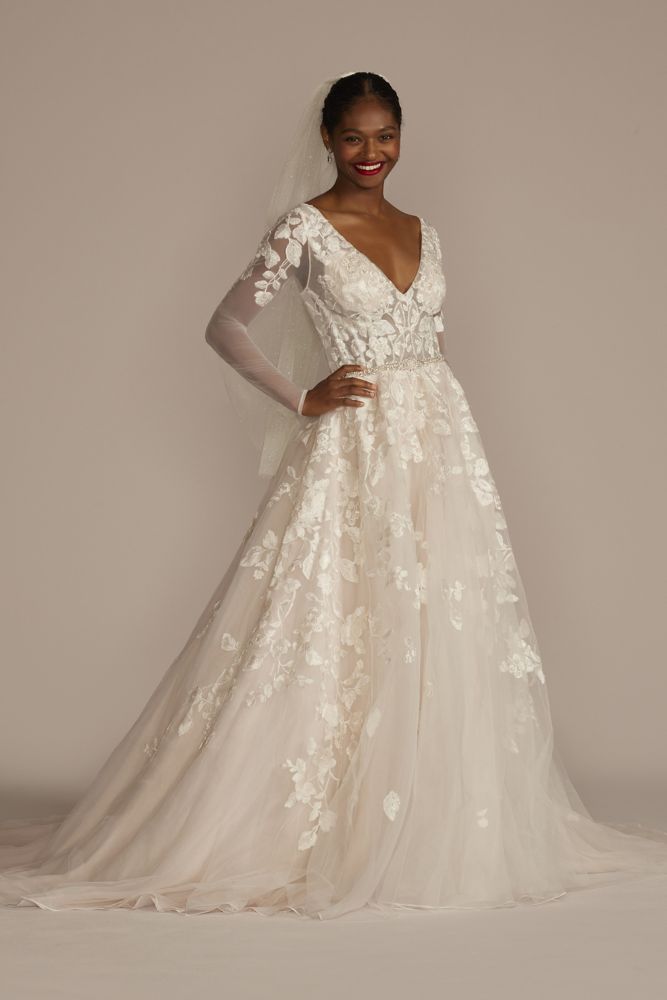 Illusion Sleeve Plunging Petite Wedding Dr...
This captivating long sleeve wedding dress catches the light in so many gorgeous ways, ... [More]
Sale: $1299.00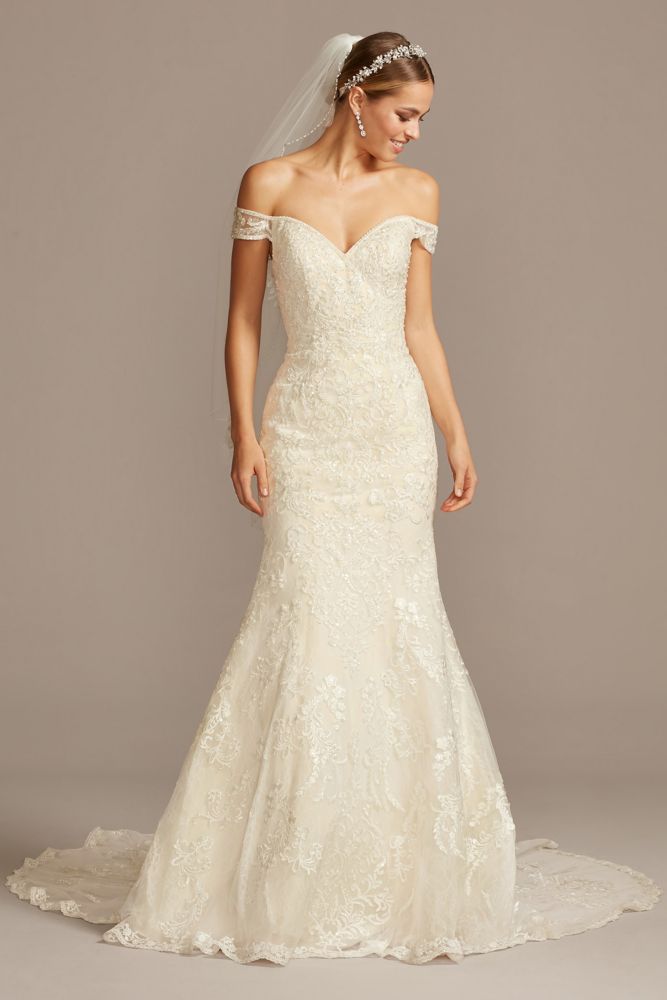 Beaded Lace Mermaid Petite Wedding Dress S...
Six different types of hand-crafted lace appliques and 3,000 beads take this off-the-sh... [More]
Sale: $1299.00
Wedding Dresses For Petite Brides Designers That Offer Custom Length
The next list of designers don't necessarily make petite wedding dresses but...
The following designers will make changes to the hollow to hem measurements for their gowns.
Some offer a set hollow to hem length and others let you choose the length.

The average price for this change is about $100 to $200 additional charge.
You can let the bridal shop sales person know that you want a custom length for your gown.
Make sure you are measured in the bridal shoes or a shoe about the heel height you will be wearing, to get the measurement you should order. If you order your gown online you will have to provide the information to the source you are ordering from. They can instruct you on how this is done.
Jasmine Bridal will make just about any changes that are needed to their gowns including their sizes. You can order Jasmine wedding dresses in what ever length you want. They also offer custom measurements in which your gown can be made to all of your measurements.
Pronovias Bridal Collection gives you the option of a hollow to hem length as follows: Short 59", XS 57", XXS 55" and XXXS 53". They give you a lot options to get that hem length just right.
Maggie Sottero's Collection offers a petite hollow to hem length that would be 3" shorter than their standard length wedding gown.
Mary's Bridal offer custom lengths for some styles and not others.
Mon Cheri Wedding Gowns offers free hollow to hem lengths for these lengths only 52", 54" and 56". For custom hollow to hem changes from 1" to 6" for which there is a charge.
Casablanca Bridal Gowns offer custom hollow to hem free of charge.
Moonlight
Watters and Watters
So remember... Petite wedding dresses gives you a better fit than a dress made to standard measurements. You can also save money on your alterations costs.
Be aware that some styles should be ordered in a custom length. Some styles like...
the mermaid style wedding dress

any wedding dress with borders
designs elements near the hem should be ordered in a custom length
I'm sure that there are other designers that carry petite sizes or offer custom length changes. As I come across them I will add them to the list. Also, you can let me know of any other designers that make petite wedding dresses you know about that you think I need to add as well.
*Click here to read our disclosure regarding affiliate and advertising sponsors.