The Perfect Wedding Dress That's Right For You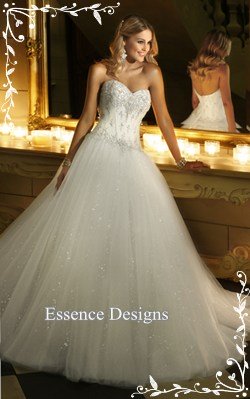 Are you concerned that you will not find your perfect wedding dress?
Will you end up one of those brides who chooses something only later to discover you really don't like it?
These are valid concerns you should be worried about.
To avoid this... you need to do some planning before you even hit the bridal stores.
Going wedding dress shopping unaware of certain things is a recipe for disaster!
Your wedding gown should reflect your personality, your sense of style and compliment your figure.
"Believe me when I say... your guest will notice if your wedding is done right and definitely if things look out of place."
This harmony doesn't just happen by chance . . . it takes planning to find the perfect wedding dress.
The Process - It Starts Here With 4 Key Elements!
The overall setting for your wedding will affect the style of dress you choose. Everything about your wedding must work together harmoniously!

Don't be tempted to skip this part!!!
| | |
| --- | --- |
| | Is your wedding going to be very formal, formal or informal? Do this evaluation to make sure your bridal gown matches your wedding formality perfectly. |
The Perfect Wedding Dress Must Work With Your Body Shape!


Do an evaluation of your body shape here
To pick the perfect wedding dress you need to know which figure type or body shape you have. You may have what is considered the "ideal" body shape. If this is the case... you pretty much can put on any style gown and look good in it!
But if you have parts of your body you feel you want to de-emphasize... then read the tips for each body type to learn how to do this!
Following the wedding dress tips and advice above will assure you of picking the perfect wedding dress for you.
"No doubt you will be a 'picture perfect bride' on you wedding day."
*Click here to read our disclosure regarding affiliate and advertising sponsors.