Complimentary Wedding Dress Styles
For The Rectangle And Pear Shape Body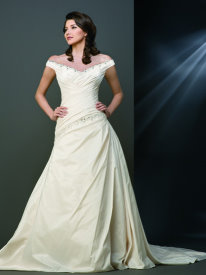 Are you wondering which wedding dress styles will work for your  body shape?
Your goal is to emphasize the positives of these figure types and camouflage the negatives.
But before you run off to your nearest bridal shop... knowing the information below can be helpful in making your wedding dress shopping a little easier and will save you time when trying on gowns.
How? You won't waste to much time trying on styles that aren't complimentary.

So here are some suggestions you might find helpful...

Wedding Dresses For Rectangle Body Shape
Figure Description: This figure appears to be the same width at the shoulder, waist and hips. Very little waist indention . . . waist circumference is 7" or less than hip and bust areas.
Strategies: Choose wedding dress styles that will make the focus of attention draw upward toward your face or down toward the hem and away from the mid-section.
You want wedding dress styles that will give the illusion that you have a waistline. Also, the focus can be directed toward either the neckline or sleeve interest, not both equally.
Suggested wedding gown styles: A-line wedding dress, Princess wedding dress and Empire waist dress.
Choose styles that give the illusion of curves at the waist. Some pleating or ruching in the bodice will create curves. Especially if the pleating or gathering is done at an angle. Asymmetrical styles that swoop to one side at the front also are complimentary.
Corset wedding dresses are great when it comes to cinching in your waistline!
One tip: Check out body slimmers. If you buy the right body slimming garment that concentrates on the waist area, you will see fantastic results!

"I want you to realize though... that these are not hard fast fashion rules, just guidelines.
Sometimes there are wedding dress styles that may normally not be figure flattering, but because of another design detail on the gown, it will balance out any negative things going on with your figure type. So you can be adventurous and try on styles you may not feel will be complimentary. You might me pleasantly surprised!"
Wedding Dresses For Pear Shape Body
Figure Description: This figure type is smaller in the bust and waist areas of the body when compared to the hips, seat and/or thigh areas. Hip circumference is 2 "or more, sizes larger than bust circumference.
Strategies: You want the focus of attention away from the hip thigh area and more toward the face.
The shoulders and/or bodice will need something there to add width in this area. This will create balance to the bottom half of the figure.
Suggested wedding gown styles: A-line wedding gown, Princess wedding gown and Empire-waist wedding gown.
A Ball Gown wedding gown is not the "best" choice---but can be considered if you limit the fullness--- especially for a short brides or a plus size bride.
Choose styles that have width at the shoulders like: off the shoulder styles, short sleeves, shoulder wrapped collars and bolero jackets or shrugs.

Wedding dress tips: The fullness on a ball gown style wedding dress will hide your hips . . . but at the same time it will mirror your body shape, making the lower half of the body seem full. If you want to wear this style... make sure the skirt is not overly full and add width at shoulders to give a balanced look.
*Click here to read our disclosure regarding affiliate and advertising sponsors.