Body Slimmers, Body Shapewear A Brides Best Kept Secret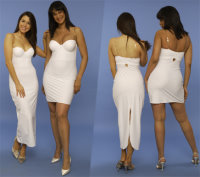 "Are you looking for body slimmers, body shapers or shapewear, girdles, etc.? Which type should you choose?" "Do you really need one?"
These are questions that sometimes come up if you are a bride trying on wedding dresses. The dress looks gorgeous but after trying it on it may show that you have areas that need smoothing out.
Think about the weddings you have attended lately. Some brides went on a wedding diet and really worked out to get in shape for their big day.
But you might be surprised to find out that for some brides, their secret weapon to looking incredible on their wedding day is that they wore the right body shapewear.
Do you really need one... that is up to you. You don't have to wear one if you are pretty much in shape and toned. The more layers you have to wear under the dress the more uncomfortable you will be. Most likely you will need to wear a bridal straplesss bra and petticoat bridal slip, so only add a body slimmer if you feel you must.
But maybe you have been exercising and lost some weight but finding it hard to tone up. This is where you may welcome a little help from shapewear to smooth out and flatten some areas of your shape.
Because most wedding gowns emphasize the bust, waist, tummy and upper hip areas, you need to look your best in these areas. So you may find that you should consider using shapewear.
What Type Of Body Shaper Should I Choose?
Based on results that I have seen with my bridal alteration clients, this is what I know works...
If your wedding gown has a full skirt and starts to flare up near the waist area. You can get by with a longline strapless bra. If you want the waist to be more defined, you can use a body shaper panty girdle or one with the legs that has a high waist to it.
You can also buy targeted body shapers, sometimes called waist cinchers, that go only around your ribcage waist and upper hip areas. If you have a thick waistline or boyish figure this is what you need. I have seen these put in waist curves where there wasn't a hint of one before.
Sheaths, trumpet and mermaid wedding dresses are fitted all the way down including the hips. Most brides will wear a dropped waist long line bra or bustier for the top half of the body and to control the stomach, hips and thighs they use a panty girdle or shapewear with legs. An all-in-one full control body slimmer will also work well.
For full body control some will wear an all-in-one type body slimmer, where the bra and the panty girdle is all together. Some control garments have the bra and slip combined. Remember though the all-in-one garments with the panty or legs in them are really hard to get out of to use the restroom.
Should I Buy A Corset?
It depends on what you want to achieve.
If you are going for just to cinch your waist in a bit... then a long torsolette bra or a corset is for you. The old fashion corset with hooks in the front and lace up back is what I am talking about. It typically works on reducing the ribcage and waist areas. Some are made long enough to include the bust and tummy areas also.Some corsets on the market are made with plastic boning. You can buy these for under $100 dollars. They will pull you in typically 1 to 2 inches in the waist.
Now if you are going for the extra tiny waist look that's popular now... then you have to buy the corset type you wear to train your waist to be smaller. These are the  real deal corsets are made up of about 25 or more metal boning, a metal busk closure front and lace up in the back. These cost any where from $200 to $700. Most of these are custom made to fit your figure.
There is a company worth looking at if you are interested in waist training. Shapellx has a variety of waist training products using combining modern technology and that of the past. Take a look at what is now on the market!


I have had two clients who invested in having corsets custom made, paying hundreds of dollars for them. You have to train yourself in these corsets to get your body to form an hourglass figure. They trained in them for months before their wedding and ending up with amazing results. One client had trained enough to get a 5 inch waist reduction. When she put on her wedding dress she had the tiniest waist. Both clients found the companies they used on the internet. 
But don't expect this to be comfortable to wear, because as shaping garments go... it's the most uncomfortable thing to wear until you body adapts to it. One bride told me she was able to go bowling in hers. 
Oh one more thing you should know is if you wear it in an airport it will set off the machines. One bride had a time trying to tell them about her corset. It was aggrevating when it happened but was quite a comical story when she looked back on it.

Which Brands Of Body Slimmers Work?
Most of the well known body shapewear brands will have somethint that will work very well. But there is one brand that has been very popular among brides for years because they are light weight and comfortable and still provide control.
The brand I'm referring to is Spanx. They have an array of control products for your body shaping needs. I have seen these work wonders for those trying to fit in very fitted bridal dresses. They needed just an inch or so reduction in order to fit into the dress. When they put on their Spanx.... the gown fitted them perfectly.
I have seen body slimmer brands, like Rago and other body shaping brands, produce the same results. These shapers come in different degrees of firmness. You are able to choose the degree of control you need. The thing you want is to find a body shaper that is comfortable and still give you the shaping and control needed.
There is another body slimmer brand that is newer than the aforementioned companies that's fast becoming popular and that is Shapellx. They have an array of sizes, styles and colors to fit the type of control you need. From the reviews they do what is expected and can be comfortable at the same time.

Should I Buy My Body Shapewear One Size Smaller
For Maximum Control?
It sounds like a good idea... but not really. Please don't buy a body slimmer that is a size or two smaller than your size thinking that will pull you in even more. It will only make you so uncomfortable that you won't be able to keep it on for long.
What you want is to pay attention to the firmness that the garment is rated for. You will will see light, firm and extra firm control mentioned on the packaging. It will also list the areas the garment targets on the body. Light control tends to smooth out your curves.
Firm and extra firm control will target specific points like the stomach, thighs and buttocks. Firm control garments will reduce inches in these areas, sometimes enough to result in a size change.
So buy body slimmers in your correct size, by measuring your waist and hips for a bottom control garment and the bust for the "all in one" type garment. Then buy the right amount of control you desire for the body smoothing or reduction you want.
Buying the right body slimmer is key to having the curves and shape you want under your wedding dress.
*Click here to read our disclosure regarding affiliate and advertising sponsors.