Steps For Plus Size Brides To Find The Perfect Wedding Dress
Many plus size brides find that searching and shopping for a wedding dress to be a challenge.
Not being able to find a bridal shop which carry sample plus size wedding dresses is a common problem.
This means you don't have the privilege of seeing styles of gowns in your size range, which naturally rules out being able to try something on.
Also want to find a wedding dress style that will compliment your body type.
But how are you going to determine how which dress will be complimentary for your figure if the bridal shops don't carry your size?
Start Your Research
So what styles are available that would be complimentary to a plus size bride? There are steps to picking a flattering wedding gown silhouette you need to follow.
Knowing which wedding dress fabrics are best when looking for plus sized wedding dresses will also be helpful to know. The fabric plays a large part in how a gown will look on you.
Some fabrics and patterns can actually make a person appear larger. That is not the desired affect you would want.
But before we go too far. Let me say this. Picking your perfect bridal gown style involves more than the dress itself.
You need to consider your wedding ceremony and reception locations. If you have a wedding theme that also needs to be considered.

In other words... when it comes to your wedding setting, your dress has to work with the overall scheme of things to truly be perfect!
Start Your Search
Start by collecting pictures of wedding dresses you like.
Check the bridal magazines. Bridal Guide and Wedding style magazine are the two popular bridal magazines.
Search online at sites like The Knot and Brides.com using their wedding dress search tools.
Search specific designers' web sites, then print the wedding dress pictures you like. You can use Pinterest to make boards of the gowns you like.
Also take a look at wedding dress designers who are now carrying sizes up to size 30. Some are even designing  specifically wedding dresses for plus size brides. They use plus size models!


The best source to see wedding dresses on plus size brides is the magazine The Pretty Pear Bride. You will see various gown styles on models who are plus sized and on real brides which will give you an idea how a wedding gown really looks on various plus size shapes and figures.
Shopping and Purchasing Tips For Plus Size Brides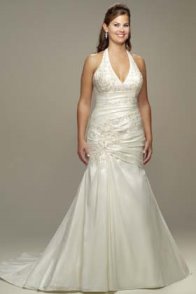 Now that you have picked out your perfect wedding dress... where is the best place to shop for your gown?
Getting help with the questions above will make your shopping experience less stressful and more productive!
Being plus size myself . . . I know the challenges you face. That's why I want to give you as much information as possible.
"I want you to be empowered with the knowledge you need to choose, find, and buy your dream wedding gown."
Also, because of my experience with fitting many plus size brides . . . I can enlighten you on what really works and what doesn't.
Yes . . . believe me when I say... you will find your perfect wedding dress and become the bride you have always envisioned you would be!!!
Shapers fo full figured women

Related Articles
*Click here to read our disclosure regarding affiliate and advertising sponsors.