How To Find Stylish Comfortable Bridal Shoes
Many brides wonder... "Is it really possible to find stylish and comfortable bridal shoes?"
Well it takes time to find them, but it can be accomplished. Nothing is worse than having shoes that hurt your feet and you have to stay in them for hours.
"You will most likely find out if you have comfortable wedding shoes or not at your first dress fitting. If it turns out that they aren't... go buy another pair is my advice. I have worked with many brides who did just that and were glad they did!"
Wedding shoes are an essential wedding dress accessory that completes your wedding ensemble, so style and comfort should be at the top of your list when shopping for wedding shoes.
Tips For Purchasing Dyeable Wedding Shoes
First you want to determine if you want to wear dyeable wedding shoes. These are made of different fabrics like satin and crepe. They come in white and can be dyed any color.
As for comfort... dyeable shoes are sometimes not the most comfortable bridal shoes. They are made of man made materials and don't stretch easily. The best thing about dyeable wedding shoes is that you will have lots of styles and heel heights to choose from.
Where can you find dyeable bridal shoes? Some retail shoe stores sell them, but many bridal salons sell them also. They are generally more expensive at the bridal shop than buying from a shoe store, but bridal stores usually have more styles to choose from.
When ever possible try on the shoes and walk around in them a while. Stand in place with them about 10 minutes to see how they feel. Why do I say 10 minutes? Because when I fit brides for alterations, this is the amount of time it usually takes for them to see whether they have comfortable bridal shoes or not.
You will most likely be standing in one spot for up to 30 minutes during your wedding ceremony. So if you don't have time to stand in your shoes at the store take them home and do this. If they are very uncomfortable, do yourself a favor by returning them and finding something else.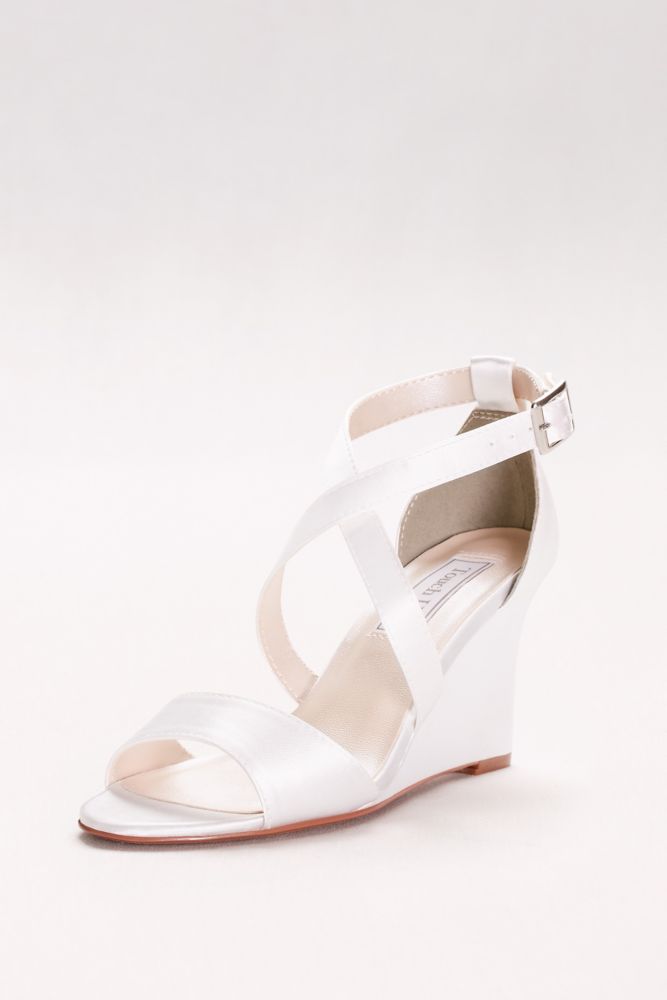 Jenna Dyeable Wedge Sandals Style 4178
Made from a dyeable satin, these crisscrossing wedges combine style with comfort. By To... [More]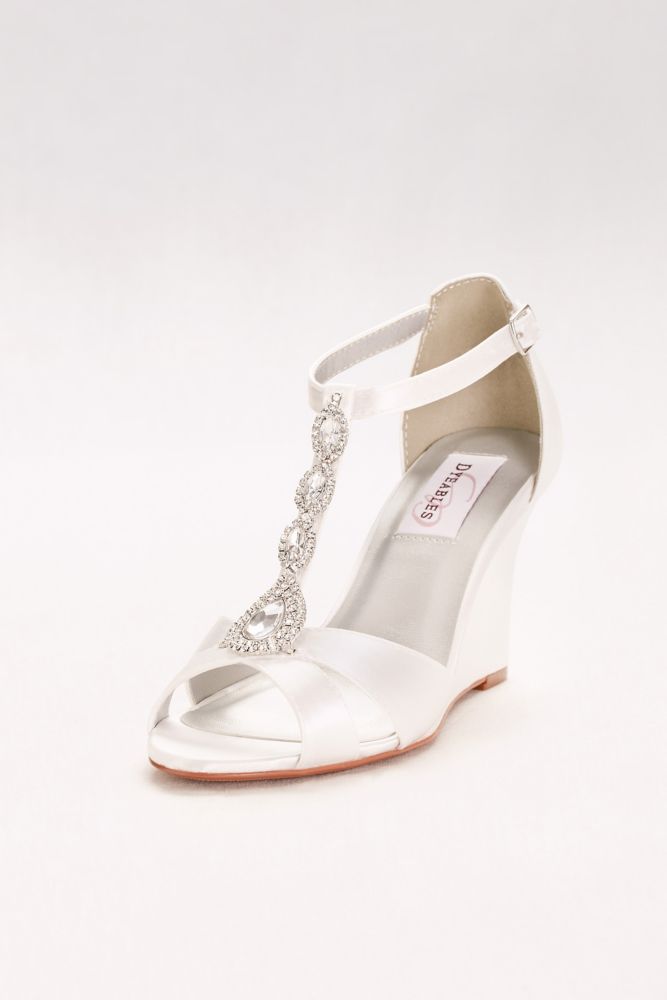 Dyeable Satin T-Strap Wedges with Crystals...
These dyeable satin wedges are finished with a sparkling crystal T-strap accent. By Tou... [More]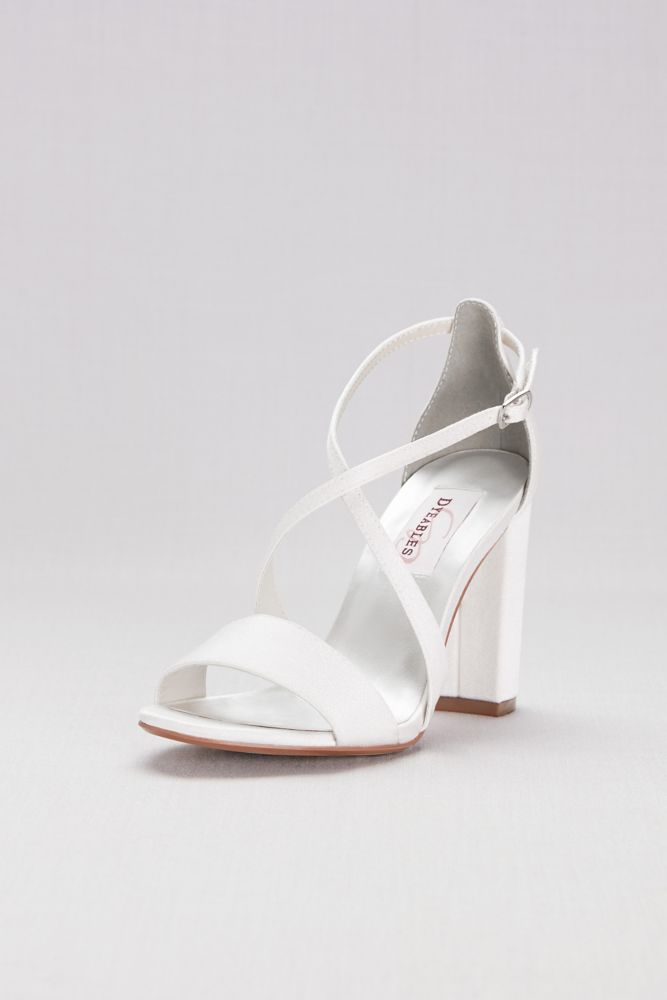 Dyeable Crisscross Strap Block Heel Sandal...
These chunky-heeled dyeable matte satin sandals captivate with crisscross straps. By Dy... [More]
One note about ivory wedding shoes: There are different colors of ivory. And most likely you will not be able to easily find a shoe right off the rack the right color. You have candlelight, off white, cream, etc. You will have to have buy dyeable shoes and have them dyed to match you dress. The place you purchase your shoe is the best place to use to have them dyed. If this is not possible, then take them to the nearest shoe repair shop. They will dye shoes for you. Remember to take your dress with you or a swatch of fabric so they can match up the color correctly.
What Can You Do To Make Your Wedding Shoes Comfortable?

Some brides say that walking around in them before the wedding helps to break them in.

Others say that wearing thick socks can help to stretch them.
You can also buy a shoe stretcher to widen some shoes, especially leather ones.

Or you can take them to a shoe repair shop to have them stretched for you.
What color wedding dress shoes should the bride wear? Traditionally brides wear the color that is the same as the dress. Usually that would be white wedding shoes for a white wedding gown. Or if you have an ivory gown you would buy ivory bridal shoes.
Most Popular Choice For Bridal Shoes

But the most popular choice when it comes to wedding shoes for the bride is that brides like wearing various shoe colors, like purple, red, gold, silver and pink with white or ivory wedding dresses.
So you really don't have to wear colors to match the dress. Some choose the shoe color based on their wedding colors. It's a fun way to bring out your personality, using your bride shoes, if you are the type who like to stand out!
If you choose a colored shoe.... you can consider buying these in leather instead of man-made materials. This way you will have a comfortable bridal shoe since leather gives and is breathable. This is a tip coming straight from my bridal customers.
You can also choose a metallic shoe color like gold, copper, bronze or silver to go with your bridal dress. You may also consider wearing a pair of clear vinyl shoes.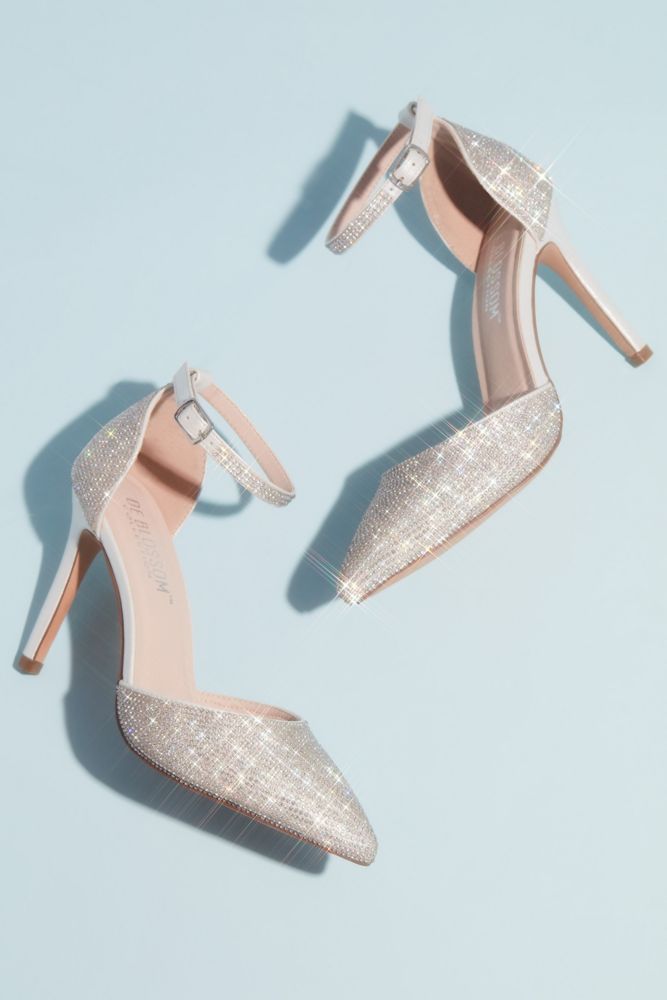 Micro Crystal Pointy Toe Ankle Strap Heels...
Shimmering with dozens of micro crystals and finished with an ankle strap, this pair of... [More]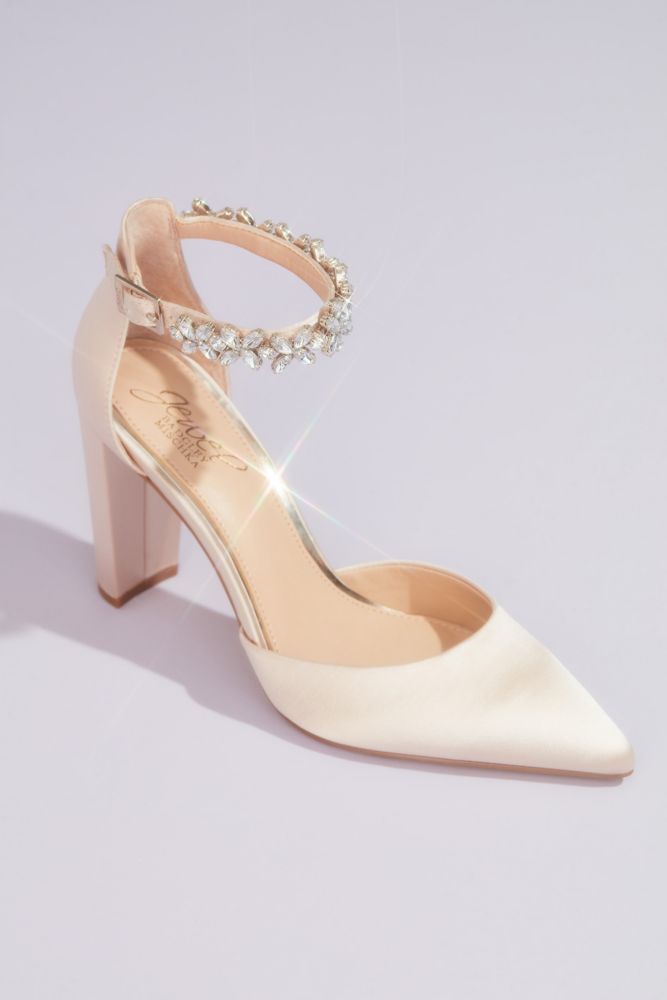 Pointed Toe Block Heels with Crystal Ankle...
Let love sparkle in these elegant satin shoes, featuring crystal embellishments on the ... [More]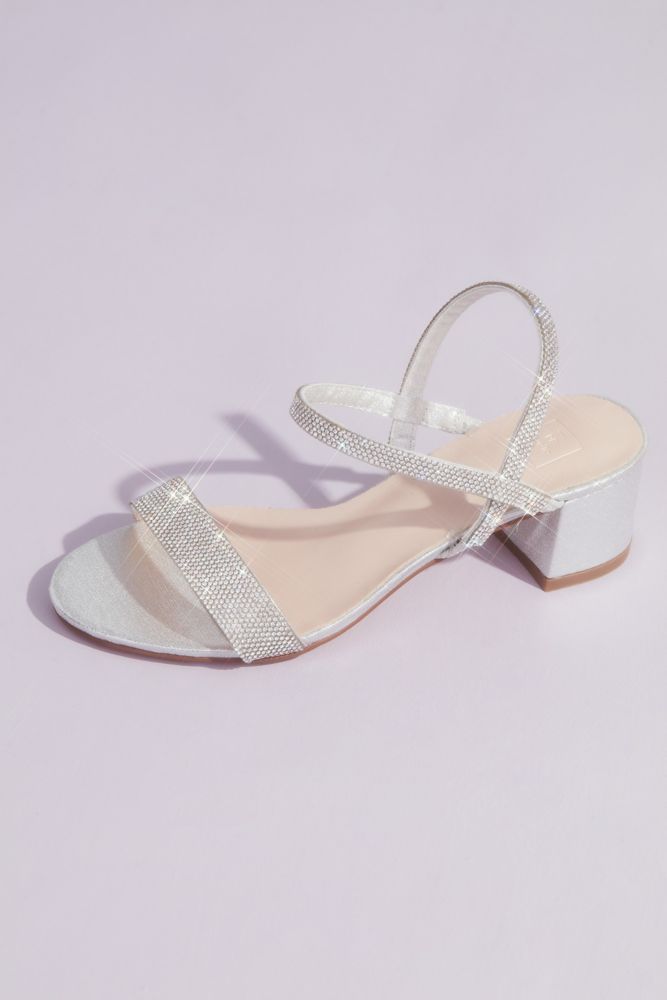 Crystal-Encrusted Stretch Strap Low-Heel S...
Slip on these easy dancing shoes: the stretchy quarter-strap styling holds them secure ... [More]
Top 8 Tips For Choosing Comfortable Bridal Shoes


Try on the shoes. Walk and stand in them at least 10 minutes.
Consider buying leather shoes. They will give and stretch for comfort.
Choose a sensible heel. Go only as high as you can comfortably walk in.
If you choose a high heel plan on having some back up shoes that have lower heels.
A high heel with a platform is more comfortable than those without a platform.
A wedge heel shoe can be a comfortable bridal shoe choice for some.
Back up shoes for the reception can be wedding ballet shoes or wedding flip flops.
Use shoe pads and cushions to make your shoes more comfortable.
A Word About Ordering Your Wedding Shoes Online
I mentioned before that it is a good idea to purchase your bridal shoes where you can try them on. Sometimes though, you may not find what you want locally, but you may see something online. How can you make ordering shoes online work for you?
Your goal is to get stylish comfortable bridal shoes. What you may want to do is order at least 2 or 3 style of shoes. Or if you have your heart set on a specific style, order it in 2 different sizes or widths.
Make sure the online shoe store has a liberal return policy.

Some allow you as much as 6 months to return the shoes in unworn condition.

Some have free shipping. Others will ship shoes out fast, like delivery in 2 days without extra costs.
Ordering your bridal shoes online will give you more style options than going to local shoe shops. Ordering this way is easier for those who wear the same size and width shoe no matter what shoe they try on.
For those with problem feet it will be a little tricky to find comfortable bridal shoes online. It may be easier to buy your shoes locally. But if you have the time and use the right online shoe store, you can find your wedding shoes online.
Choosing Your Wedding Flip Flops
Beach weddings call for a different type of bridal shoe. It's hard to walk on sand with heels. Bridal flip flops are a great choice for weddings held right on the beach. It is best to wear a flat surface shoe to walk on sand.
The most comfortable bridal shoe choice would be a flip flop. You can find these in flat or platform styles. You can buy them adorned in crystals or rhinestones or buy them plain and add stones yourself.
You can also opt to go bare foot if you like. There are some sites that sell foot jewelry to adorn your feet, for that special bridal touch.

Another option for the sand is to wear wedge heel shoes or ballet shoes.
Looking for a comfortable bridal shoes for your wedding reception? Wedding flip flops are a popular choice for brides for the reception, instead of using ballerina ballet shoes.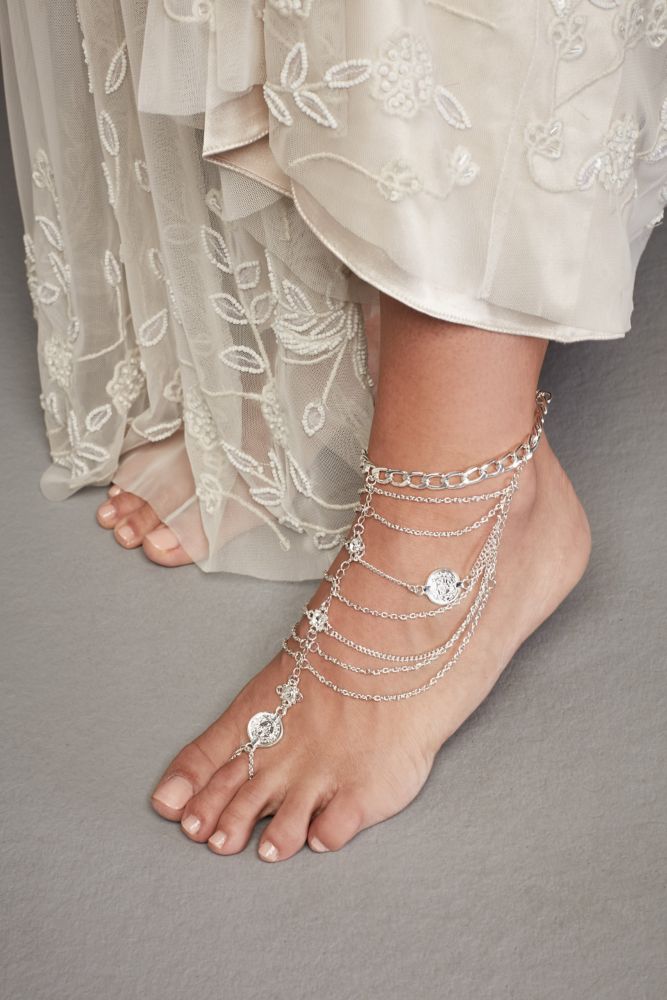 Draped Chains and Coins Wedding Foot Jewel...
No shoes? No problem! Walk down the sand-covered aisle in this barefoot wedding anklet,... [More]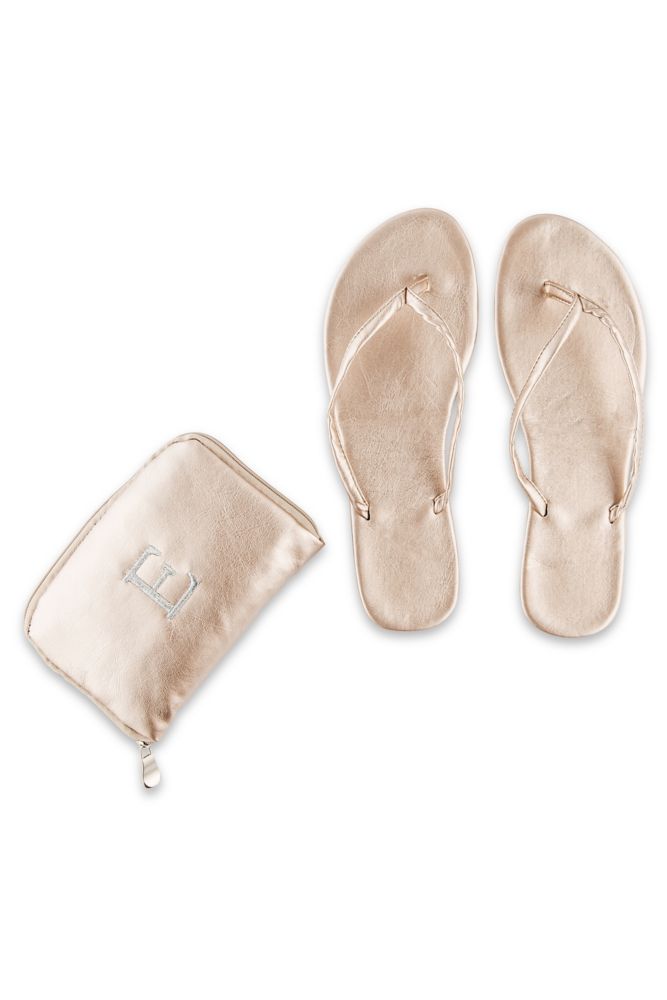 Monogram Foldable Flip Flops Style 4880
These metallic foldable flip-flops ensure you"ll always have comfortable shoes on hand.... [More]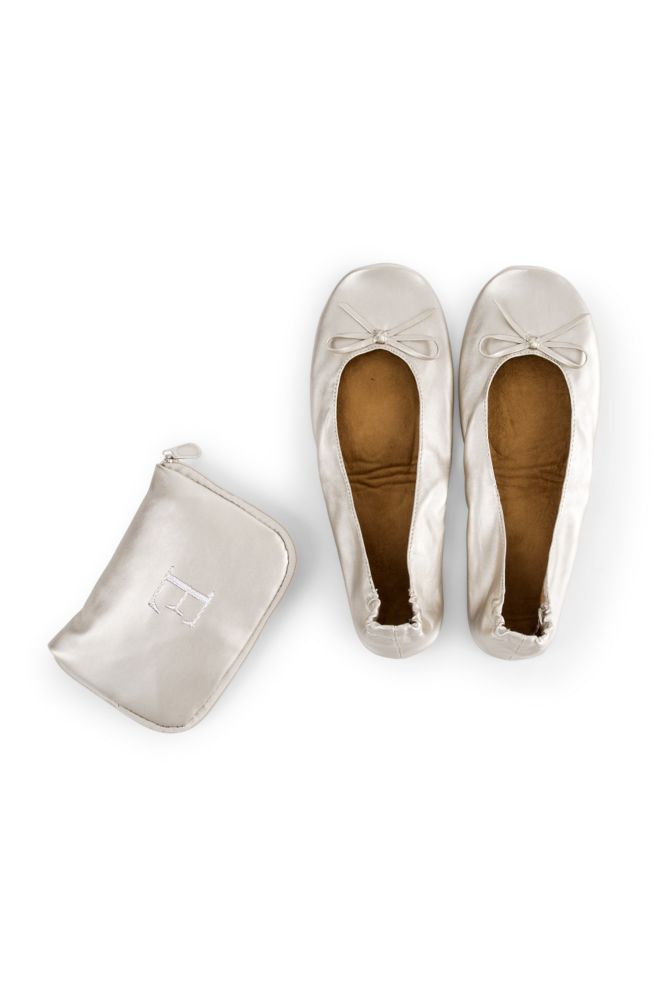 Personalized Pocket Shoes Style 7041
Give your feet a break with these adorable pocket shoes! Small enough to tuck inside a ... [More]
*Click here to read our disclosure regarding affiliate and advertising sponsors.