Wedding Attire Challenges The Mature Bride Face
When you are a mature bride looking for wedding dresses and you are 40, 50 or 60 years of age, there are two things you want to accomplish...
You want to look fantastic that day!
Feel comfortable in what you are wearing.
You also more than likely want a little more coverage in a bridal gown than a younger bride would, yet you don't want to look matronly.
You desire a vibrant, sophisticated appearance, for an age appropriate wedding dress.
But the challenge is there isn't a category of dress styles labeled "mature" wedding dresses. As it stands now . . . some mature brides can have a difficult time finding age appropriate wedding attire that they feel comfortable wearing.
A Mature Bride Survey Reveals What They Want In A Wedding Gown
There was a poll taken on this site of mature brides asking them what they were looking for when it came to a wedding gown. Here are the results:
Wanted some sort of sleeves - 3/4 length sleeves was the number one choice then cap sleeves, long sleeves, short sleeves  and then straps.
Necklines V- necklines was the number one choice. The next was bateau, jewel neck, off the shoulder and then one shoulder strap in that order. Portrait and sweetheart were suggested choices by some doing the survey.
Most preferred for more coverage a shrug or jacket over using a wrap to wear with a strapless wedding gown since that is the style of choice for wedding dress designers for more than a decade now.
More streamline silhouettes, like a sheath or medium full a-line or princess line.
Shorter trains - most wanted no train at all or just a sweep train.
Non-traditional wedding dresses such as, mother's dresses had high numbers followed by a wedding suit and evening dress. A small percentage wanted a traditional wedding gown.
"I know it may not seem true, but there is a good supply of wedding dress styles for the older bride who wants a 'modestly styled'-- but still 'stylish' gown ---on the market!"
"You just have to be willing do a little searching on the web to find your perfect wedding dress. On the pages of this site I will display a sampling of gowns you might consider."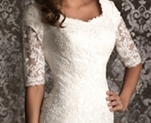 Wedding dresses with sleeves Learn how to pick the right sleeve length that flatters you.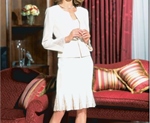 Wedding suit If you prefer a bridal suit you can read about those tips here.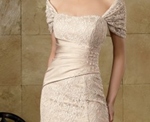 Mother of the bride gowns are great for wedding dress alternatives.
Second time bride What should you know if you are a second time or encore bride? You will find these tips helpful.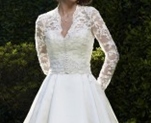 Long-sleeved Wedding Dresses Who knew long sleeves dresses could look so elegant on a wedding gown?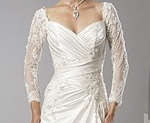 Need some tips on how to search for and where to buy mature wedding dresses? Click here for more information...
Wedding Attire Tips And Advice For Older Brides
Need some advice about what's appropriate or do you need answers to etiquette questions.
The following wedding attire tips and advice are based on my experiences working with mature brides as a bridal dressmaker, as an alterations specialist and on the advice of fashion experts.
Now one thing about today's wedding etiquette is that there are no hard fast rules you have to follow and that's a good thing. So the final choice of what you choose to wear at your wedding depends on what you feel comfortable wearing. Notice the box below...

Are there any etiquette rules an older bride need to follow when choosing an age appropriate wedding dress?
No, there are no rules of etiquette you have to follow. But generally, I have found that brides over 50, want a gown with sleeves and modest front and back necklines.
A bride between 40 and 50 years old, might not mind wearing a strapless wedding dresses or a halter style bridal gowns with low back necklines. Brides over 50 and 60 year old however, will also wear a strapless dress or even a halter but will usually opt to wear a jacket or wrap over it for modesty and comfort from what I have observed.
But of course, it all boils down to what you feel comfortable wearing and what compliments you!
Are You A Mature Bride Who Need Some Wedding Dress Advice?
Would you like to receive or give other mature brides, wedding dress advice? Have you encountered a problem choosing, buying, or having your dress altered?

Maybe you have helpful tips you would like to pass on to other brides searching for their wedding dress.

Perhaps you have found your perfect wedding dress and want to show it off! Where did you find it? Then send in a picture and tell us about it!

Please feel free to share your questions, comments and tips here!
*Click here to read our disclosure regarding affiliate and advertising sponsors.