Mature Brides Want To Know Answers To FAQ
What are the wedding attire etiquette rules for weddings of older brides?
Most of the "taboos" for mature brides wedding attire no longer exist. Wedding etiquette guidelines have changed dramatically over the years. You can wear whatever colors you like and any style of bridal gown you want.
But to truly have your perfect wedding dress certain elements must come together. These include the color, the style, and the fabric should look good on you and be comfortable to wear.
"You don't want a dress you have to fuss with on your wedding day."
Should you have a train on your bridal dress?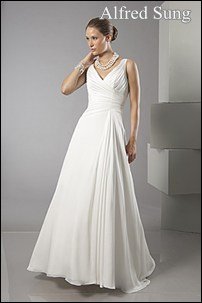 Since there are no wedding etiquette rules stating that mature brides shouldn't wear trains... "it is your personal decision."
But as a mature bride you likely want a wedding dress easy to wear. Choose a floor length wedding gown "without a train" because it will be less of a hassle to wear.
Maybe you have found a gown but it has a train. You can have the train cut off by a good dressmaker.
If you happen to want a small sweep train for more of a traditional wedding dress look . . . make sure you ask your alterations specialist for what's known as a wedding dress bustle.
The "bustling of wedding gowns" is a technique used to hook the train up in a decorative way on the back of your gown so you can move about freely without having to carry the train. Nor do you have to worry about anyone stepping on it.

Wedding Dress Tips:
A long gown can be cut off to a shorter dress. This is helpful for you to know in case you find a long gown and want it tea length or street length.
Can sleeves be added to a wedding gown without sleeves?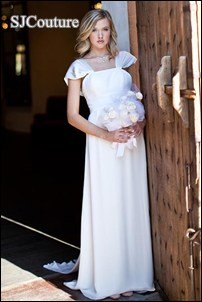 Some older brides are not comfortable with their upper arms and usually want wedding dresses with sleeves. This is one of the most requested additions mature brides ask for.

This can be done for some styles. Some sleeveless designs (like the picture up top) and off the shoulder wedding gowns can have sleeves added. Some strapless gowns will work also.
But because this can be expensive to have done... it is best to find wedding dresses with sleeves or with a removable jacket. Fabric would have to be matched and a sleeve pattern designed and fitted to you and the dress.
If it turns out you want sleeves added to a gown... then consult with a wedding dressmaker to see if you can bring in a picture of the bridal gown you want to add sleeves to.
"Do this BEFORE you buy the gown, so you won't be disappointed later if it's not possible!"

Do you have other questions you need answered? Would you like to be guided through the process of searching for your wedding gown? Then allow me to assist you!

*Click here to read our disclosure regarding affiliate and advertising sponsors.