Unique Wedding Dresses- How To Find The Right One For You?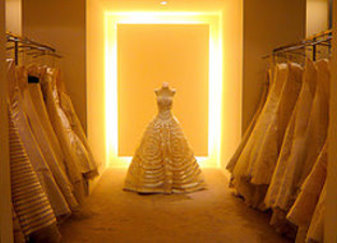 Looking For That One Of A Kind Wedding Dress!
Are you looking for unique wedding dresses? If you...
Want a wedding gown that will show off your personal sense of style.
Tired of seeing the same old styles and want something different for yourself.

Want a bridal dress that you don't see everywhere.
Having a unique wedding theme.

The perfect wedding dress for you may be one that is unusual in some way. 'It must have an air of excitement and drama! and" 'It stands out from the crowd."

The elements that make a bridal gown unique could include:
an original design

unique fabrics 

embellishments on the gown.

Finding A Unique Wedding Gown

How can you find a unique wedding gown? There are three ways:
Re-design a wedding gown by adding to or taking away elements.
Why not create your own wedding dress? Find a local wedding dressmaker or choose an online source to make your wedding gown.

But be careful, especially if you are having your dress custom made. If you have to many design elements going with your gown... it can begin to look like a costume, instead of an elegant wedding dress.
Unique Wedding Dresses For Theme Weddings
Depending on the theme for your wedding, your gown has to match it or you will look out of place! Brides who chose the dress before figuring out the theme end up having to change the dress.

One of the most popular wedding themes now are beach weddings. This calls for the right beach wedding gown, which is usually an informal style gown.
Vintage Wedding Dresses are making a comeback, especially the styles from the 50's and 60's. 
Fairy tale weddings call for romantic, fairy tale wedding dresses,
Princess wedding gowns. You know the type, the big ball gown Cinderella wedding gown style.

For some themed weddings you need to look for unusual wedding dresses. What would those be?


Renaissance, Victorian and Elizabethan wedding dresses are needed for Gothic or Medieval wedding themes and are more like costumes than wedding dresses. Here are tips on finding Medieval fairytale wedding gowns.
Weddings reflecting ones' heritage or ethnicity such as Asian weddings, African weddings, and East Indian weddings are some of the popular ethnic wedding themes that require unique wedding attire.

So you can see that depending on the theme, your gown has to match it or you will look out of place!

Azazie Persephone
*Click here to read our disclosure regarding affiliate and advertising sponsors.