Cinderella Wedding Gowns For The Princess Bride
"Nothing equals the beauty of Cinderella wedding gowns! If you are a bride who has always wanted to be a princess on her wedding day, then a princess ball gown wedding dress like those in the fairy tales, is what you need to make your dreams come true."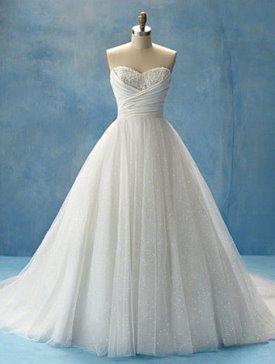 The Perfect Cinderella Wedding Dress
What qualifies as a Cinderella wedding gown? Remember the movies based on the story of Cinderella? She wore a beautiful big ballgown dress!  Look for...
Very full ballgown skirt with volumes of fabric

Popular fabrics satin, tulle, taffeta

Built-in crinoline
Floor length gown with no train or with train
But there are some things you need to consider if you plan on buying this wedding dress style.
One designer that has for decades been known to carry a lot of ballgown wedding dress styles in their collection is Mary's Bridal.
Check out Casablanca Bridal ballgown collection. I'm sure you will find something that will catch your eye!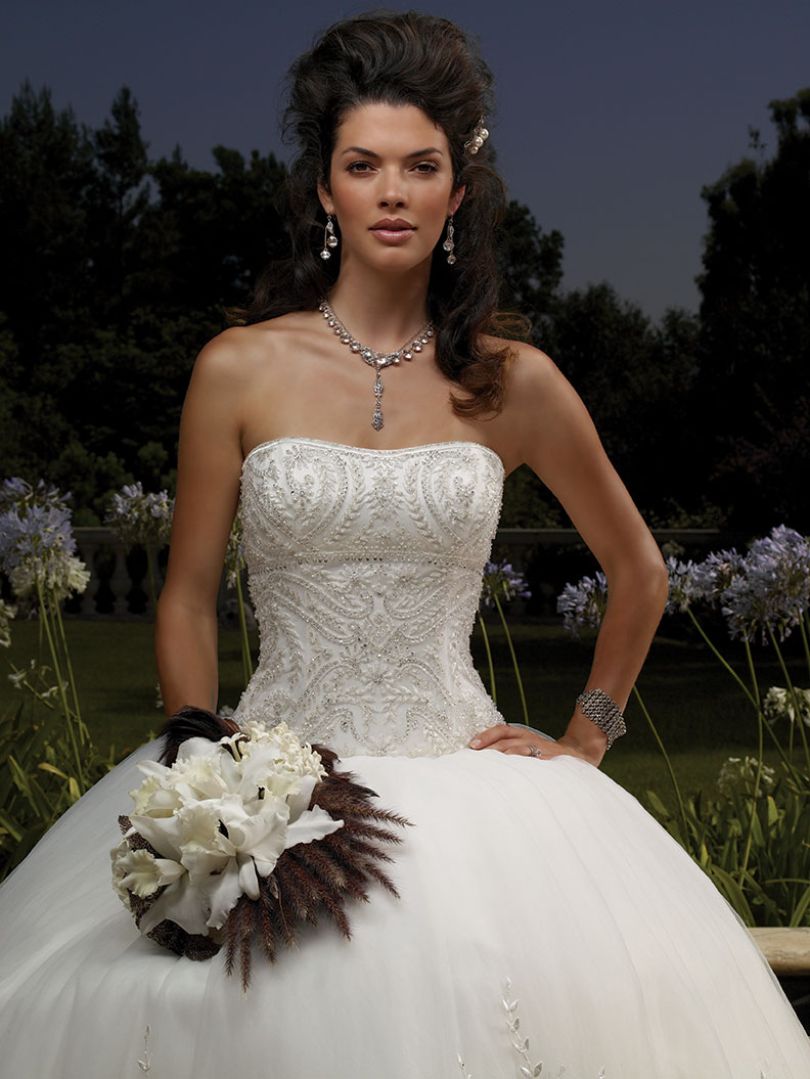 What You Need To Know Before Buying A Cinderella Wedding Gown Style

If you are short and petite...
A full skirt princess wedding dresses can be overwhelming for your body frame. They tend to make you appear shorter, because they are so wide. You would need to be at least 5'7 with heels on to pull this ball gown wedding dress style off successfully.
If you are small busted...
You may have a hard time keeping a strapless neckline in this style from sliding down, because of the weight in the skirt. So it may be very hard to get this style tight enough so that it is comfortable for you to wear.
If you are tall bride...
Your body type can wear this style the best! Because of the wide full skirt, it can make you appear shorter in height. Which may be something you may not mind.
"I am sure you will find the perfect wedding dress that will make you the princess bride you have always imagined!"
What Type Of Crinoline Should You Buy?

You will find most wedding dress designers build in a crinoline in the gown. The majority of the time these are made into the gown to add shaping to it and aren't expected to give you all the fullness you might desire.
It is expected that you will buy a crinoline bridal slip to go under the gown for additional fullness.
You may find some wedding gowns that have the full amount of crinoline built in the gown. When you do... they are very heavy dresses to wear.
While this dress will save you money because you don't have to buy an additional slip, you may find it comfortable to wear because of the weight on the shoulders.

That's why most designers make a less full width crinoline in the gown. 
This way you can distribute the weight between the gown and your body.  Wearing a separate slip at your waist takes the stress off the dress. Plus you can choose the slip fullness you want for your gown, whether you want it full or very full.
One designer that has for decades been known to carry a lot of ballgown wedding dress styles in their collection is Mary's Bridal. If you are looking for Cinderella wedding gowns this designer has a lot of very full skirted ball gowns.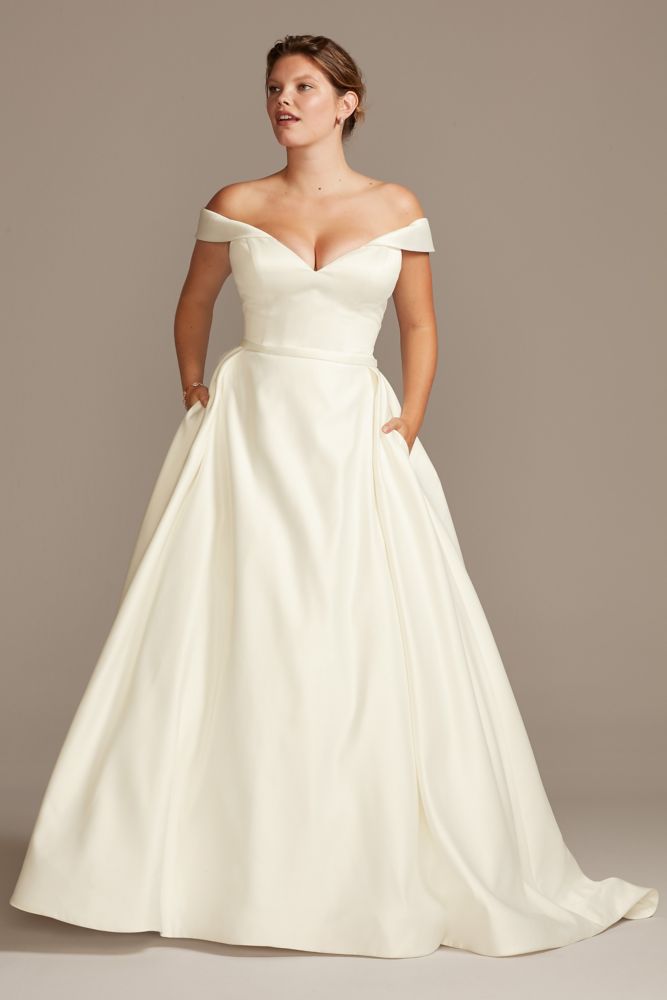 Off Shoulder Satin Gown Plus Size Wedding ...
A classic ballgown silhouette gets a modern, romantic revival in this spectacular unemb... [More]
Sale: $549.00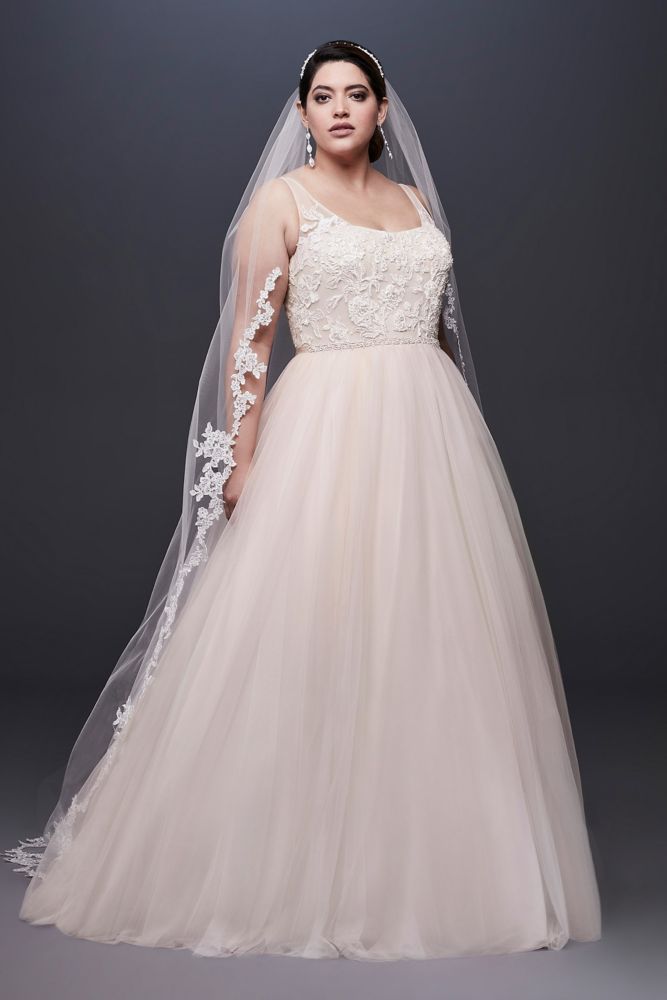 Lace and Tulle Plus Size Wedding Dress wit...
A skirt crafted of tulle, netting, and crinkle chiffon swishes below a pearl beaded lac... [More]
Sale: $399.99
*Click here to read our disclosure regarding affiliate and advertising sponsors.