Bride Wedding Suit - Pick The Right One For Your Wedding
Wedding Suit by Landa
A bridal suit, also know as a wedding suit or even a two piece special occasion dress, could be your best choice for wedding attire if you are a mature bride.

Use this type of bridal outfit when you...
Need something that would be appropriate for an informal wedding
Need something to wear as a reception outfit 
Want something for the honeymoon. 
Want something practical so that you can wear it again.

The Wedding Suit
The wedding suit is a 2 or 3 piece wedding outfit. It usually consists of a jacket, sometimes a top and skirt in any length.

The Wedding Theme: A formal length skirt would be floor length or tea length. For an informal look . . . choose a "street length" skirt. The best fabrics for the wedding outfit would be soft light to medium weight fabrics.

Fabrics: These could be satin, crepe back satin, silks, cotton, linen, polyester silks, some light weight brocades, crepe and peach skin fabric. Any dressy soft fabric will work.

A Warning About Lace Fabrics: Wedding suits are also designed using lace fabric. If you are a mature bride, pay particular attention to the lace texture and pattern when considering wearing an " all lace outfit". Some all over lace designs give off a "too youthful" appearance.

Suits tend to be figure flattering for those who have trouble spots they don't want to emphasize. Jackets and tops have hiding power. If you are thick through the middle or your trouble spot tends to be your hips and thighs, then finding a suit with a jacket that covers those areas is the key.

I love this collection of special occasions suits! Check out Womensuits.com very trendy, fashionable suits that grab the attention!  They come in many styles and colors, including white and ivory. Perfect to use as your wedding suit. Take a look!

Two- Piece Special Occasion Dresses
Beautiful Two-Piece Dress Jacket With A Dress
Two piece dresses are a favorite for an informal wedding dress. The type of dress I am talking about is one that is used for special occasions or a mother of the bride or groom gowns.

The two piece wedding outfit consists of a dress with a jacket. Another variation would be a 2 piece dress consisting of a matching top and a matching skirt.
The dress or skirt can be floor length, tea length or street length.The fabrics can be anywhere from a soft light weight fabric to a crisp medium weight fabric.

Some lace fabrics work very well especially if they are soft and drape well. Lace works well when used to make accent pieces such as a jacket or even as embellishment or trim on the dress.
Your Wedding Outfit Must Be "Wrinkle Resistant"
Comfort is of the utmost importance! You want a wedding suit or dress that is "fuss free." This means the style... the fit... and the fabric... must look good on you standing and sitting. After sitting you must be "wrinkle free" as much as possible.

This is important because wrinkles take away from any outfit a person wears. You can have on the most beautiful dress or suit but if it is full of wrinkles it takes away from your overall "put together look." So remember...

Wrinkles in your outfit will show up in your wedding pictures also.
Try on a dress or wedding suit and sit down in it. 
Then take a look in the mirror and see if it holds wrinkles.

The fabric should have minimal wrinkling or after some time start to release them. 
If you discover a dress fabric that seems to hold them . . . "PUT IT BACK" no matter how pretty the outfit is. I'm here to tell you it's "not worth the trouble."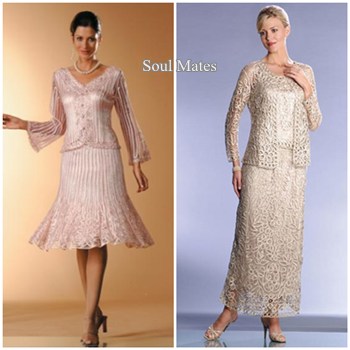 Wedding Dress Tips

"I remember a bride who was "very upset" to see how much the wrinkles in her wedding gown showed up in her wedding pictures. The worse part was SHE and her BRIDESMAIDS attire all were very wrinkled. Another bride decided to stand as much as possible during her wedding ceremony and reception because her dress wrinkled so badly."

You may be interested in some of the styles on this page. I put the designer's names on the pictures so that you can search their websites to see larger pictures and other views.
You can also go to this page to find out the best places to purchase bridal suits.

*Click here to read our disclosure regarding affiliate and advertising sponsors.