Find Designers Of Wedding Dresses For Plus Size Brides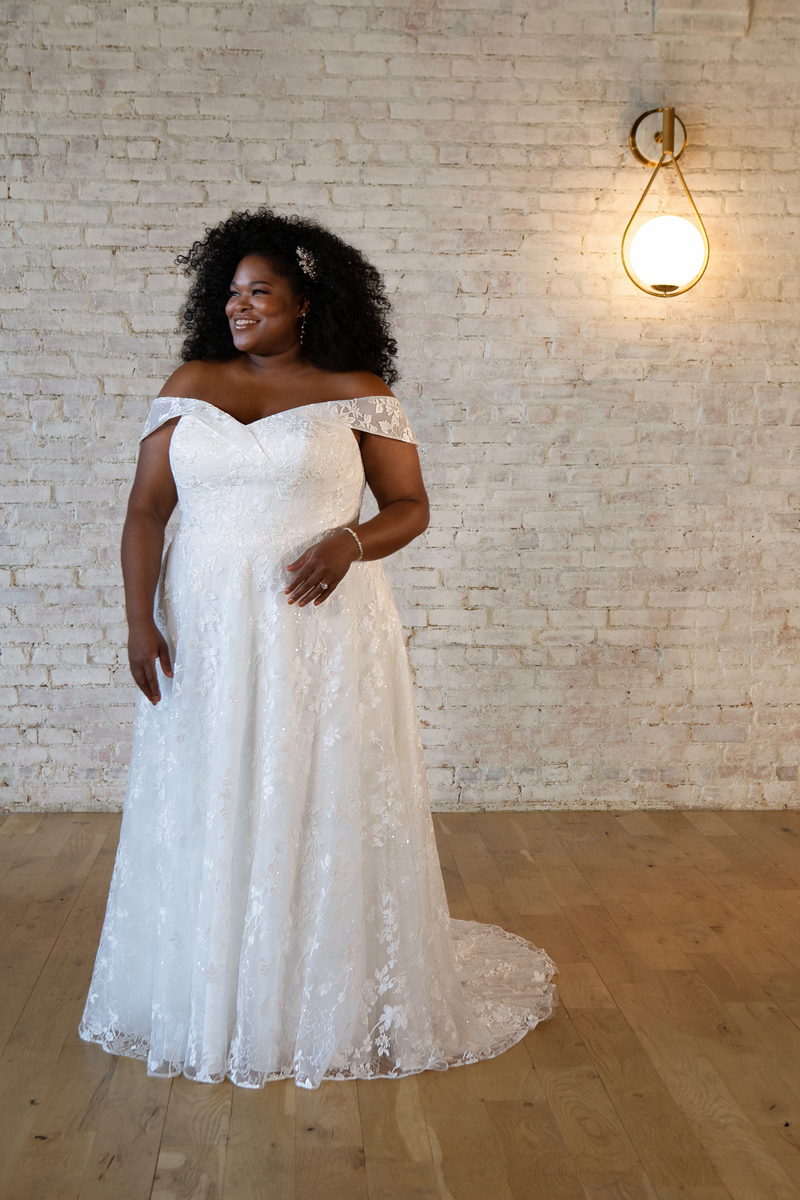 Gone are the days when it was hard to find wedding dresses for plus size women. The majority of bridal designers make their whole bridal collection in an array of style in plus sizes.

Now most wedding gown designers make sizes that go up to at least size 24. There are some that have sizes that go up to size 30. Also some designers offer to make your dress in custom sizing made to your measurements.

But guess what? There are designers that design specifically with the plus size shape in mind. Their dresses are designed to fit better and flatter the plus size figure.
Now there is a difference in the measurements, proportions and sizing for wedding dresses made for a plus size woman. For example:
A size 20 usually is proportioned differently from a size 20W.
The size 20 is based off of the standard sizes from size 2 through 18.

The designer grades up the sizes which starts out based on a misses body shape. The misses body measurements are more proportionate (having a very defined waistline) and is based on a B bra cup size.
But a size 20W is designed to be proportionate to measurements of the plus size figure.

The waist in proportion to the bust and hips will tend to be bigger than a size 20.

The bust cup size is usually between a C or D cup size, which is more like what a plus size woman would wear.
So when you see sizing with a "w" behind the size... it will be better proportioned to you.
Some Designers Make Their Regular Styles In Plus Sizes

Also their are some designers who design part of their line just for those who fall into plus sizes. The styles are flattering to full figured body types and can only be ordered in plus sizes. Some designers have both their regular line of dresses that go from size 2 to 30 and also gowns that are designed exclusively for full figured women sized from 18W to 30W.
The one thing that gives you a clue that a designer designs wedding dresses for plus size women is you will see plus size models in their dresses. It really helps to see a gown on a model who reflects more of your shape and proportions to get an idea of how it might look on you.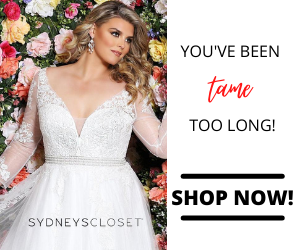 Which designers make wedding dresses for plus size brides?
The plus size wedding dress designers listed below have collections designed specifically for your shape. So you will see styles that are not only flattering but you will experience a better fit.
Allure Women They carry sleek sophisticated wedding dresses for plus women that are keeping up with the trends. There are 29 styles to choose from. Gowns shown on plus size women. All or their regular line goes from a size 2 - 32. But they have a separate line in Woman's Sizes from 14W to 32W made for plus size body measurements and shape.
Moonlight Bridal Pretty Lots of pretty designs All their gowns can be ordered in sizes ranging from 2 to 28.
Sydney's Closet  When you are looking for a affordable plus size wedding gown you can buy directly online. Fast shipping in sizes ranging from 14 to 40.

Mori Lee Julietta If you are looking for romantic style wedding dresses with ruffles, tiers and tufts, you will find them here. There is a style to suit all shapes plus flattering necklines to choose from. Their gowns are shown on plus size models. Go go from 16W to 32W.
Kenneth Winston Beautiful bridal gowns with details that are stand out with tasteful crystal beading. Romantic and classic styles. Gowns shown on full figured models. Sizing 16W to 26W. And the regular line sizes go up to size 28.

Justin Alexander This collection is has classic and romantic designs that feature some wedding dresses with long sleeves. Size 2 to 32 offered in most styles. Have quick delivery styles when you don't have much time.
Stella York Collection is part of the Essence Designs Collection. Beautiful wedding dresses that range in sizes from 2 to 34.
Michelle's Bridal  It's all about the plus size bride. Truly has an array wedding dresses for plus size women. Sizes range from 14 to 40! You need to allow 16 to 20 weeks to receive your dress. It's worth the wait because their designs make a plus size bride look and feel gorgeous!
BHLDN This collection has informal, beach wedding gowns and bohemian style wedding dress in plus sizes.
Maggie Sottero They have every design silhouette imaginable from sizes 2 to 28.

There are more manufacturers or designers of wedding gowns for plus size women than what is listed above. In fact, most designers go up to at least size 28.
But remember... most of the above list is of designers make wedding dresses for plus size women designed specifically for their figure types. They are cut and sized in proportion to your body.

As an alterations specialist... I can say that a gown designed for a plus size woman's shape has less fitting problems, which means you will spend less on the alterations.
Wedding Dresses for Plus Size
*Click here to read our disclosure regarding affiliate and advertising sponsors.