Plus Size Bridal Gown Bridal Shop Shopping Tips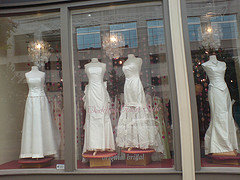 "I'm sure you agree that going shopping for a plus size bridal gown is not easy."
Not knowing what to expect when shopping for a wedding gown when you are plus size, is something that may keep you from going to the bridal shop.
That's why I am writing this page. I want you to go shopping with knowledge and confidence. Knowing what to expect will work to your advantage.
My first piece of advice is to call the bridal shops you want to check out. Ask if they have any plus size sample wedding gowns. If they do have them, ask what sizes they carry. If they have something near your size, even if it is up to 2 sizes smaller or if it is bigger, you will be able to get in the dress and get an idea of what it will look like.
If you do locate a bridal shop that has wedding dresses in your size, make an appointment to go in to look at them and to try them on. Try to make your appointment during the week and not on weekends.
The shops generally aren't as busy through the week so you won't have to worry about a lot of spectators. Also the sales staff will take more time in helping you.
Going To The Bridal Shop
One thing that I need to say is that most bridal stores just a have few plus size bridal gowns. Some may not have any. So most likely you should call around to see who has gowns in your size.
I know you are saying "now what do I do?" I want you to go to the bridal store anyway. Even though you may not be able to try anything on... use this opportunity to look at the stock available and ask which ones can be ordered in your size.
You can ask to look at catalogs to see other styles not carried in the store. Also, check out the quality of the gowns. The ones with more boning, has built in bustier underlining and linings with attached slip are better made dresses.
For more information on how to choose a quality plus size bridal gown and stay with in your wedding dress budget click on the link.
If you find a bridal shop where you receive great service and has your perfect wedding dress... then by all means give them your business.
Just make sure everything is correct when placing your order. Also, make sure you know when the gown will be coming in. Try to find out from the seamstress what their starting prices are for alterations. Knowing upfront what the alterations cost will be, can help you budget for these costs.
Alterations For Your Plus Size Bridal Gown
Yes... you will most likely will need alterations for your wedding dress, even though you sent in your measurements. If you want to know why this is so, go to the article Wedding Alterations: Your gown is not made to measure.
The most common alterations are the side seams need to be taken in, the hem may need shortened, and you probably will want a bustle. For some of my alterations clients they need a cup adjustment alteration made to their plus size bridal gowns.
Also you can call around and comparison shop, interviewing sewing professionals who specialize in wedding dress alterations. You can save quite a bit of money on your alterations costs by not using the in house seamstress at the wedding dress shop.
"Now don't let the bridal shop scare you into using their alterations specialist!" They will tell you all kinds of things to keep your business. But if it is more convenient time wise, to have your wedding dress alterations done there... then do so.
Just don't have your alterations done at the bridal store because they have told you that having them done somewhere else your gown will probably be messed up. "This is just not true if you take time to pick the right sewing professional."
"In fact, when you look at the bridal message board and forums, you will find most bridal alteration complaints are about the seamstress at the bridal shop not the independent sewing professional."
So check out why you should use an independent wedding dress alteration specialist. Click on the link to read why this option may be the best one for you!
*Click here to read our disclosure regarding affiliate and advertising sponsors.