Shopping For Plus Size Wedding Dresses Online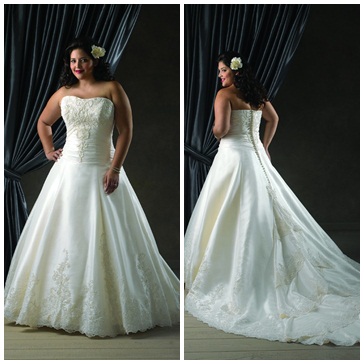 So you have been looking around for plus size wedding dresses online. But you are not sure you want to order your gown online.
Well I'm here to tell you... if you choose the right company to order from, it is just as safe as ordering your gown from a bridal shop.
You probably noticed that you have a large selection of manufacturers to choose from and lots of plus size wedding dress styles.
Most bridal stores can only afford to carry a few designers' collections. Overhead costs of keeping a building and paying for all the hanging samples limit what bridal shops can carry.
But this isn't so for some of the online shops. They can even discount the cost of the same designer dresses you see in the bridal shop. How? Well, most sites online only have an online store, no brick and mortar building.
How To Save Shopping For Plus Size Wedding Dresses Online
The online stores don't have the overhead costs your local bridal shop has. They are able to pass this savings on to you. That's good for you!
Of course you give up some of the conveniences the bridal shop offers. But if you are willing to do some of your own leg work like finding a seamstress to alter your gown, shopping for your slip, shoes, headpiece, veil, etc. at different places, then this will work for you.
You won't save time having to search out everything yourself, but you will save money! Here are some articles you should read about ordering wedding dresses online:
Plus Size Brides Online Shopping
*Click here to read our disclosure regarding affiliate and advertising sponsors.