Wedding Dress Shops The Ordering Process 101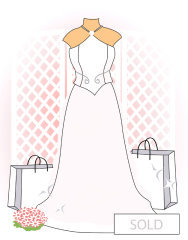 "You have found your perfect wedding dress at one of the wedding dress shops you visited. Now you are ready to place an order."
What should you know about this process?
Order your dress as early as possible!
Wedding gowns typically take 2 to 6 months to order.
Each wedding gown manufacturer and designer has their own delivery schedule.
Ordering early will save you rush charges. These can add hundreds of dollars to your costs.
Be sure to ask about the return policy. Most bridal salons have a strict no returns, no refunds or exchanges policy.
Remember the saying "if you break it, its yours." Well in the bridal business world if you order it . . . its yours.
Wedding dress shops that are customer service oriented will let you exchange or get store credit for something else in the store. But most will never give you a refund.
A Wedding Dress Is Considered Special Order-- How So?
Your wedding gown is not made until you actually order it. When your gown order is sent in to the manufacturer it is put into their production schedule.
They cut and sew gowns in large batches to keep production costs down.
Depending on the manufacturer you order from, it takes 2 to 6 months from the time you order, to create your bridal gown. It just depends on when they will cut your style dress in their schedule.
Because your bridal dress is made only when you order, the shop considers it a special order and will not give you a refund, if for some reason you are not happy with it.
And of course, since it takes so long to produce a gown... most bridal stores will not be able to exchange it for the same style dress.
Plus, as you noticed when you were doing your wedding dress shopping, the sample dresses the shops carry were limited in the sizes available. So an exchange most likely wont be an option.
So carefully choose your wedding gown!
1. The Order Receipt
Make sure everything is filled out correctly.

The delivery dates, the size, style number, designer, color and measurements must be filled in.

Check to see that everything is accurate.
Ask to see the measurement chart to see how they are sizing you. Most shops wont mind showing the chart because they want to give good customer service.

Why is it important to see the chart?
Some wedding dress shops sales staff have been known to bump up the size in order to make sure you need alterations. So double check the sizing.
You can go to the designers website, print the chart out, and take it to the shop with you. Compare your measurements with the size they give you.
Generally there isn't enough time to send a dress back if something comes in wrong because of an error made on the order. So ask the sales clerk to double check everything.
2. Extra Charges
We have already discussed rush charges. Extra charges we havent discussed include size charges and length charges.
Extra length is usually requested if a bride is over 510 in height. These generally run $50 to $150 extra.
Extra size is charged when you get into the plus sizes, starting at size 18 and above. Can be as little as $20 or $25 and then go up.
A few wedding dress designers have been known to charge extra for colors other than white.
Of course if you have custom features such as custom length or made to measure areas on your bridal dress, it will add to the upfront cost of your gown. But then it could eliminate or lessen the cost of alterations.
Some wedding dress designers allow design modifications and fabric changes from the way the gown was originally designed. If you would to make design changes.... just ask the staff at the bridal store if this can be done to your dress.
3. The Best Method Of Payment
Most wedding dress shops require a deposit. They usually require 50% down. Some may not require that much. Pay the minimum amount they ask for.
When ordering from wedding dress shops, which are the best form of payment--- cash, check, debit card or credit card?
A Credit Card is the best payment method hands down! Why?
Because if a problem arises that clearly is the bridal shops fault, you can dispute the charge if you cant come to an agreement with the shop. The credit card company will intervene.
Also over the years . . . you probably have seen news reports of bridal shops suddenly closing their doors and brides not able to get their gowns or their money back.
Paying for your bridal dress with a credit card protects you when closings like this happen. How?
The credit card company will refund the money for your gown under these circumstances.
If you use a check, cash or debit card... you usually won't ever see your money again.
4. What To Do When Things Go Wrong
What happens if something goes wrong?

Ask the sales person how they handle orders when they come back the wrong size, wrong style or with flaws.
If your bridal gown is going to be delivered later than requested to the wedding dress shop... will they call you to let you know?
Ask if the manufacturer you are ordering your dress from typically delivers on time.

"When I use to order bridal gowns, issues involving close delivery times would come up. And most of the time the error was on the manufacturers' part. They make no compensation for delays on their part. No apologies are offered, even if they know it will inconvenience you. The bridal salon owner's hands are tied. So order your dress early so you will have time to make adjustments if necessary."
So how does this information benefit you?
"Remember these facts . . . mistakes happen. Delays happen. So do yourself a favor order far in advance of your wedding!"
And always read the fine print on the order blank. This way ordering your perfect wedding dress will not turn into a nightmare experience!
*Click here to read our disclosure regarding affiliate and advertising sponsors.