Which Is Best An Independent Wedding Dress Alteration Specialist Or The Bridal Shop Seamstress?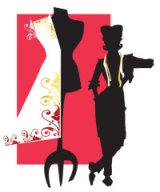 Why choose a Wedding Dress Alteration Specialist and not the bridal shop seamstress?

"Because you don't want just any sewing professional to alter your wedding gown. You want one who you can trust to do the job well!"

A sewing professional who has their own business is committed to making you happy! They will go out of their way to do so. They communicate with you on a more personalized level.

Their expertise in fit and workmanship is of the highest standards! Since the majority of their business is altering wedding dresses they are very skilled in working with wedding dress fabrics and fitting bridal gowns.

They have as much experience working with bridal gowns as a bridal shop seamstress. In most cases more. Why do I say that?
Did you know that bridal shops will only alter gowns purchased in their shop? Most shops will not alter bridal gowns bought from out side their store. If you buy a gown online or out of town, don't be surprised if the local shop will not alter it for you.

What You Don't Know About The Bridal Shop Seamstress...
Because there is a shortage in the field, bridal shop seamstresses are now being trained on the job in a short period of time. If you ask, you will find some of them have not been altering wedding dresses very long.

This is why the bridal message boards and forums generally show more complaints against bridal shop alterations seamstresses than independent sewing professionals.

Most cases though... the bridal shop seamstress will be fine to use. Just don't take for granted that the person working on your dress is experienced. Ask them how much experience they have. Or if you know that you have major fitting challenges... then you need to consider taking your dress to a specialist.

"Remember you have made a large investment in your wedding gown, so make sure that you use the most skilled person to work on it."
The Best Sewing Professional
I have to mention this tidbit. The " best" sewing professional to alter your wedding dress is one who has experience as a wedding dressmaker designer combined with wedding dress alteration experience.

"You get the best of both worlds." There are techniques in constructing a wedding dress that can be used when doing bridal alterations to help achieve an unbelievably secure and comfortable fit.

You have to know how to construct a wedding dress in order to know about these techniques. Someone who only knows how to alter wedding gowns "would not" have these skills.

In summary...

An independent wedding dress alteration specialist will without a doubt give attention to the details necessary to give you that polished look to become a "picture perfect bride!"

Plus... as an added bonus---you save money on your alterations, because an independent seamstress charges are usually more affordable than the bridal shop.




Back To Wedding Alterations

Back to Perfect Wedding Dress Finder Home Page

*Click here to read our disclosure regarding affiliate and advertising sponsors.