Plus Size Brides - Steps To Picking Out A Complimentary Dress
Most plus size brides find it a challenge to pick out a wedding dress that is going to be complimentary.
Are you having a problem figuring out which wedding dress style will be best for you if you?
Have you come to find out that most bridal shops don't carry your size?
There is a way before going shopping to look for wedding dress designers who design plus size wedding dresses.
The Wedding Dress Style Details Best For You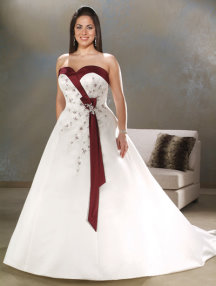 Bridal shops carry very few plus size wedding some may not have them at all.
So brides who are plus size have to try on gowns several sizes too small. They  clip the back of the dress to fit the back and wrap a too small dress around them.
When you are a plus size bride, unfortunately, you don't have that choice. So what do you do to figure out which necklines and dress silhouettes will look best on you?
You start by doing research. Looking at your current wardrobe. You probably weren't expecting me to say that. Why start here?
Because likely you have tops, blouses and dresses in various necklines.
Identify which necklines and silhouette skirts look the best on you. Since a good focal point for all brides is to draw attention to your face. Pay particular attention to the neckline and bodice.
Think about it . . . Do you look best in a V-neck, sweetheart, off-the-shoulder, square, scoop, etc? Any neckline that is complimentary on you in your everyday wear . . . will most likely look good as neckline choices for a bridal gown.

Wedding Dress Tips: I know exploring questions like those above work, because I would ask these type of questions when I would design a wedding gown. This proved helpful to brides who had not tried on gowns to see what would be complimentary.
This method proved very helpful when working with plus size brides, since most could not find gowns to try on. We would design the dress based on design lines--that were flattering on them--based on their everyday clothing. What was the results?
The result was a figure flattering wedding gown! You can do the same even though you are buying your gown.
Basic Fashion Guidelines For Plus Size Brides

Need some basic fashion guidelines for plus size brides? Based on your height-- here are some general guidelines for the most flattering necklines, bodice, sleeves, and skirt widths for brides who are shopping for plus size wedding gowns.
For brides 54 in general:
Necklines: v-neck, sweetheart, wrap and décolletage.
Waistlines: natural, empire
Sleeves: long fitted
Skirts and hemlines should be narrow or flare and fall softly close appearing straight: a-line, princess, sheath
For brides 54 and 57:
Necklines: v-neck, scoop, décolletage, sweetheart.
Waistlines: basque
Sleeves: poet, point, draped
Skirts and hemlines: Skirt should flow over the hips: a-line, princess
For brides taller than 57:
Necklines: wrap, décolletage, v-neck, sweet heart, scoop
Waistlines: basque, empire
Sleeves: long sleeves, Juliette
Skirts and hemlines: princess, a-line


These suggestions are not rules, just suggestions of styles to try. Some may work for you some may not.
Now let's take a look at the next page to see specific wedding dress styles to see what will be flattering for your body shape.
Plus Size Brides Complimentary Dress
*Click here to read our disclosure regarding affiliate and advertising sponsors.