Bridal Wedding Jewelry Sets How To Chose The Right One For Your Dress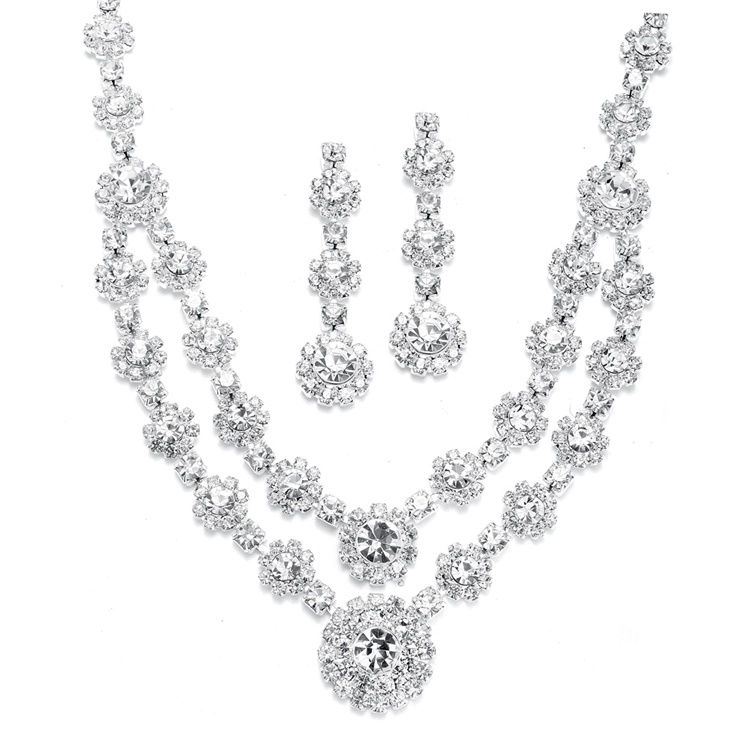 When I mention "wedding jewelry sets" what am I referring to?
I am talking about is the jewelry you will wear as an accessory with your wedding dress on your wedding day.
A pair of earrings and a necklace, usually make up a bridal jewelry set. Sometimes you might want to include a bracelet as part of your accessories.
When picking a wedding jewelry set, make sure it harmonizes with the wedding dress design.
Also make sure it compliments your face shape and any jewels on your wedding gown.
Your bridal jewelry should not clash with your tiara or anything you plan to wear in your hair. It all needs to work together!
Choose Your Jewelry According Your Wedding Gown Neckline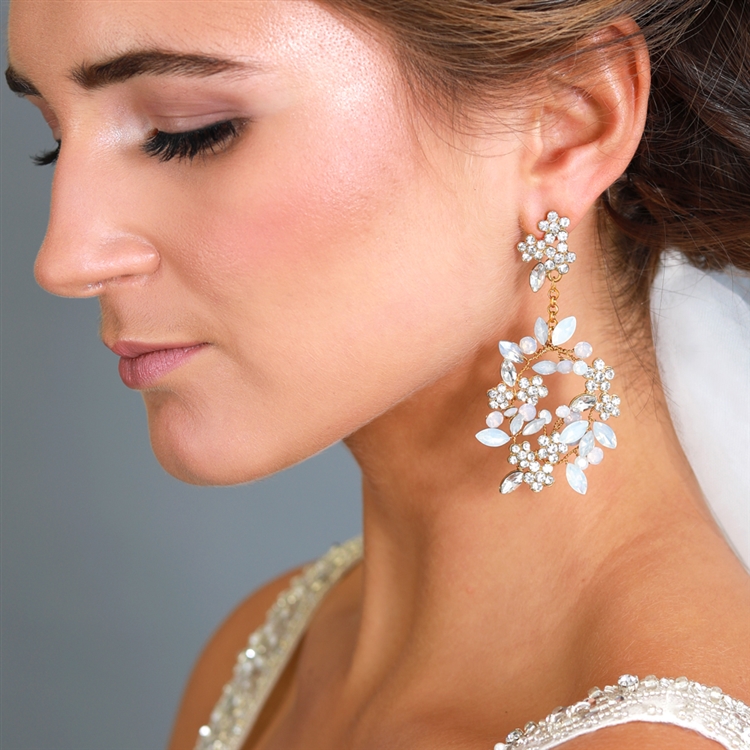 If you have a scoop neckline you can wear any type of necklace but a pendant or pearl drop necklace will look great.
For strapless necklines you can wear just about anything. Collars, chokers, Y-drop and bib necklaces are among the favorites.
Sweetheart neckline a simple drop necklace looks great because it follows the line of the neckline. Chokers and round necklaces work just as well.
Off the shoulder gowns really don't need a necklace but if you want one go with a simple pendant or choose simple earrings and a bracelet.
One shoulder gowns will look off balance with a necklace. A nice pair of earrings will be all that is required.
Halter style necklines are perfect for the lariat style necklace. Y-drop and pendant drop necklaces are good choices.
Bateau neckline dresses only need a beautiful pair of earrings and maybe a bracelet. No necklace with this one.
Match Your Wedding Jewelry To The Details On Your Dress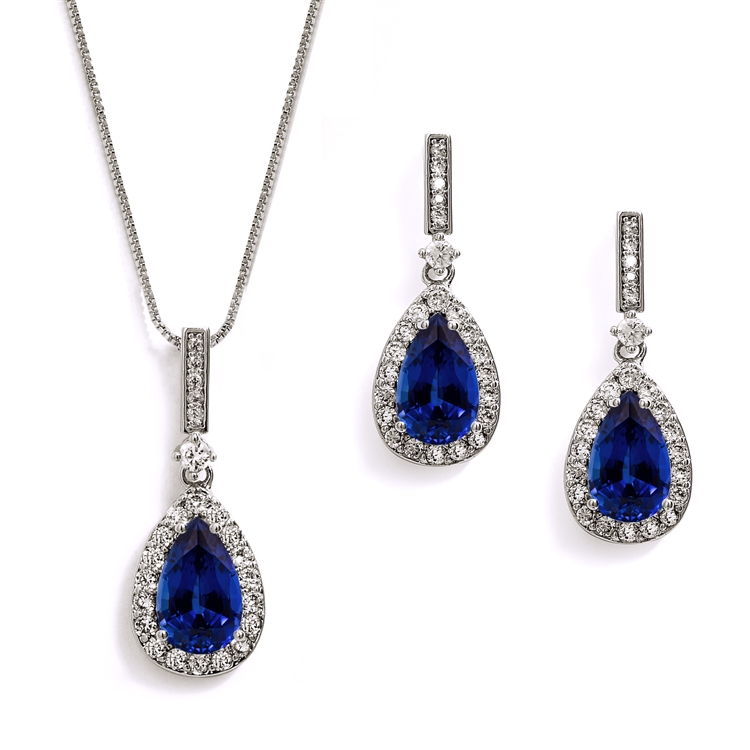 You must match the jewels in your necklace to what is on your dress.
For instance, a pearl jewelry set is a classic look that will go with almost any bridal gown style and fabric. If your gown has beading on it such as, pearls and sequins, you can pick a necklace that is all pearls or a mix of pearls and crystals or rhinestones and pearls.
If you have rhinestones and crystals on your gown, you will perhaps find that a rhinestone wedding jewelry set will work best. There are some sets that have pearl and rhinestone accents together.
Jewelry that is made up of all rhinestones can be worn with a gown that is plain to add a little bling.
You can also find beaded crystal bridal jewelry that will work well with a gown full of clear crystals and seed pearls. For something unique you can incorporate the colors of your wedding into your wedding jewelry set.
Bridal costume jewelry come in silver or gold settings. You can choose between ivory or white pearls. Earring styles can be made in pierced or clip on. Necklaces can be in lengths from 14" to 17" on average. You can purchase extenders for necklaces if necessary.
When picking your wedding jewelry set, you need to consider the neckline depth and shape on your wedding gown. The lower the neckline the longer the necklace length needs to be in order to look proportionate.
Match Your Bridal Jewelry To Your Face Shape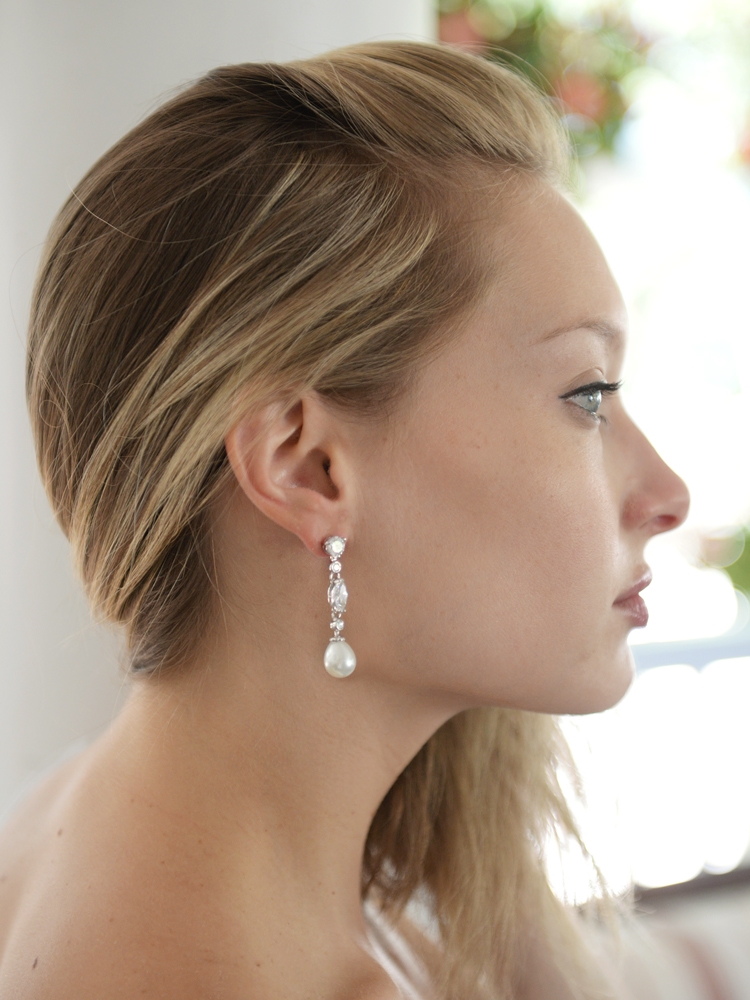 Face shape does matter! This is because unless you have an oval shaped face, for which you can wear anything, you don't want to emphasis certain shapes.
Here is what I mean... if you have a round face, you don't want a necklace that will echo the roundness of your face.
For a round face, you need a necklace that has a drop on it or has a "Y" shape or "V" shape.
Earrings that are medium length or long can narrow the face. Be careful of choker necklaces and some hoop earrings, especially very large hoops.
By the same token... if you have a pointed chin or oblong face, you should not wear an necklace that has a "V" shape or "Y" shape.
These will emphasize a long narrow face shape or pointed chin. Round necklaces and choker necklaces paired with studs, short or medium length earrings are good choices.
Chandelier earrings are great if you have an average to long neck. They are sometimes better used alone than with a necklace. Theses are great to use when the neckline of the gown is too high to use a necklace.
Tips For Picking Wedding Jewelry Sets
Should You Wear Bridal Costume Jewelry Or The Real Deal?
Match the jewelry to your dress, style, neckline, and details.
Try on some jewelry with your gown to get an idea of what works, at the bridal salon. But you don't have to purchase it at this time.
If you are not purchasing your jewelry at the bridal salon.... When purchasing bridal costume jewelry buy two of three sets to try on with your dress. This will give you a chance to pick the best set and return the others.
Purchase your jewelry from a company that has a good return policy.
Match the pearl color the the gown color. Costume jewelry you can purchase white pearls to match white gowns and ivory pearls to match an ivory gown.
Make sure that your jewelry doesn't clash with or compete with your tiara or head piece.
Now that you armed with these tips... it's time to go check out some wedding jewelry sets. Start by going to this one stop shop on this site.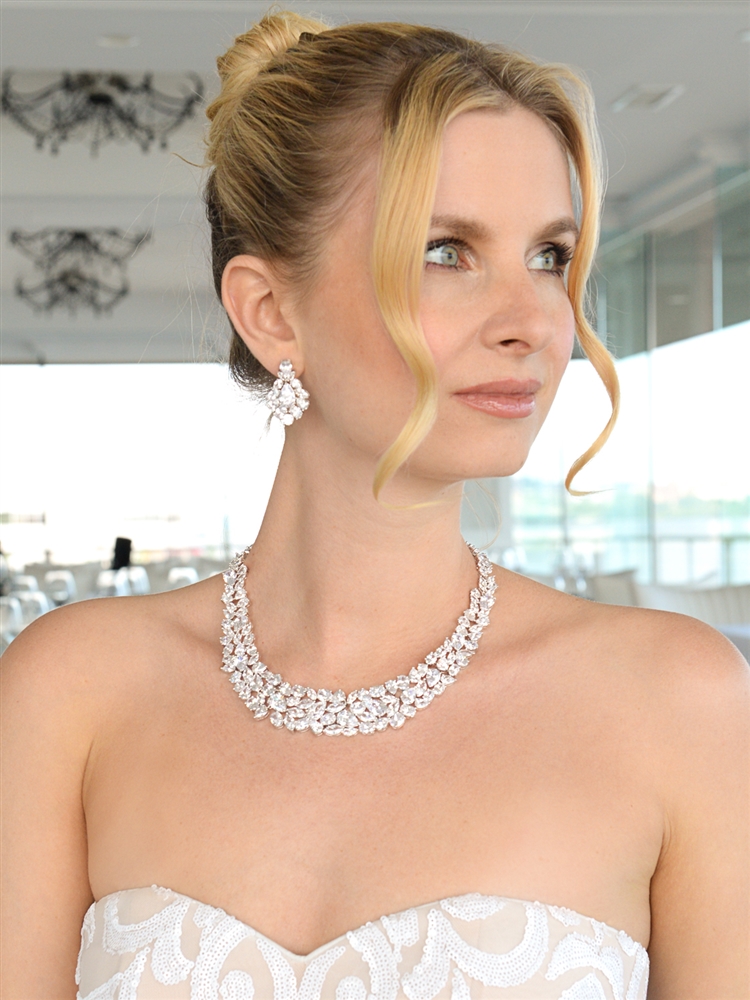 Cubic Zirconia wedding jewelry set by Mariell
If your budget can afford it... purchase real gems. Yes diamonds and pearls are the popular choice. But other stones can be added to the mix also.
There are jewelry companies that will customize wedding jewelry sets for the bride.
You can actually design you own jewelry online if you wish! Some local jewelry stores offer custom jewelry service.
You can wear your wedding jewelry set for other special occasions and pass it down as an heirloom to future generations.
Your wedding jewelry is not one of those items that you will only use on your wedding day.
You can wear it on other special occasions you will attend down through the years. So you can spend a little more for it.
But what if you can't afford the real stuff?
There are companies that will rent jewelry to you. Yes you can rent real stones! This is what a lot of celebrities do for special occasions. Now this option is open to the general public.
Then buy good quality costume jewelry! There are rhinestones, crystals, cubic zirconium and pearls made up into earring and necklace sets, that sparkle and mimic the real thing. This is what most brides use for their wedding jewelry to keep costs down.
If you want resource information for any of the above options contact me.
*Click here to read our disclosure regarding affiliate and advertising sponsors.