Body Shape- Wedding Dress Tips For Large Bust And Inverted Triangle Figure Type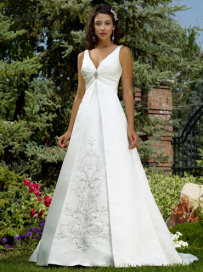 Princess line a-line wedding dress
What are the best wedding dress styles for the "large bust" body shape or the "inverted triangle" body type?

Depending on the fashion expert... some include the large bust figure in with the inverted triangle body type. The inverted triangle body type is someone with very wide shoulders and narrow hips.

The strategies to balance both body types are just about the same, with very few differences. So if your figure matches either body shape...
Which wedding gown style should you choose?

Should you wear a strapless bridal dress, corset wedding gown or halter wedding dress style?
Knowing beforehand what will enhance your shape will make shopping for a bridal gown much easier. Just remember...
These guidelines can help make selecting a dress easier.

 Most people you may fall into a combination of body types.

Not everyone look at these as figure challenges but embrace their body shape. If that is your case then you can ignore the following strategies.
These are meant to be guidelines for those who feel they want to down play their large bust or wide shoulders.


Wedding Dress Tips For Inverted Triangle Body Type

Figure Description: The inverted triangle figure type has prominent shoulders with narrow hips.

Slightly wider shoulders are considered an asset according to designers. But if they are quiet a bit wider than your hips then you may need to do something to balance your figure.

Note: Heavy arms can make your upper torso appear wide and top heavy if you have narrow hips.

If you feel your shoulders are too wide... then the following suggestions will help you balance your shape.

Strategies: Balance wide shoulders by adding details at the waist or skirt to draw attention to those areas instead.
Wide Shoulder Wedding Dress Strategies
Flattering necklines for inverted triangle body types are narrow V-neck and U shaped necklines. Halter necklines can be flattering to those who have wide shoulders. It just depends on the angle of the cut toward the neckline.

Necklines that have cut in armholes... like sleeveless tank shirt style dresses...can make your shoulders appear narrower.
Not having anything on the shoulders at all... like the strapless neckline... will flatter and balance your shape.
For wide shoulders avoid necklines with wide set straps or sleeves. Also for this body shape, avoid off the shoulder styles. 
Depending on the way a one shoulder strap is styled, some of those styles can make your shoulders appear narrower. The shoulder strap should be set more to the middle of your shoulder and not on the shoulder bone edge.
Suggested wedding gown styles: A – line wedding gown, Princess line wedding gown, Ball gown wedding dress


Wedding Dress Tips For Large Bust Body Shape

Typically, if you have a prominent bust... the bust circumference is quite a bit larger than the hip area. From the side view the bust sticks out much further than the abdomen.

Most feel having a prominent bust is an asset. If you do then you may not worry about the depth of your neckline. But if your cleavage is an issue...

You will have to pay attention to the neckline depth or have in mind having a modesty piece added to the neckline if it is too low.

You will need to choose a wedding gown style that will look good with a modesty piece added to it.
Here's a few  other suggestions...

Before going to the bridal shop to look for a wedding dress you need to wear a good supporting bra. If you are plus size or wear a full cup bra, you must buy the right bridal bra for support, one that works with the style of your gown.
Necklines that are complimentary for large busted women are V-neck, U-shape and sweetheart necklines. Off the shoulder necklines can be an asset for those who have narrow shoulders. 
Avoid high necklines... like the jewel and bateau necklines... because they tend to make your bust look larger.

Create width below the waist to balance the upper body.

Make sure the bodice section of your dress doesn't have a lot of texture or details, which can make your bust look larger or become a focal point.

Also... most empire waist style wedding gowns focus attention on the bust area, so this style may be one you want to avoid. But I have seen this work on a body shapes where the person has a full bust and also their stomach area is not as flat as they would like.

Halter necklines can look great on some who have a prominent bust. Halter wedding dresses with sweetheart necklines or V-necklines are very complimentary. If you have heavy arms, you may not want this style because it tends to focus attention on this area.

Suggested wedding gown styles: A – line wedding gown, Princess line wedding gown, Ball gown wedding dress, Dropped waist styles
Articles Of Interest
Wedding Dress Styles For The Rectangle Shape and The Pear Shaped Body Do you need tips for dressing your rectangle or pear shape body? Read these helpful guidelines.

Corset Wedding Dresses Corset wedding gowns are great for your shape! Learn why you should consider wearing this style of dress.

Halter Wedding Dress Which figure types benefit from the halter wedding gown style and which body shapes don't? Learn how to pick a halter neckline that is complimentary.
*Click here to read our disclosure regarding affiliate and advertising sponsors.