How To Choose A Flattering Wedding Dress For Apple Shape Body Types

How can you choose a wedding dress for apple shape body type?
Well it all starts with knowing how to play up the positives and hiding the negative.
Let's identify your figure challenges.
An apple shaped body type, also known as the diamond shape body type, has very little waist definition.
In fact, sometimes the waist is the widest part of the body. Most women with this shape have a full bust and a wide back, waist and hips with slender legs..
But some have narrow shoulders, small bust, wide waist with a protruding tummy and narrow hips.
So your mission is to divert attention away from the mid-section and have the attention brought up to your face or focus on your legs.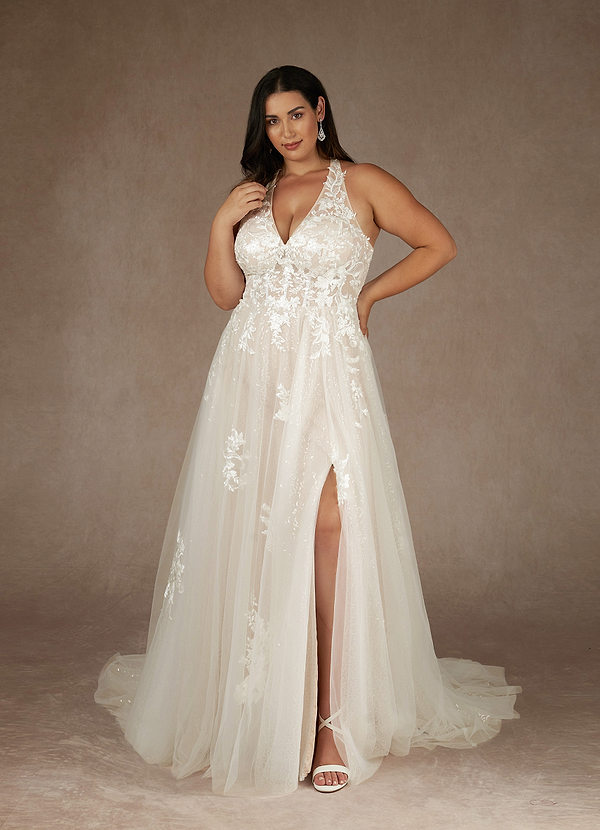 Azazie Dysis
This V neck wedding dress glides right over the midsection and flows into an a-line with slit in the front. This is style Dysis by Azazie.
Wedding Dress For Apple Shape - Flattering Gown Details
So to bring the attention upward means you need to choose a flattering neckline such as...
V-neck
Scoop neck
Sweetheart or square neckline
Off the shoulder
Choose wide shoulder straps over spaghetti straps
Avoid high necklines
The best bridal gown silhouettes for your body type are:
Empire waist
A-line
Some dropped waist styles
Some ball gown wedding dress styles as long as your stomach doesn't protrude further than your bustline
If you need to see a few examples of wedding dresses for apple shaped body types take a look at these: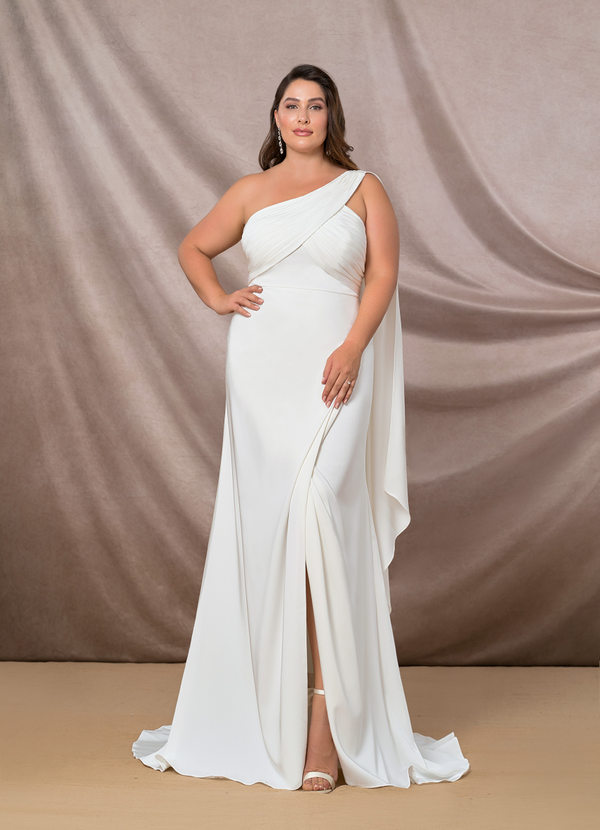 Azazie Alta
Notice how the above dress divert attention from the midsection by giving the eye design elements to focus on. The one shoulder strap focus the attention upward and the criss-cross design on the bust slims that area.  The slit takes the stage next focusing on the leg. Take a look at this dress on Azazie.com. The style is Alta.
Below is another dress that has a one-shoulder look and a fuller over drape in skirt to divert attention away from the stomach area.  This also is an Azazie wedding dress and the style is Emi.

Azazie Emi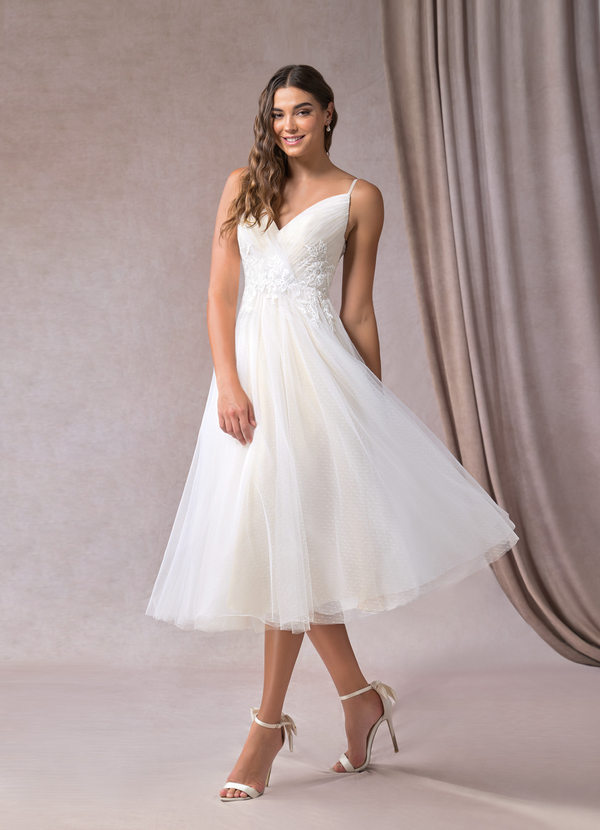 Azazie Liane
-If your legs are the part of your body you want to highlight... then you want to consider a short bridal dress. This one above has a full skirt is out of soft fabric and hides the stomach area. The hemline which is mid-calf and focuses attention on your legs. If you like this one it's Azazie style Liane.


To smooth out curves and add shaping for an apple shape body type,  you may want to consider wearing shapewear. One type that some brides have found very effective is to wear a waist cincher." This is a midriff shapewear band that just brings in the waist area. This is best if you have tummy issues and just want a little waist definition.

Wedding Dress For Apple Shape - It's All About The Details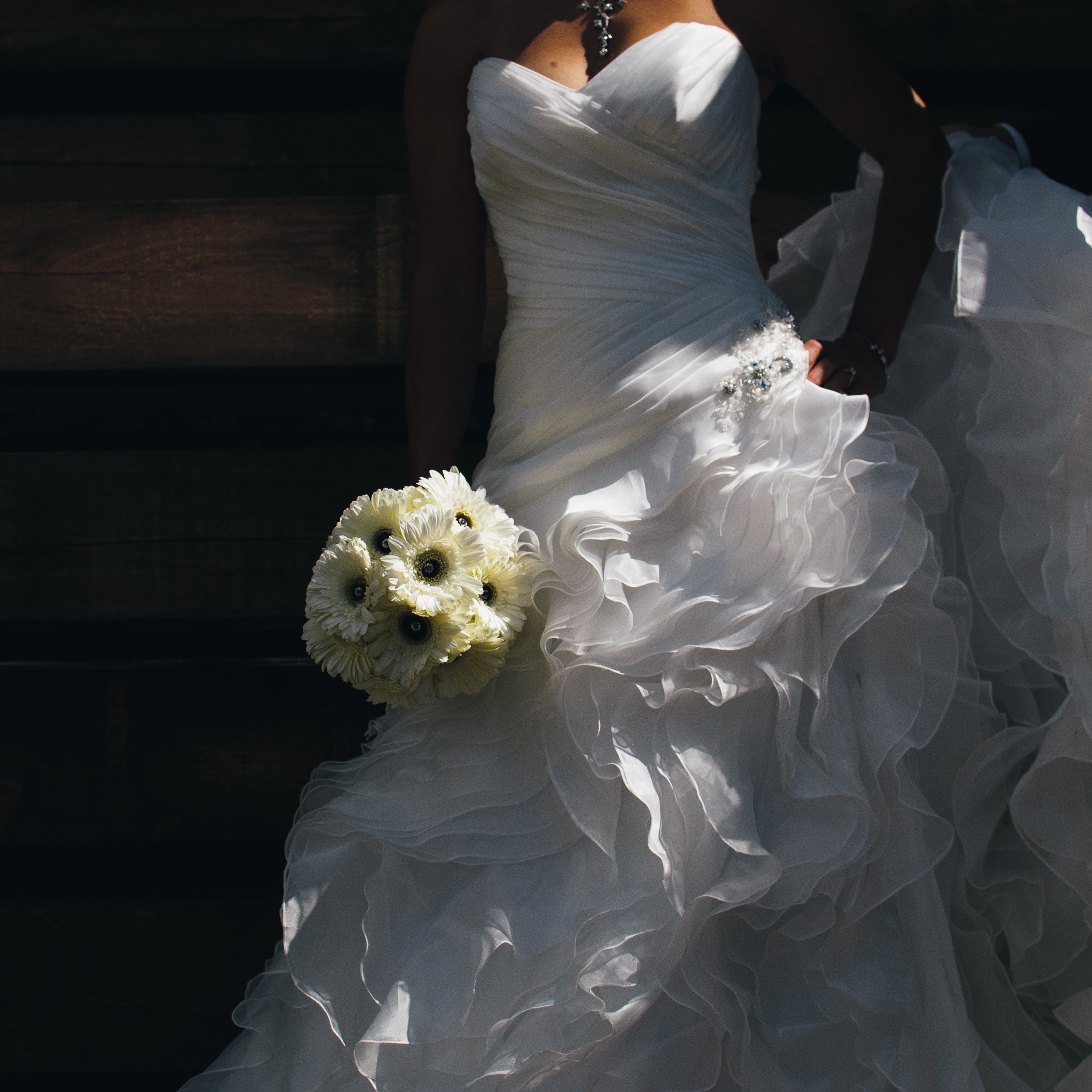 When you have an apple shaped body type the details on a gown placed in strategic places are your secret weapon!
The dress above really has hiding power! Notice the asymmetrical pleating in the bodice layer which slims the waistline. This becomes an eye catching detail that camouflages your waist and stomach. Also gives an illusion of a waistline.
The skirt ruffle detail also directs attention away from the midsection. You want the attention to focus on your face or the skirt of the gown when you are looking for a wedding dress for an apple shape body type.
So when you are looking for wedding gowns pay attention to the details that divert the eye away from the areas of your body you don't want to highlight.

Do You Need Some Wedding Dress Advice?
Would you like to receive or give other brides, wedding dress advice? Perhaps you have tried on a few wedding gowns on and would like advice as to which wedding dress looks the best on you. Then please feel free to share your questions, comments and tips here!
Wedding Dress For Apple Shape
*Click here to read our disclosure regarding affiliate and advertising sponsors.