Your Wedding Location And Your Dress Must Work Together
Your wedding location will have a huge impact on what your wedding gown should look like! That is why you must plan where you will have your wedding before you buy your wedding dress.
You can buy your gown first and then plan the rest of your wedding around it. Some brides do this especially if they are having a special theme to their wedding like a vintage or renaissance themed wedding to name a few.
But most of the time you want to know where your wedding will be before you buy your wedding dress.
Not knowing this information is one of the top reasons brides have buyer's remorse after buying their wedding dress. The dress they picked didn't work with the theme and location of the wedding they later decided to go with. Don't let this happen to you.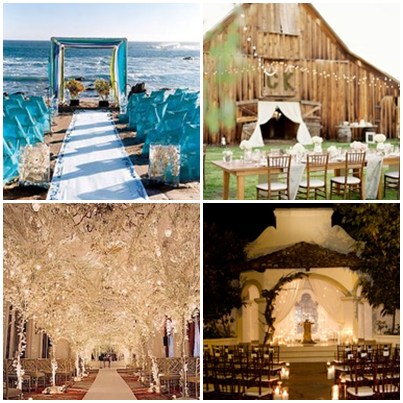 The wedding location site sets the tone for the formality of your wedding. Once you know the location, you will know what formality your wedding gown should be.
Ask yourself these questions about your wedding location, to get an idea of what direction your wedding formality is going. . .
Will I have my wedding indoors or outdoors? A big ball gown bridal dress would not work in some indoor or outdoor locations. For instance... tulle wedding dresses can catch on to things and rip easily so you would not wear this type of gown in a small room setting.
Will it be a religious ceremony or civil ceremony? There are some styling considerations you need to be aware of when it comes to a religious wedding settings.. See the advice below.
Will it be held at a hotel, country club, garden, beach, barn or back yard, just to name few? Each of these locations call for a different sort of dress for you to be comfortable and be in harmony with the overall theme of your wedding. What you would wear to a beach wedding site in most cases would not work for a grand ballroom setting.
Will I need a formal wedding gown with elaborate beading and design details? Very ornate gowns call for a location that is on a grand scale.
Should I have a long cathedral or chapel length train? Long trains call for an upscale location, where as chapel train can be used in a both an upscale, grand location or one that is more casual.
Will I want a less ornate wedding gown with minimal or no train? If you are having a casual wedding setting, destination wedding or a beach wedding, you will find that a dress with a minimal train will be the most comfortable to wear and move around in.
Can I wear a short wedding dress for an informal or semi-formal wedding? Civil type weddings like those held at a courthouse, you could wear a suit or short wedding dress.
I'm sure you are getting the picture of how your wedding location and your gown must work together to have a coordinated look.
If You Are Having A Religious Ceremony Setting...
There are some ministers who have a dress code for brides. Yes... you read it right. So you should find out if your minister has any restrictions regarding your dress and/or the wedding party.

This situation has come up before in my bridal alterations of business...
"Some brides found out after they purchased their wedding gown that the minister wanted a more modest gown, one without cleavage showing. So they came in to have me fill in the neckline of their dresses with a modesty panel."
My advice to you is... have that talk with your minister "before" you buy what you think is your perfect wedding dress, if you don't want any surprises later.
So your wedding location and knowing your wedding formality is important for you to plan out before you pick your bridal dress. Can you start to picture mentally, what your bridal gown should look like?
Taking the time to do this evaluation and planning for your wedding dress will assure you of finding your perfect wedding gown!
*Click here to read our disclosure regarding affiliate and advertising sponsors.