Should You Wear A One Shoulder Wedding Dress?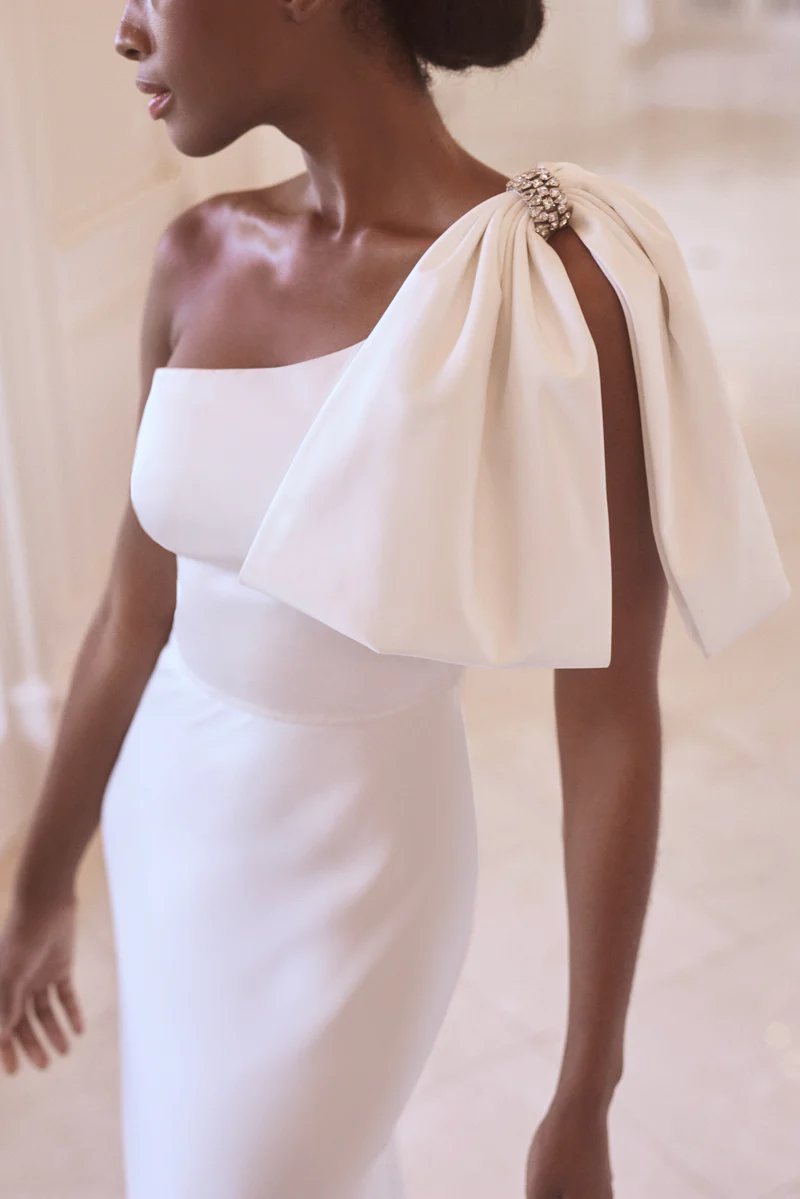 Sachin and Babi Aubrey Wedding Dress
The questions is... which figure types or body shapes look best in a one shoulder dress?
One thing about a one shoulder gown is that it is a unique look. It brings a little drama into the picture, which is ideal if you are a bride who wants to standout from the crowd.
Another thing to consider is the one shoulder strap neckline does make the eyes of onlookers focus more toward the face. This is exactly what you want as a bride!
Plus if you feel that there are some figure challenges going on in other areas of your body, this style neckline will help to take the attention off those areas.
On some one shoulder styles the asymmetrical neckline form a diagonal neckline so it can be figure flattering to you if you have broad shoulders or full busted.
But not all one shoulder dresses give the same look. You have to try on some to see which styles look best to slim you in these areas.
Azazie Zaile Wedding Dress
This one shoulder wedding dress is very figure flattering for rectangle, triangle or full busted figure types. If you don't have a flat stomach this dress camouflages that!

One Shoulder Wedding Dress Tips

If you are narrow shouldered or have sloping shoulders this may not be the best choice for you if you don't want to draw attention to your shoulders.
For a petite short bride... the one shoulder wedding dress can make you appear a little taller, especially if you pair the one shoulder neckline with a column or sheath dress silhouette.
If you are a tall bride... who likes the one shoulder look but doesn't want to appear taller... you can wear this style if you make sure the dress silhouette has a full skirt like an A-line, mermaid style or ball gown skirt.
If you are a plus size bride... this is a great look because as I mentioned before it brings the eyes of onlookers up to the face.

And the asymmetrical neckline one shoulder wedding gown adds interest and make wide shoulders look more flattering.

Choose an A-line dress silhouette or a fit and flare style to gain the most flattering look.
So why not try on a one shoulder wedding dress when you go shopping for a bridal gown. You just may find that this is your perfect wedding dress!
If you find that you like this look, then it is just a matter of figuring out the dress silhouette that is right for your shape and if you like the strap over the left of right shoulder.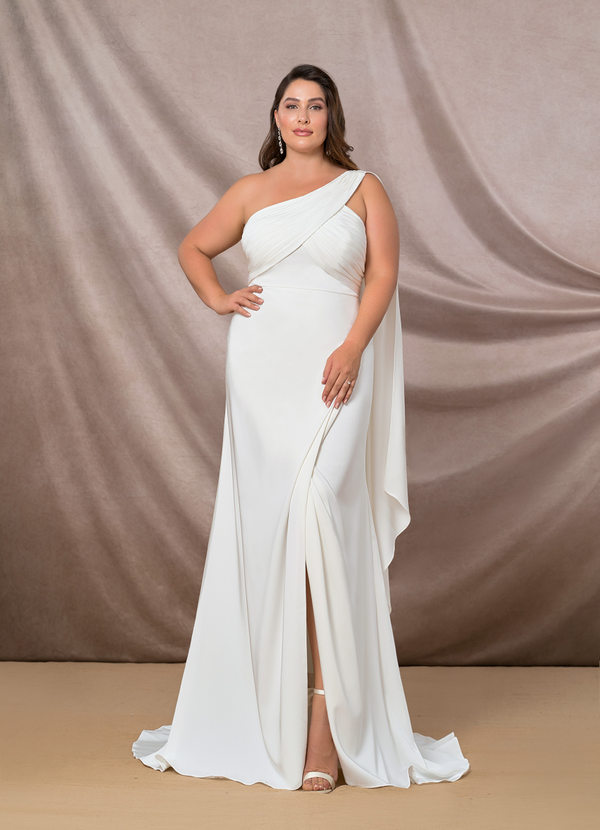 Azazie Alta Wedding Dress
This one shoulder wedding gown is flattering for the curvy plus size figure type. A triangle, rectangle and hourglass body shape would be enhanced with this wedding dress design.

The best place to shop for your wedding dress is at Azazie. Known for affordable wedding dresses and bridesmaids gowns, easy ordering process and fast delivery! Take a peak at their full collection!

One Shoulder Wedding Dress
*Click here to read our disclosure regarding affiliate and advertising sponsors.