Who Should Wear The Mermaid Wedding Dress Style?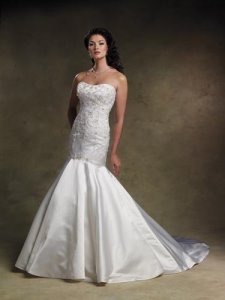 If you have your eye on a mermaid wedding dress you probably are wondering... "will this be the best style for my figure?"

Even though you may be attracted to this style, it may not do your figure justice.

The mermaid style wedding gown is a silhouette that is often referred to a a fit and flare style. It is fitted through the bust, waist and hips and then flares out around the knee. This dress style emphasizes the body shape.
If you already know you are not comfortable showing off your curves or you don't want to emphasize your trouble spots... then this dress shape is not for you.

Also, this style usually looks best on average to tall brides. So if you are short this style can be a challenge to carry off.

But the petite bride can wear this style if she makes some adjustments for it ahead of time, in order to make this style work for her.


Which body shapes work the best with the mermaid style?

The best body shape for this dress is the balanced body shape.
This is the shape with "no exaggerated curves."

Your bust, waist and hips are in proportion, with about a 10 inch spread between measurements.
But there is another figure type that will work well in this style.
The hourglass body shape looks great in mermaid style!

If the hourglass figure type is the body shape you have and you want to show off your curves... the best way to do it is with a mermaid style wedding gown.

You have a noticeably small waistline when compared to your bust and hips. Belt the waist with this style to further emphasize your small waistline. 

But . . . if you are self conscious about having an hour glass shape...
You shouldn't consider mermaid wedding dresses as a style choice. 

it can make your hips and thighs appear larger, since the this style focuses on that area by tapering in close around the knees.
What if you have a rectangle, pear and apple shape?

The pear shaped body shape:This style emphasizes the hip and thigh area. Which if you are like most brides who have this shape, you probably don't want to call attention to those areas.. So steer clear of this style.
If you have a rectangular shaped body which means you have very little or no waistline, this style will highlight the fact that you have a thick waist. But if you are willing to wear a shaper to cinch your waist, you can pull this style off beautifully.
An apple shape body type would want to avoid this style also. It would emphasize your waist and stomach areas, which are probably areas you wouldn't want to call attention to.
Wedding dress tips: I have seen some brides use a waist cincher to camouflage a thick waist problem which really brings the waist in. Of course wearing a waist cincher may not be the most comfortable shape wear garment. But when it comes to choosing comfort or looks . . . my experience has been that most brides choose looks over comfort.


Busty body shape and slender body type will a mermaid style work?

Now what if you have an inverted triangle or large bust body shape, meaning you have a very prominent bust or wide shoulders and slim hips? Although this is not your best style choice, I have seen the mermaid wedding gown style work for this figure type. How?

The mermaid wedding dress style can give the illusion of having hips to an inverted triangle shaped figure. This happens when the dress silhouette follows the body closely over the waist, hips and thighs narrowing at the knees and then flares out.

If you have a "slender figure"  this style can actually give you the illusion of curves. It has to be fitted very close to your body in the sides and in the back under your seat area. Styles that have princess seams dividing the back section into four panels will work best.
There are exceptions...
There are always exceptions to what I've stated. Working with many brides over the years I have seen pear shaped and apple shaped brides feel comfortable enough with their bodies to wear a mermaid style.Guess what?
They were able to pull it off even though it wasn't their best style.  They cinched up and accessorized to make the style work the best it could on them.

So as you can see the mermaid bridal gown... depending on your figure shaping and your self image... may just be your perfect wedding gown style!
*Click here to read our disclosure regarding affiliate and advertising sponsors.