Off The Shoulder Wedding Dresses, Tips And Advice For Wearing One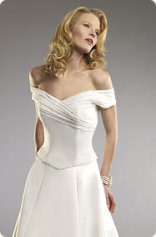 Off the shoulder wedding dresses seem to be a popular alternative to wearing a strapless wedding dress. During the better part of the 90's this was the gown style of choice, because it was and still is, a very flattering style.
Today you will find the "off the shoulder look" in the form of straps that lay on the shoulder bone. You will also find this style in cap sleeves or short or long sleeves.
This is a good style choice if you are a mature bride who doesn't like the strapless look, because of too much exposure.
Some mature brides don't mind their shoulders being exposed. But after a certain age most women don't particularly like their arms exposed.
If this sounds like you, look for off the shoulder wedding gowns with short or long sleeves to solve this problem.
Which Body Shapes Look Best In Off The Shoulder Wedding Dresses?
Just about most body shapes look good in an off the shoulder bridal gown. Why?
It is considered a fashion asset to have slightly wide shoulders. The off the shoulder style gives the illusion of width in this area. The closer the sleeve or strap is to the shoulder line, the better it is for this affect.
Even if the sleeves are not high up on the shoulders, it still gives width in an area of the body that improves your overall appearance, no matter what your shaping might be. Here's what I mean:
"How do you keep the straps of sleeves in place? Use what female celebrities have been using for years. Use double stick fashion tape. You can buy an all purpose double stick tape at an office supply store. But double stick tape fashion tapes made for clothing and to stick to skin, use adhesives that will not mess up the fabric. And since it will be sticking to your skin they use hypo-allergenic adhesives."
"Fashion double sided tape can be used to keep any style wedding gown in place. Plus... this isn't a one time use item. You can will want to use it on a daily bases, in order you to look your best at all times. So make sure you purchase this, especially for your wedding day. You will be glad you did!"
If you have a pear shaped body... this gown style is your best choice. Off the shoulder bridal gowns give width across the top half of your body that balances your hips, taking the emphasis off of them.
For the rectangle body shape... this style will focus more attention up toward the upper half to the body frame, taking the focus off the midsection of your body, especially when combined with an a-line skirt.
For the apple shape body... having the width at the shoulders coupled with a wide a-line skirt, can give the illusion of a smaller midsection.
If a bride who has a prominent bust or inverted triangle body shape... then an off the shoulder wedding dress, with a wide v-neck, a scooped neckline or a sweetheart neckline will be best neckline choices. Otherwise, if the neckline is cut to high in a straight across design, it will emphasize the shoulders and bust areas. Also, if you have short sleeves that stop at the bustline, this will call attention to your bust. So opt for a strap, cap sleeves or 3/4 sleeves or long sleeves.
An hourglass body type... can wear off the shoulder wedding dresses well. Just one word of caution... if you are self conscious of your shaping....this style can emphasis your curves.
Most women don't think of this as a problem, but I have found that there are a few brides who are self conscious about focusing attention on their curves.
If this is not what you want... you may have to try on different off the shoulder sleeve designs to find the one that's right for you. You may find the narrow strap off the shoulder look is better than short or long sleeves.
Of course if you have wide shoulders... then off the shoulder wedding dresses would emphasis this fact, so most likely you would avoid this style.
*Click here to read our disclosure regarding affiliate and advertising sponsors.