My Wedding Alterations FAQ
Over the past 32 years  I have served as a wedding alterations specialist serving Virginia and parts of North Carolina.

There have been some questions that frequently came up from time to time in my line of business. Maybe below you will find an answer to a question you may have.

This first one you, like other brides, may have wondered about...
I was measured for my dress why do I still need alterations done to my gown?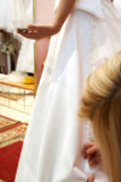 Wedding gowns are designed for what is considered the ideal figure which is a balanced body shape. The standard height for the ideal figure used for designing a wedding dress is about 5'9".

There are---no figure exaggerations on this figure type--- thus creating what is considered the balanced body shape. Each manufacturer have their own standard measurements they go by.

The point I want you to know is... "if you don't match the designers' ideal figure proportions exactly you should expect to need bridal alterations."

Unfortunately only 10 percent of women match the measurements. That's why most need some type of altering done to their wedding and formal wear clothing.

Are there some gowns made to measure? Yes, in some instances some manufacturers will do some made to measure areas on a wedding dress. Find out more about this on the next page.

More Articles About Wedding Alterations:
The following articles are other frequently asked questions from brides about wedding alterations
 Desiree's Custom Sewing Specializing in Bridal & Wedding Alterations serving the entire Hampton Roads Area in Virginia including: Hampton, Newport News, Yorktown, Poquoson, Williamsburg, James City County, Norfolk, Smithfield, Suffolk, Portsmouth, Chesapeake, Virginia Beach, VA. And as far north as Richmond, Va and as far south as parts of North Carolina.