Wedding Dress Redesign Ideas To Personalize Your Wedding Gown

 What is a wedding dress redesign? This is when you want to change something about the original wedding dress design. This could be as accessorizing your dress to re-cutting and restyling sections. Do you fit the situations below?
Your dress just need a little accessorizing or embellishing to add a little bling.
You fill like you need more coverage to be more modest.
You have your mother's old wedding gown and want to re-design it to be more modern.
You need to resize a gown by adding panels or a different closure to make it fit but it needs to be restyled it in such a way it doesn't look made over.
You want a wedding dress makeover on a gown you bought a few years back and now as your wedding gets near... you don't like it as much.

These are the most popular reasons that brides will decide to make design changes to their gowns.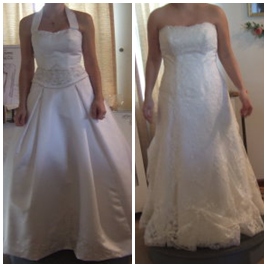 "Here are a couple of other custom wedding dress redesign changes. The picture on the left, I added a halter strap and made a sweetheart neckline. The picture on the right, the bride wanted the gown shortened without the lace having to be cut off. So I shortened the under dress. Then I did a pick up type hem on the bottom."

How to keep re-design costs to a minimum
Avoid doing to many design changes on one dress to keep costs under control. Also large additions like adding to the train or adding a lot of appliqués or bead work can be an expensive addition.
Avoid making major changes to a gown silhouette, like changing an a-line wedding gown to a mermaid style. It is better to buy a dress in the silhouette desired.
What Can You Do To Redesign Your Wedding Dress?

These are some of the changes you may be able to make to your bridal dress. It all depends on your gown design and how it is constructed as to whether your final design can be done . Also, a lot depends on the skill set your sewing professional possess.
You can have necklines changed, sleeves added or taken off and skirts narrowed.
Adding a detachable halter strap can easily transforms a gown.
You can have beaded trim added or lace applique's sewn on.
Trains can be shortened. Detachable trains can be made, and added to wedding gowns without trains.
Dresses can be made into a lace up corset back wedding gown, which is a popular style detail.
Sashes are popular and can add color to your wedding dress.
Hems can be shortened to tea length or made into the high low hemline.
"There is so much that can me done to modify a wedding gown into the perfect wedding dress for you."
Plus . . . you avoid the cost and time involved with the designing of a custom wedding dress! Some changes can be as little as $50 and others can be as much as $1000 or more.
And then there are major wedding dress redesign changes where you re-cut the bodice or even make another skirt to attach to the bodice. This is the most expensive type of wedding dress redesign changes because you basically are remaking over a new dress. The original design is pretty much unnoticeable.

---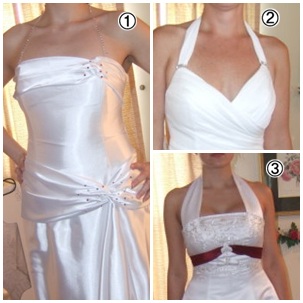 This bride had me add ruby colored rhinestones to the places you see on this reception wedding dress. She also had me add a halter strap made from a rhinestone chain.


This is another bride who chose to add rhinestone trim on the halter strap. You would be surprised at how that little bit of trim brought that area on the gown out!


This was a custom wedding dress ordered directly from China.She noticed at her fitting she could see that the bust area of the gown was not big enough and the neckline was not high enough. The dress was already snug enough but yet the dress kept sliding down. The top of her gown was showing too much for her taste. So she asked if I could make a wide halter strap that would help to hold the gown up and to cover up the "muffin top look" at the neckline for modesty.
---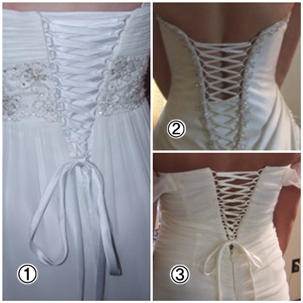 This bride was pregnant and could no longer fit the gown. Making the corset back and modesty piece was the perfect solution to this problem.


The dress had a modesty panel that covered all of the back. This bride had me cut it down so that the skin could show through the laces.


The was a gown that was too small. I this to a part zipper closure and part corset lace up back. She didn't want a modesty panel.
Which Sewing Professional Should You Choose To Do Your Wedding Dress Redesign?

The best sewing professional to do redesign your wedding dress would be a dressmaker. To be more specific a wedding dressmaker would be best. The next would be a very experienced wedding dress alterations specialist.
As you can see its best to make sure that the person is very used to handling bridal fabrics and knowledgeable about how dress are constructed. When you interview them make sure you feel comfortable with their:
skills and qualifications

policies
communication skills
personality
Yes.. that last one "personality" is very important. You really want someone you enjoy working with. Weddings are stressful enough without having to deal with someone who has an attitude. You have to be able to freely communicate with the one who's going to work on your gown.

Make sure to interview several sewing professionals asking the right questions to determine if they are qualified to do your wedding dress redesign.
Redesign Wedding  Mother's Dress Examples

"Below you see the before shots of the front and back of a wedding dress that was restyled. The bride wanted to wear her mother's wedding dress, but needed it to look more modern."
But look what happens next...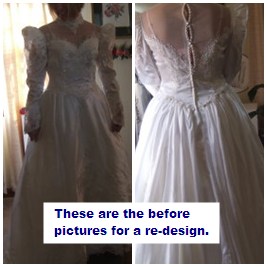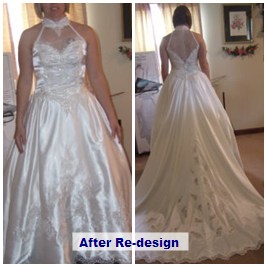 "The above is the finished product! I got rid of the sleeves and made a mock halter neckline. The bride had nice shoulders that she was able to show off. She didn't want to do a total re-do of her mother's wedding dress. But she wanted to customize it a little to suit her body shape and make it little more modern."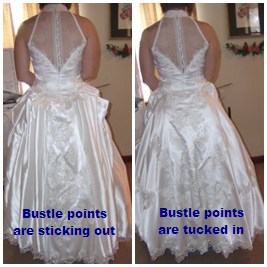 "The above is the finished product! I got rid of the sleeves and made a mock halter neckline. The bride had nice shoulders that she was able to show off. She didn't want to do a total re-do of her mother's wedding dress. But she wanted to customize it a little to suit her body shape and make it little more modern."
---
"The next example is of a custom wedding dress makeover is of a mother's wedding dress. This bride liked the style lines of the gown, but hated the sleeves and neckline. So below you see the before pictures."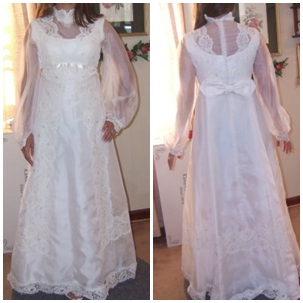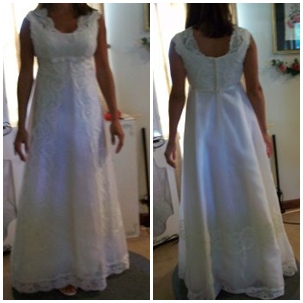 "What a difference just taking the sleeves off and hollowing out the neckline made! This one was easy to makeover because it already had the up to date empire-waist silhouette styling. And also lace wedding dresses are popular again. So it was just a matter of getting rid of the elements that dated the wedding gown. This bride and her mom were very pleased with the results!"
Take A Look At These Wedding Dress Makeovers!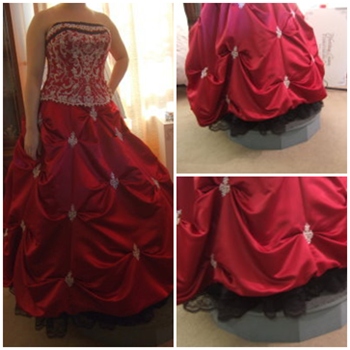 "This custom wedding dress makeover was done for a bride that wanted to add some color to her red wedding dress. Originally this bride had thought about having a custom wedding dress made in red and black. I suggested that she find a wedding dress that was red and have a few changes done to it. So what I did was replace two red bands that were going around the neckline with two black bands. I also added black lace to peek below the bottom of this dress which was added to a black slip. The dress was shortened all the way around, the train was permanently bustled, to achieve this effect."
---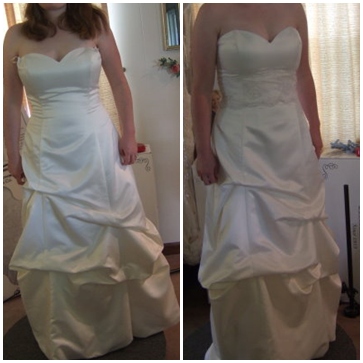 "This bride came in to get regular alterations, the top edge of the bust was gaping and she needed a hem and a bustle. But as she stood in the mirror she noticed something she didn't like. During the fitting she mentioned that she felt her gown was too plain and she didn't like the horizontal wrinkles at her waist. So what I suggested was to put some wide lace at her waist. This added some detail and interest to the gown and masked the wrinkles. The bride was thrilled about this!"
---
The dress below was a tank top style sleeveless dress. This was an older bride who wanted sleeves added to the gown. Instead of adding a sleeve, I turned her shawl into a mock sleeve look that was in keeping with the styling of the gown. What you see below is the result.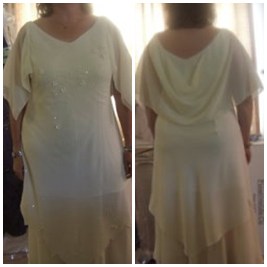 "The front looked like sleeves are attached and then the wrap drapes in the back. The end result was a look that hide the brides upper arms, but also flowed with the style of the dress. And guess what? If later she wants to change back to the original style, with just a few snips of the stitches the wrap will come off the dress unchanged and the original sleeveless dress is back."
---
Here is another example of the wrap attached to the dress to form a sleeved look from the front view. The pictures below show how a wrap can be attached to a strapless gown to form a long sleeve look.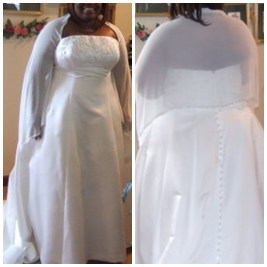 "This bride wanted to cover her arms and back. She liked her shawl and wanted to use it, but she wanted it attached to the gown so that she didn't have to worry about it slipping off her shoulders. It looked like a shrug or attached long sleeves from the front and then covered her back."
Could You Use Some Assistance?

These are just a few examples of what can be done with wedding dress redesign.  If you would like some help in deciding if your restyle idea will work with a gown you have in mind... I want you to know you can reach out to me and request a wedding dress consultation.
I've done many wedding dress redesigns over the years and know what can and can't be achieved. I can tell you what to look out for and also what to tell the sewing professional in order to make sure your gown comes out successful.
So please feel free to reach out to me.
*Click here to read our disclosure regarding affiliate and advertising sponsors.