Corset Wedding Gowns Convert Your Gown To One
"I love corset wedding gowns! Can I buy a gown that has a zipper in the back and then changing it to a corset lace up back?"
Many brides ask this question in wedding forums and to me when I was a bridal alterations specialist.
Perhaps you are a bride who finds a dress you love! Everything is exactly like you want but the only thing is that it has a zipper closure. Can the zipper be converted to a lace up back?
Yes, It can be done depending on how the gown is made. But it is easier to do for a gown that is too small, since it automatically forms an opening in the back, depending on how much too small the gown is.
Trying to convert a gown that fits as it should, to a corset wedding gown is harder to do because you have to cut out an opening in the back. This may or may not be possible to do for some wedding dresses, because of the inner structure of the gown and the details on the outside.
Contact a sewing professional to see if it is possible to do this to your gown.
What If My Gown Is Too Small...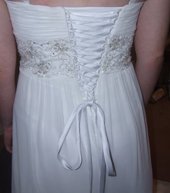 What if your wedding dress is too small and will not zip up in the back? Some wedding dress styles can be converted to a corset wedding dress.
When you have an opening that spread apart at least 3 inches or more, adding a lace up back can be the perfect answer to a problem.This solution works better than adding panels to the side seams which sometimes will not blend in, and may be noticeable.
What if you are a pregnant bride? If you have already bought your gown, then you may be able to convert the back of your gown to a corset back to give you more room.
The picture to the left is of a gown that a bride had purchased before she became pregnant.
The amount of spread you see between the two sides of the gown is the amount the gown was too small. So the solution was to take out the zipper and transform this gown into a corset wedding dress.
If you have not purchased a gown, you may want to consider getting a gown 1 to 3 sizes bigger than what you measure for now. It depends on how far along you will be when you get married, and the style of gown you choose.
Just make sure you get a qualified sewing professional to convert your dress to a corset wedding gown.
*Click here to read our disclosure regarding affiliate and advertising sponsors.