Bridal Dress Alterations - Have A Hassle Free Bridal Shop Dress Fitting
After you get the call that your gown is ready for bridal dress alterations, you will be eager to go try it on.
"This is the happy moment you have been waiting for!"
Now is the time to make an appointment for your first fitting for your gown alterations with the bridal shop.
Before You Go To The Bridal Shop...

Remember to take along the undergarments you will wear with your dress on your wedding day. Don''t forget your shoes. You will need these items in order to get a good idea of how you will look on your big day.
If you haven''t purchased these items yet... you should do so now. This will save you money, since the bridal shop undergarments, such as, bras and slips, are marked up quite a bit.
If you are a busy bride... it may be more convenient to buy all of your items at the shop. Of course you will pay a premium price for the convenience. But, if your time is more valuable, this may be your best option.
Also, don''t wear too much makeup. It could get on your dress. I''m sure I don't have to tell you how hard make up stains are to get out.
Another thing to keep in mind before going to your fitting is to pay attention to see if you tend to have water retention during certain times of the month. Before you schedule your appointment for your bridal dress alterations fitting, if you have water retention problems you need to schedule your appointment to accommodate this problem .
While Trying Your Dress On...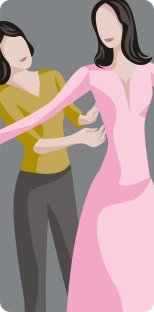 Check your dress out to see if you see any obvious problems, like spots, tears or rips at seams or elsewhere. Also make sure the zipper works. The bridal shop usually will catch these things and fix them before you see your dress.
Now you have your dress on. The store bridal consultant will help you pick out a tiara, headpiece, veil and jewelry; if you haven''t done so already.
"You are looking in the mirror... what do you see? You may be one of the fortunate to find out that your gown fits you perfectly. No alterations needed! Hooray!"
"But most likely you will find that your gown doesn't fit quite as well as you had hoped. "Don''t fret!" "This is normal." Like most brides... you will most likely need bridal dress alterations.
Which areas usually need alterations? Most brides will need the hem shortened. Sometimes the side seams will need adjusted. You will also want a bustle added to your gown for ease of movement at the reception. These are the typical alterations but depending on your dress style you may need other areas adjusted.
How many fittings will you need? Your bridal dress alterations specialist may see you for 1 or more fittings, depending upon what you need altered and how detailed your dress is. Remember to bring back the undergarments and shoes you will wear with the gown for each fitting. One of these should be a final fitting.
The final fitting is when you try your gown on after all the alterations of your wedding dress is completed. "Do make sure you try it on after the alterations are completed."
This is the only way you can be sure that your dress fit you properly and looks 'picture perfect' on you. "So don''t skip this!"
Find out when your gown will be pressed and ready for pick up. The gown can be ready at the final fitting for pick up if you request it.
Plan ahead where you want to leave your dress until the wedding day.
After The Bridal Dress Alterations...

Ideally you want to take the dress out of the bag and lay out the train.
Remember how it was hung up so that you can hang it back that way if you need to move the dress to another location to get dressed on your wedding day.
Don''t take the gown out of the bag if children or pets will be going in and out of the room.
"I had a bride who had a cat get to her gown. It scratched up all the lace at the bottom of the gown."
So if you have pets or children... it would be better under these circumstances to keep the gown in the bag.
Consider getting a hand held portable steamer to get out any wrinkles that may be in the dress after hanging.
Following these tips will assure that your perfect wedding dress will stay that way!
*Click here to read our disclosure regarding affiliate and advertising sponsors.