How To Design Your Wedding Dress
Do you need ideas on how to design your wedding dress? Where can you find inspiration for ideas? How do you get them on to paper? How will you get your bridal gown made? Who should you use to make your wedding dress?
The answers to these questions will follow.
Where To Find Ideas To Design Your Wedding Dress!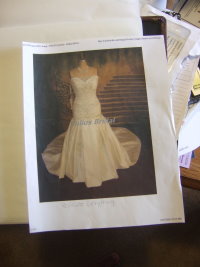 It all starts with looking at wedding dress pictures for inspiration and ideas. You can find these pictures in the bridal magazines on magazine stands.
Brides and Modern Brides are popular bridal magazines. But if you go to a large bookstore like Barnes and Noble, you will find bridal magazines from other souces. Some bridal magazines originate from other countries. You will no doubt find very creative ideas from these sources.
Having bridal magazines to browse through is great because you can see the gowns better than looking on a computer screen. Plus you have a ready made hard copy on hand.
The next place to look is on the internet. You can do an "image search" on the search engines to find pictures of wedding dresses. If you are looking for a certain style of bridal dress you can type that in the search box.
When you design your own wedding dress you can also look at wedding gown pictures by going to wedding websites like Theknot.com to do a gown search. You can search by wedding dress designer, style details and price range.
If you are planning to make your own wedding dress, you can find ideas looking at pattern books in the fabric stores. There are a number of wedding gown patterns to choose from.
Some of your inspiration and ideas will come from the fashion world in general. Evening wear and celebrity wedding dresses can be great places to gather ideas to design your own wedding dress.
Get Your Ideas Down On Paper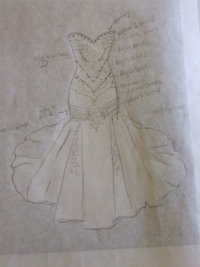 You can collect your pictures and kind of pull the elements of what you like together from different pictures to come up with one design. How can this be done?
You sort your pictures and then cut the pictures apart -- taking the bodice of of one gown to put with a skirt of another. This is how you design a wedding dress by using the collage method. This is the easiest way to get something on paper to show someone the design concept you are going for.
Another way is to trace out a wedding dress design. You can use the pictures in the bridal magazines. But the easiest ones to trace are the ones you print off from the internet.
One way you could get your ideas on paper and have fun too, is to use design wedding dress online tools.
Where To Have It Made
Once you design your wedding dress you have to know figure out how to get it made for you. There are an array of choices open to you. You have to figure out which way suits your budget, time frame and your personality.
Let's take a look at a few options...
Custom Made By A Dressmaker or Tailor. Using a wedding dressmaker to design your wedding dress is a good choice if you have a complicated design or one that is unique in some way. If you are a "hands on" person, who likes to be involved with a project to make sure everything is on target, then this is the way you want to go. You will usually have several fittings in which you can see the progress being made. If something isn't right you can make changes.
Custom Wedding Dress By A Bridal Gown Designer. Some wedding gown designers, like James Clifford of Mon Cheri Bridals, will customize their wedding dresses a little for you. Some will adjust the lengths, change fabrics, change some style details and other elements. Jasmine and Casablanca are a few that will make changes. Check with your local bridal shop to see who will customize their designs.
There are some design your wedding dress online designers who will take your sketch and make you a bridal gown.
Customize A Ready Made Wedding Dress By Restyling. If you just want a few changes you may be able to find a gown with most of what you want and make a few changes. Some custom wedding dress restyling that can be done would be neckline changes, hemline and additions can be added to the gown.
Custom Made By An OffShore Wedding Gown Manufacturer. Another choice some brides are willing to try is to have their wedding gown made in China. There are literally scores of online shops on the internet which will make copycat designer gown. Some of these Chinese wedding dress manufacturers will make a design from your picture. Find out the pro's and con's of doing this before committing yourself, since this is the most riskiest method.
Who Should You Choose?
You have to be the judge. Each method has its own risks. The way to determine which method to choose is to figure out which are immediately available to you. Are you a "hands on" person?
Is your design complicated? What happens if it doesn't come out like you planned? Which method will most likely best make your design? Knowing the answers to these questions will help you figure out which method is best for you.
There is nothing that compares to being able to design your wedding dress. This way you definitely will get your perfect wedding dress.
*Click here to read our disclosure regarding affiliate and advertising sponsors.