Draw Your Wedding Dress Design
Using The Tracing Method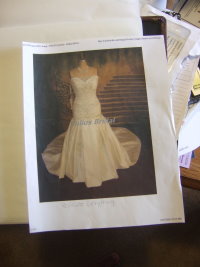 So you have a unique wedding dress design in mind that you are going to need custom made. But you have a problem. . .
"You have no drawing skills!" Well no need to worry.
You are about to learn how you can draw out your bridal gown design by "tracing it" from a picture.
This method starts with pictures of wedding dresses found in bridal catalogs, bridal magazines and pictures pulled from the web.
Now you have collected several pictures of wedding gowns with parts of different gowns you like.
But the problem is you want to see all the details incorporated into "one" picture of a wedding dress. Well lets begin to do this by using the following tracing method.
Gather Wedding Dress Pictures To Design Your Wedding Gown
Take a look at your wedding dress pictures. Choose one picture of a bridal gown design with the basic dress silhouette that you like.
Most likely the wedding dress silhouette will be...
A- line, Princess line

Ball gown

Empire-waist

Sheath 

Mermaid/ Trumpet

These styles represent the basic style silhouette shapes for wedding gowns.
Next look at your wedding gown pictures for the design details you like. Start with necklines such as... strapless, sweetheart, V-neck, Scoop neck, off the shoulder and halter to name just a few.
Look for pictures of sleeve designs like cap sleeves, short sleeves and long sleeves like the angel or poet sleeves.
Look at the design details on the dresses such as beading, lace, appliqué and embroidery.
Pull pictures of over skirts, asymmetrical details and designs in skirts like the popular pick-up skirt detail.
Now it is time to put your wedding dress design together!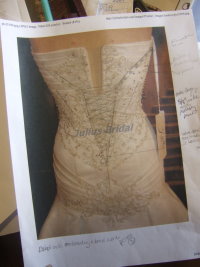 You can see the markings of the changes on the front and back of this gown. This bride basically wanted the neckline to change in the front and add a corset lace up back. The torso she wanted lengthened to drop the flare a little lower."
How To Design A Dress For Your Wedding Using The Tracing Method
Materials need: Tracing Paper, Pencil, wedding dresses pictures you collected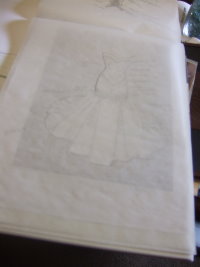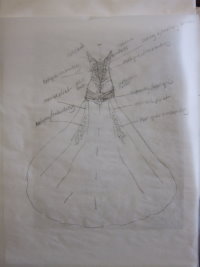 Now follow these steps!
When designing a bridal dress . . .

start by laying your tracing paper over a picture

and outline the basic silhouette design of your dress. Buy "tracing paper" because it is thin enough to see through.
Next . . . start to overlay your paper with your dress silhouette on it, over the other pictures that have specific design details.
Trace in details starting with the neckline, sleeves, over skirts, bows, sashes etc. You might have to free hand a little to make the details match your traced gown.
You should end up with a good representation of your perfect wedding dress!
Now that you have a wedding dress design . . . you are ready to take it to a wedding dress maker!!!
Tracing Your Wedding Dress Design Without Using Tracing Paper
Another way you can trace your bridal dress design is to print out the bridal gown picture you found online.
Draw in the design details like you see above, right on to the picture.
Now turn the picture over on the back side.

You can now outline the basic shape and details, plus the changes you want to come up with your perfect wedding dress!

Look at the example below...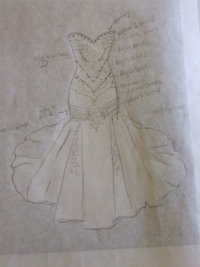 *Click here to read our disclosure regarding affiliate and advertising sponsors.