Wedding Dress Alterations Dilemma
by Jacqi Colin
(Bunbury, Australia)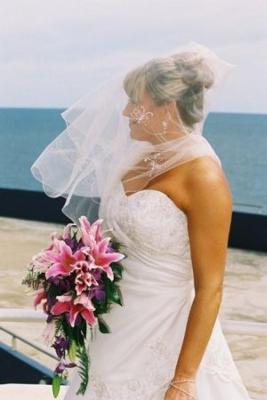 Wedding Dress Alterations Rescue
I had a real wedding dress alterations dilemma just 4 days before my wedding! Here is what happened:


I was about to get married to the man of my dreams in the gown I could never have dreamt of, in a ceremony that was going to be a true Fairy Tale wedding complete with two horses and Cinderella Carriage. I collected my dress from the dress maker approximately two weeks prior to the wedding and had a trial fitting. It felt like the gown was going to fall down, so I held my hand across my bust. "Take your hands away!" the dressmaker yelled. I replied "I still feel like it will fall down!" She assured me it would be safe. The dressmaker was not really interested in my comments and was only interested in the money and her upcoming daughter's wedding, but still she was a nice lady.
Being me I wanted to make sure all was okay before the big day so I had another trial fitting. I tried on my gown, I lifted my arms up and my dress slithered down. I KNEW IT!! I panicked! What was I going to do? I had only FOUR DAYS till I was going to be married and no hope of finding a dressmaker where I live!! The first was only a miracle organised by a friend.
I trawled the web and emailed many people and sites asking what could I do. I received a life saving reply from The USA, of all places!! (I am in a small town in Western Australia Bunbury) what a lovely email and what a generous person who saved my wedding day all those miles away!
I just want to say THANK YOU SO MUCH for making my day stress free and helping me at the last minute when I was a nobody from the other side of the world, not a customer, friend or client, just a person in desperation and saved by a true ANGEL.
Jacqi & Colin DINIS