Design Wedding Dress Online Tools - The Best Tools To Use
"Using These Easy Wedding Dress Design Online Tools!"
"Design wedding dress online tools will help you bring your dream bridal dress to life."
Whether you are designing just for fun or you are designing a wedding dress for your wedding... using wedding gown design tools make things easy.
The best thing about using online design tools is that no drawing skills are necessary. On some websites, when you are finished you can print out your design.. Isn't that great!
Also, there are some sites that give you the opportunity to design your dress and have it made by them.
My Top 2 Favorite Tools To Use To Draw A Wedding Dress Design
This is the newest thing out there for "do it yourself brides" who want to "design a wedding dress online!"
You can actually "create or build your own wedding dress" on ivilliage.com. On this site you can try different dress silhouettes and necklines on virtual model sketch. When you finish print out your virtual wedding dress design.


Weddingdresscreator.com is another site you can design you own wedding dress online. The virtual model used is more realistic looking and can change from a small size to a plus size model to reflect a size representative of the user. On this site you can try out different necklines and silhouettes as well.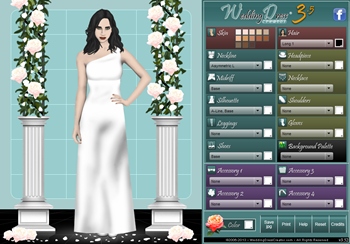 Wedding Dress Creator
Sites Where You Can Design Your Wedding Dress And They Will Make It For You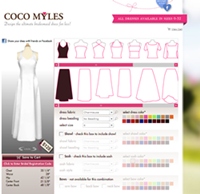 Cocomyles.com is a "bridesmaids dress design site," but you could use this process to design a casual, informal wedding dress.
They will make your gown for you in white or ivory, in whatever style you design.
What's good about this site is that the design tool has the most variety in designs that you can come up with, of all the design wedding dress tools online.

Designers That Allow You To Customize Their Designs
Moonlight Bridals has a design wedding dress online tool where you can restyle or redesign their dresses by making custom changes to the neckline and bodice. They also allow you to add sleeves and additional details to the skirts and trains of their wedding dress designs.
Jasmine Bridal doesn't have an online tool for you to design a wedding dress. What they offer is a way for brides to customize their collection of gowns. So if you pick out one of their dresses and like the bodice of one dress and the skirt and train of another... they will make those changes for you. They will also make the gown to your personal measurements too, if you request this service. Read more about this...
My final thoughts...
Please be careful of the off shore wedding dress sites that offer to design and make your gown for incredibly low prices. There are some that are scams and others that just don't provide a quality product and good customer service.
*Click here to read our disclosure regarding affiliate and advertising sponsors.