Pictures Of Long Sleeved Wedding Dresses
"Great To Use For Winter Wedding Dresses"
Long sleeved wedding dresses can be worn year round. But if you have a wedding that will take place during the cold winter months, a wedding gown with long sleeves is a good choice for winter wedding dresses. You can have sleeves that are all the way to the wrist, elbow or three-quarter length sleeves.
Below are two wedding dresses designed by Cassablanca Bridals. Dress (1) has actually a removable jacket over a strapless bodice. Dress (2) is a beautiful lace wedding gown with a satin under dress. But the long sleeves are of lace only.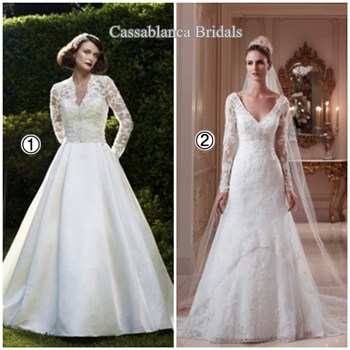 The dress below is a gown by DaVinci Bridals. The removable jacket has a train attached. There is a strapless under dress with train.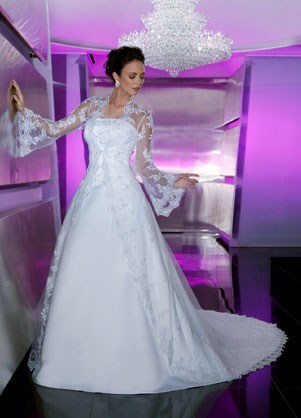 Below is a beautiful gown by Alfred Sung.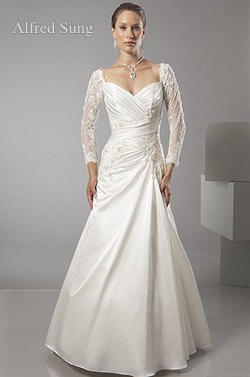 Check out this gorgeous lace wedding gown by Maggie Sottero. Perfect wedding dress for a second time bride or mature bride who doesn't want a long train.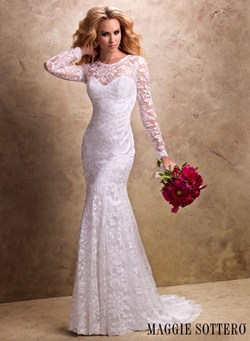 Now instead of sleeves all the way down to the wrist you will see a few pictures of wedding gowns with three-quarter sleeves or to the elbow length sleeves. Here's an exquisite design by Bonny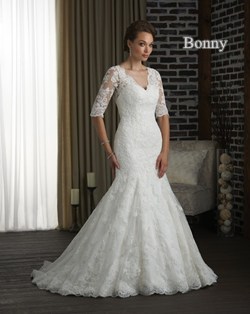 Both bridal gowns below are Justin Alexander designs. The one on the left is a classic ball gown long sleeved wedding dress. The one on the right has three quarter length sleeves. They are examples of timeless styling.
Here's a wedding dress with long sleeves from Bonny Bridals Plus size collection.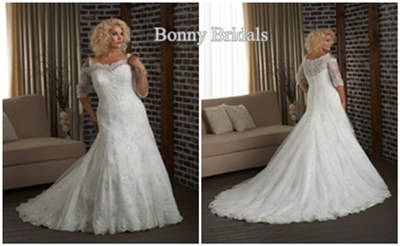 As you can see long-sleeved wedding dresses are no less glamorous than sleeveless and strapless designs. You can order them in any size range. Notice how sheer fabric sleeves or unlined lace sleeves gives a softness to the overall look. Long sleeves that aren't tight fitting look best on those who have heavy upper arms.

Want to look for more long sleeve bridal dresses?
Take a look at our affiliate BestBridalPrices.com
to find the dresses above and other long sleeved wedding gowns.
Related Articles
*Click here to read our disclosure regarding affiliate and advertising sponsors.