Does Your Strapless Wedding Dress Need Alterations?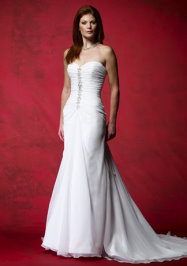 What alterations are needed for a strapless wedding dress? Most likely, you will need to have the sides in the bust and/or waist area taken in. Why is that?
Remember how the wedding dress designers sizing system works. They suggest you order your dress by your largest measurement.
If you are like most women--- experts say the majority of us have a pear shaped body type--- you will order your dress by your hip measurement.
And I know you know what happens next... the hip area will fit but the bust area will be "too big."
So off to the wedding dress seamstress you go?
But beware of those who like to do all the taking in of a gown from the center back. Why? Read on...
Why your gown should be taken in at the side seams
If you find a sewing professional who wants to take up your strapless wedding gown at the center back . . . ask why they can't do it at the side seams.
"Only in rare cases" should the "center back" be used to take up a strapless wedding dress.
This is because it can ruin the front to back proportions of the dress.
When a dress is pulled in from the center back . . . guess what happens to the side seams?
They are pulled to the back of your body.
Your side seams should split your body in half at the sides under your arms.
What are the rare occasions . . . where a strapless wedding gown will need to be taken up at the center back? The center back is used when there is a lot of intricate detail at the sides that can't be removed or lifted off easily.
But most cases . . . you do the alteration at the sides even if there is trim, beading, lace, etc. Usually a "good dressmaker" can lift off and re-attach lace and re-bead, if needed.
Some tailors and dressmakers routinely do most of their taking in of wedding dresses in the center back seam. How do you find out if they do this? Ask them while you are calling around, how they take up wedding dresses.
If you find someone who routinely uses the center back . . . DO NOT consider them. Find someone else!
Usually . . . it's no cheaper in price having the center back taken in rather than doing both side seams. You will find that taking in the side seams shapes the bridal gown better to you, especially if you have an hourglass body shape.
Bra Cup Adjustment needed for fuller busted figures
There is also a "cup size adjustment" needed for strapless bridal gowns if you are a C bra cup size or more. How can you tell if you need this adjustment?
If after your dress is pinned tight enough at the sides and you still see gapping in front at the neckline, then you need this adjusted. A skilled dressmaker seamstress will know how to make the adjustment so that it doesn't show on the outside of the dress.
BEWARE if someone pins the gapping areas out and say they will have to sew in darts or tucks at the neckline that will be seen on the outside of the dress. . . What should you do? GO TO SOMEONE ELSE!
I am letting you know this because . . . I have notice a few bridal shop seamstresses have done this when it wasn't necessary to cut corners. What is the proper way to make this adjustment?
It's very, very, rare that darts would need to be placed at the neckline of strapless wedding dresses. If you are a DDD cup size or more in some cases you may need darts sewn in, but this still is rare. And when they are needed, they should be sewn in as inconspicuously as possible.
What is the best way to do the cup adjustment? One way is to ease out the excess along the neck edge from the inside of the dress. Another is to add and inside dart to the inner lining. This dart doesn't show on the outside.
For a very large cup size sometimes the seamstress needs to take the front seam that goes over the bust line apart. It takes skill to do this one and a lot of time. That's why some dressmaker/tailors will take shortcuts that aren't in your best interests.
Although it does take longer to take the dress apart at the princess seam and reshape it for the cup size . . . a true sewing professional will do what is needed to make sure your dress looks like the original design.
Small bra cup size adjustments
The strapless wedding dress is not the best wedding dress style choice for you if you are small busted. But there are things that can be done to make this style work better for you.
If you happen to be an "A" cup size . . . usually the best thing to do is have cups put into the dress by your dressmaker. You can also, purchase a padded bra or use a regular bra and have the seamstress add push up cups to it.
My tip for the petite or small busted bride is to purchase a strapless wedding dress that isn't too heavy. Some designer's don't build in so much netting in the slip attached to the dress.
It would be better for you to get a dress without much slip or none at all. Then buy a separate petticoat slip for more fullness, if needed. This will take the weight off of the dress to keep your strapless wedding gown from slipping down.
To further keep your strapless wedding dress from sliding, there are some methods wedding dressmakers use to anchor your dress to your strapless bra.
Anchoring the dress to the bra helps the brides I alter wedding dresses for . . . feel more secure when they have a heavy strapless bridal gown that tend to slides.




*Click here to read our disclosure regarding affiliate and advertising sponsors.