Strapless Wedding Dresses:
What You Need To Know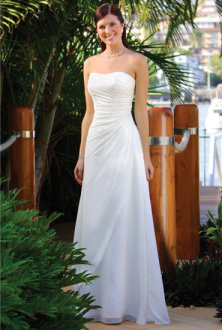 You are searching for a wedding gown. What do you find? Strapless wedding dresses galore! But is this the right style for you?
For this style to truly look good on you and fit your properly you have to first consider your body shape or figure type.
Knowing this ahead of time will help you to know what alterations may be needed.
Even though this style is popular now, it doesn't necessarily mean it is the best one for your figure. Strapless wedding gowns work well for some specific body shapes. Is your shape one of them?
What is your body shape?
Are you a pear body shape? A rectangle body shape? A triangle or inverted triangle shaped body? An hourglass body shaped?
Do you know which figure type looks best in a strapless bridal dress?
What if you are very full busted or small busted. What challenges will you have wearing this style? For the answers to these questions click here.
Now it's time to consider the support system this style needs. Strapless wedding dresses need a lot of support for it to stay up, look smooth and fit you properly.
What should you look for in a strapless bridal dress when it comes to the construction and support? Check here for the answers.
Maybe you have already purchased your dress and now are ready for alterations. How should your dress be fitted? What alterations will you need if you are a small cup size or a large cup size?
Should the dress be taken in at the side seams or the center back? These questions will be answered for you if you click here.
Knowing the answers to the questions above is important so that you can have the perfect wedding dress that compliments you for your wedding.
*Click here to read our disclosure regarding affiliate and advertising sponsors.