Strapless Wedding Gowns Not Everyone Can Wear One Well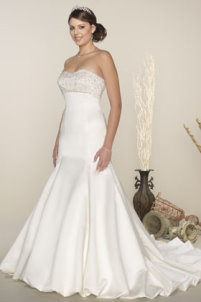 Even though strapless wedding gowns have been the style of choice now for several years, it is not the best style choice for some brides.
Which figure types can wear this style best? The ideal body shape which is the balanced figure type designers use.
The next is the hourglass body shape, especially if want to show off your curves.
If you are a pear shaped body shape or triangle body shape, you can wear this style if you have an average bust line and use an A-line wedding dress style.
This style may not be the best style for the inverted triangle body shape. Your body shape either has a very full bust or very broad shoulders and/or heavy arms, which this style will emphasize those areas.
Now these are just suggestions and "not rules."
For example . . . if you are full busted and want to show off your bust line, then this is the dress style that would focus attention on that area.
Strapless Wedding Gowns Draw Attention To Specific Areas Of The Body

Because of the neckline . . . strapless wedding gowns tend to draw attention to your neck, shoulders, waist, back and arm areas of the body.
So if you are self conscious about these areas you have two choices.
Avoid this style all together

Or wear a bridal wrap or jacket as a cover up.
What specific figure challenges will strapless wedding dress styles help?
If you have a short neck, you need a neckline that is low and the strapless neckline meets that requirement.
If you are long waisted, strapless wedding gowns can make your torso look more proportionate.
If you are short waisted, this style will make your waist look shorter if the waist on the dress is at your natural waistline. You would need a strapless bridal gown style that has a drop waist bodice or a princess line dress.
The Fitting Issues You May Have With A Strapless Wedding Gown

Also attention is placed on the bust area. This area plays a major role in the support, fit and look of the dress. Strapless wedding gowns need to "fit like a glove" in order to stay up.
Wedding dress tips: Make sure you aren't fitted so tightly that you see a muffin top hanging over the front or back neckline edge of the gown. Or fitted so tightly that your dress forms the dreaded "back" cleavage. This depends on how toned and fleshy you are in those areas.
This style is best on someone who has an average to slightly full bust line. If you are a small busted or a very busty figure type... the strapless dress usually isn't your best style choice.
For the small busted or full busted bride all is not lost! There are things that can be done to make this style work on both of these figures. Tips for this are found here.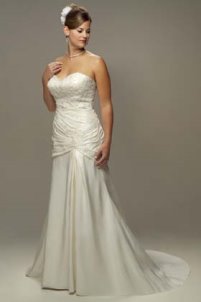 Full busted brides who don't want to look "too sexy" for their wedding have to be careful about cleavage showing.
Look also at the curve of the bust area. This curve has to match the curve of your bust. Now note the neckline height, especially if you are busty. Is your neckline high enough?
Bend over and sit down in the dress. Does it still look nice on you?
The neckline should be high enough that you feel comfortable in it.
This means you should not be pulling at it trying to bring it up to hide cleavage.
If you get one cut too low for you... no matter how much you pull it up ... t will continue to move back down to where it was designed to stay.
No amount of tightening to the gown will keep it up higher.
One thing I suggest you do is to look at the models in the bridal magazines. Look at how far the strapless neckline of the wedding dresses comes up on them.
You will notice some styles will be higher than others. Choose styles that are higher in the neckline.
Wedding dress tips: When at the bridal salon . . . see how you will look sitting in the dress before making your final decision. This is especially important for you to do if you are full busted. Everything pushes up when you sit in a dress. You may be surprised at what you see.
The smoother strapless wedding gowns fit at the neckline edge front and back the better the dress will look on you in your wedding photographs.
Have some one take pictures of you in dresses as you try them on. This is one way you can see what the dress will look like in pictures.
Make Sure You Follow These Steps For A Good Fit
Follow these tips for a good fit. Starts with buying right. First...

Make sure the dress has a high enough neckline.
Then get a qualified sewing professional who knows a lot about wedding dress sewing and fitting to alter your gown.
How do strapless wedding dresses stay up since there are no shoulder straps?
It's because of its inner construction. If the construction is solid it adds to the look and comfort of the gown.
What should you look for? Go to Strapless Bridal Gowns Require Lots Of Boning For Support.

One bride who was heavy busted had her wedding pictures touched up. Can you guess why? Her pictures showed skin over hanging the dress neckline, under the arms and in the front know as the muffin top look. She had the photographer touch up what he could so that she would look neater in that area.
Also I have seen brides who exercised to tone the arms, back and chest areas see good results.
*Click here to read our disclosure regarding affiliate and advertising sponsors.