Strapless Bridal Gowns Need Lots Of Support To Stay Up!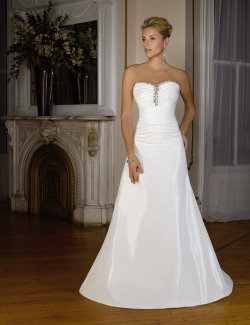 What is needed for strapless bridal gowns to be comfortable to wear and help them stay up?
It "must have" boning and lots of it!
Since strapless bridal dresses have no shoulder support, it is supported from the waist up.
For a good comfortable fit, the gown must fit snug... but not too tightly in the bust and waist areas.
Part of the "support system" comes from boning in the seams. The more boning your gown has, the better the gown will look and fit. So pay close attention to the structure inside of the dress.
Also strapless wedding gowns should have a waist stay or inner belt. This will give you a sense of security while wearing your gown.
It prevents your bridal gown from sliding around or up and down on you.
The overall "best" support system that securely holds your strapless wedding dress in place is a built in inner bustier.
The "bustier" is attached at the neckline and center back. The lower edge hangs separate from the dress and has lots of boning plus a belt attached.
You will find a built in bustier mostly in the mid price range to high-end strapless wedding dresses.
I can't stress enough how important it is for you to have the proper amount of boning and/or bustier in your gown. Your dress will fit better and you will be comfortable for hours in it. So make sure your gown has a built in bustier!

*Click here to read our disclosure regarding affiliate and advertising sponsors.